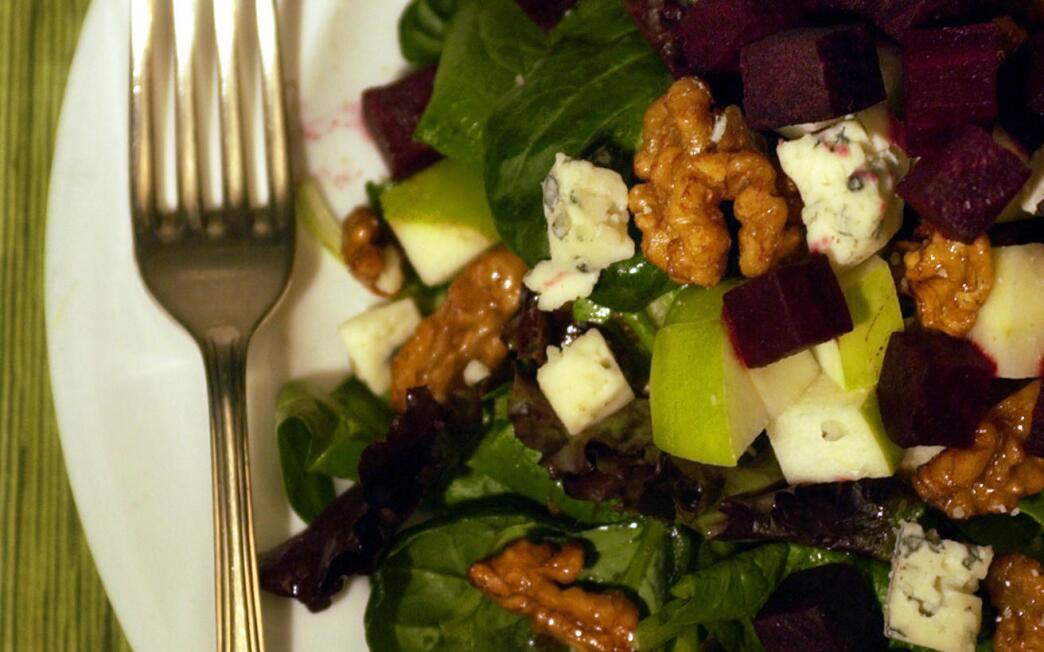 Print Recipe

Print Recipe
Dear SOS: Could you persuade the chef at Madame Matisse in Silver Lake to share the recipe for beet-apple-walnut salad?
Thanks a lot.
Dolores Banerd
Culver City
Dear Delores: At Madame Matisse, this salad is made with deep-fried caramelized walnuts, a step that's too labor intensive when preparing individual portions. We substituted purchased caramelized walnuts, available at selected supermarkets.
1
Cook the beets in boiling water until tender, 25 to 35 minutes. Place in a bowl of ice water. Slip off the skins.
2
To make the dressing, whisk together the mustard, vinegar, garlic and salt and pepper to taste. Slowly drizzle in the oil, continuing to whisk.
3
Toss the greens in dressing (reserving some dressing for the beets) and divide the greens among 4 serving plates.
4
Cut the beets and apples into large (half-inch) dice. In a bowl, combine the beet and apple cubes with the cheese, walnuts, parsley and desired amount of dressing (saving the remaining dressing for another use). Spoon the mixture over the dressed lettuce and serve.
---
Get our new Cooking newsletter.
You may occasionally receive promotional content from the Los Angeles Times.