Vegan berry bars
Yields
Makes 12 to 16 bars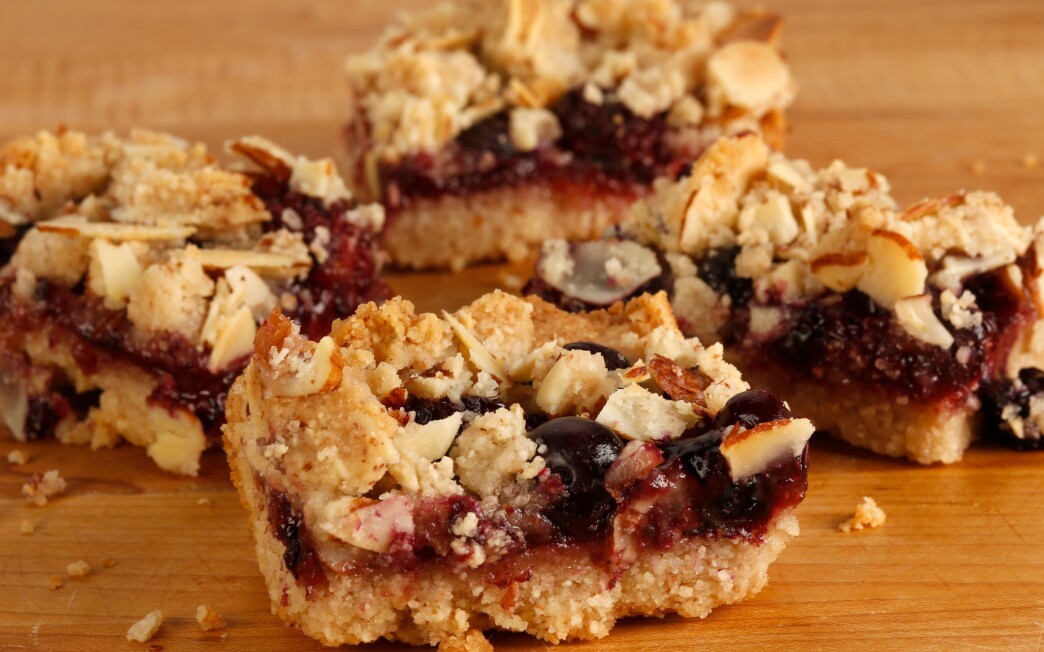 Print Recipe

Print Recipe
Cookie bars, sliced pie squares, granola bars and crisped rice treats. Whether topped with a drizzle of chocolate or a crumbly streusel topping, bars are the go-to treats for bake sales and school lunches, perfect for potlucks and office parties, or simply a quick snack when you're on the run.
Unpretentious and unapologetically old-school, bars are the stuff of Betty Crocker and "The Joy of Cooking," tapping into our childhood nostalgia for food enjoyed on school buses and at soccer practice. And it seems almost anything counts as a bar, so long as it's baked or assembled in a casserole dish or baking pan — with plenty of sweetness to spare.
Cookies baked as bars have an almost cakelike quality to them, as oatmeal, peanut butter or chocolate chip cookies are transformed into thick wedges, crisp on top and gooey-soft in the center. Shortbread works well on its own or as a crust supporting a variety of toppings. Cover shortbread with lemon curd and powdered sugar, or glaze it with a thick coating of rich caramel and a sprinkling of coarse sea salt. Adding a touch of baking powder to the shortbread will lighten the crumb, making the cookie base easier to cut into bars.
Or take your favorite granola recipe and convert it into bars. Keep in mind that, as opposed to traditional granola, which is spread out on a sheet pan and slowly toasted, homemade granola bars will require additional baking time to give them a chance to set up, and they will probably be more delicate than the packaged bars you find at the store. Vary the flavorings and sweeteners to suit your tastes and use up ingredients you have on hand.
Depending on the recipe, coconut oil often makes a great vegan substitution for cookies such as shortbread or sables. For a crumbly berry bar, top a sable-inspired cookie base with jam and fresh berries or fruit, then crumble more of the cookie mixture on top. The sweet-tart notes of the fruit complement the richness of the cookie, and your guests might never guess the treat is vegan.
Sometimes the best bars are the ones that require little, if any, effort at all. "No-bake" bars are simple to make, generally calling for just a handful of ingredients. Bind cereal, crumbled graham crackers or cookies with melted marshmallow or peanut butter, pressing the mixture into a baking dish or pan. Top the bars with a layer of chocolate and a scattering of nuts or sprinkles, and refrigerate to set.
While most cookies, pies and even some cake recipes can be converted to bars, keep in mind that as the recipe changes, so too will the baking time and final temperature. Ingredient ratios may also need to be tweaked so the bars bake completely with the proper texture. It's best to look for established recipes before converting one yourself.
Perhaps best of all, bars are a great kitchen project for kids of all ages, keeping us occupied and providing the perfect school or cubicle snack all at the same time.
1
Heat the oven to 350 degrees. Grease a 13- by 9-inch baking dish.
2
In the bowl of a stand mixer fitted with a paddle attachment, or in a medium bowl using a hand mixer, beat together the coconut oil, sugar, vanilla extract, almond extract and salt until well combined, 1 to 2 minutes.
3
By hand, stir in the almond meal, then the baking powder and flour until thoroughly incorporated. The dough will be somewhat crumbly; this is OK.
4
Place three-fourths of the dough mixture into the greased baking dish, pressing to form an even layer across the bottom of the dish.
5
Spoon the jam over the dough, spreading to form an even layer that reaches almost to the edges of the dough. Sprinkle over the berries.
6
Add the sliced almonds to the remaining dough, pressing until the mixture will clump in your hands. Crumble the mixture over the berries and jam.
7
Bake the bars until the topping is firm and lightly browned, about 45 minutes. Remove and cool on a rack before cutting into bars.
Sugar is often processed using animal bone char, which is unacceptable to many vegans. This recipe calls for vegan sugar (animal-free processing), which is generally available at health food markets, as well as online.
---
Get our new Cooking newsletter.
You may occasionally receive promotional content from the Los Angeles Times.