"Blackened" Snapper with Crunchy Pickle Salad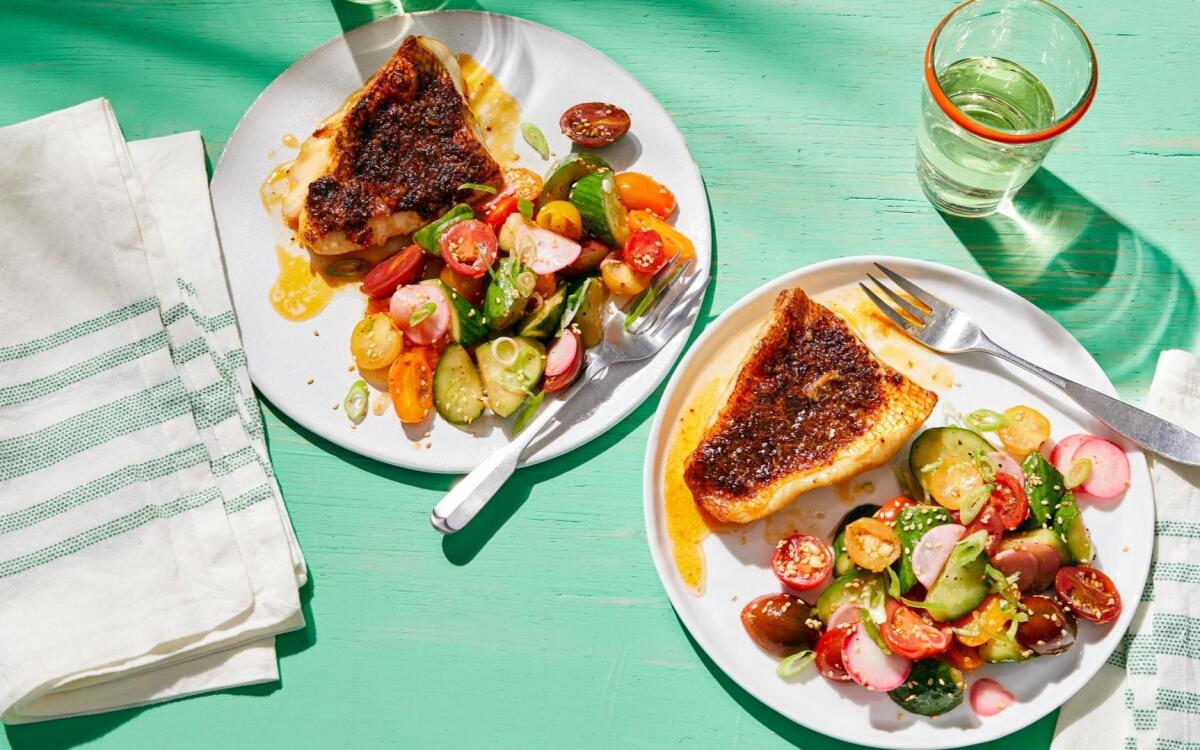 Print Recipe

Print Recipe
The skin is almost tender enough to cut with a spoon, but if that doesn't appeal to you, remove the skin and cook the fillets the same way. The spiced butter won't stay completely on the fillets but will still mix with the fish's juices on the baking sheet, creating a delicious broth that you should spoon over the fillets when serving.
From the story: Redfish blackened with Korean chile flake butter is the perfect summer dish
1
Position a rack 4 inches from the broiler element (or in the top position of your oven) and heat the broiler to high.
2
In a large bowl, combine the cucumbers, tomatoes, radishes and vinegar and toss to combine. Let the vegetables chill in the refrigerator while you prep and cook the fish.
3
In a small bowl, combine the Korean chile flakes, salt, black pepper, cayenne and scallions. Using a Microplane grater, grate the garlic over the spices. Add the butter and use a fork to mash and mix the aromatics and spices with the butter until evenly combined.
4
Arrange the fish fillets, skin side up, on a foil-lined rimmed baking sheet. Drop even spoonfuls of the butter on top of the fillets then place them under the broiler. Cook, rotating the baking sheet once halfway through cooking, until the scallions in the butter are caramelized, the fillet edges are lightly charred and the fillets are all cooked through, 10 to 12 minutes, depending on their thickness. You'll know the fish is done when you can pierce the thickest part with the tip of a paring knife and the blade slides in and out with no resistance.
5
Remove the fish from the oven and let rest on the pan for 5 minutes. While the fillets rest, drain the vegetables in a colander then return them to the bowl. Add both oils and the sesame seeds, season with salt, and toss to combine. Serve 1 to 2 fillets per person with plenty of the cold, crunchy vegetables and rice or bread, if you like.
---
Get our Cooking newsletter.
Your roundup of inspiring recipes and kitchen tricks.
You may occasionally receive promotional content from the Los Angeles Times.