BLT cocktail tomatoes with basil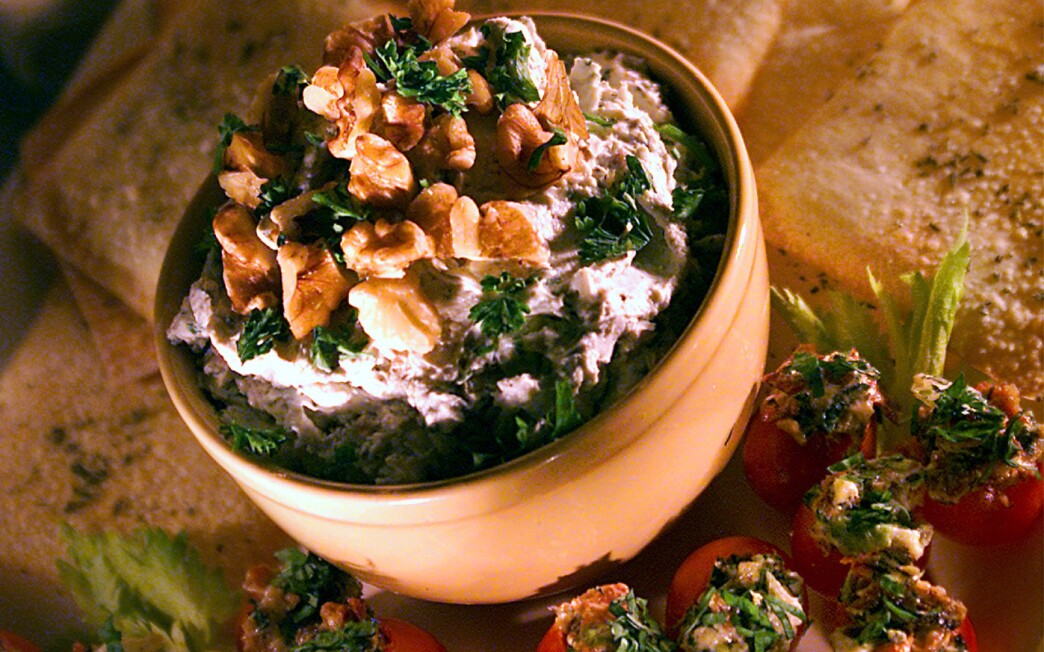 Print Recipe

Print Recipe
If your holiday entertaining plans this year center on getting together at home, simple finger foods are the answer. Here are three recipes that are my seasonal favorites; they take simple cocktail foods beyond a wedge of cheese and bowls of olives or nuts.
The tomatoes are colorful and provide just the right salty edge to go with drinks. They take a little time to assemble, but are worth it. I love the versatility of the Gorgonzola and goat cheese spread; it can be piped into endive leaves or celery sticks and sprinkled with walnuts and parsley or served in a shallow bowl to be spread on crackers, toasts, thick slices of apples or pears.
And don't be misled by the simplicity of the rosemary chips. They are addictive and a welcome alternative to the norm. They hold up for at least a week, so they're a nice do-ahead.
1
Use a sharp knife (serrated is best) to cut a thin top from each tomato, just enough to remove the stem. Use a tomato shark (a small, round spoon-like tool with serrated edge) or the small end of a melon baller to remove and discard the seeds, leaving the shell intact. Lightly sprinkle the inside with salt.
2
Place the tomatoes, cut side down, on a baking sheet lined with paper towels. Allow them to drain for 4 to 6 hours or overnight in the refrigerator.
3
Mix the crumbled bacon, lettuce, mayonnaise, minced basil and green onion in a bowl. (This can be made several hours ahead and refrigerated.)
4
To assemble, place the tomatoes, cut side up, on a work surface. (To keep tomatoes stable, use a sharp knife to cut a small slice off the bottom, taking care not to cut through tomato). Fill each tomato with about 1/2 a teaspoon of the bacon mixture until just nicely mounded, using a small espresso or measuring spoon or pastry bag fitted with plain wide tip. Top each with a small basil leaf or minced basil, if using. Serve chilled.
---
Get our new Cooking newsletter.
You may occasionally receive promotional content from the Los Angeles Times.