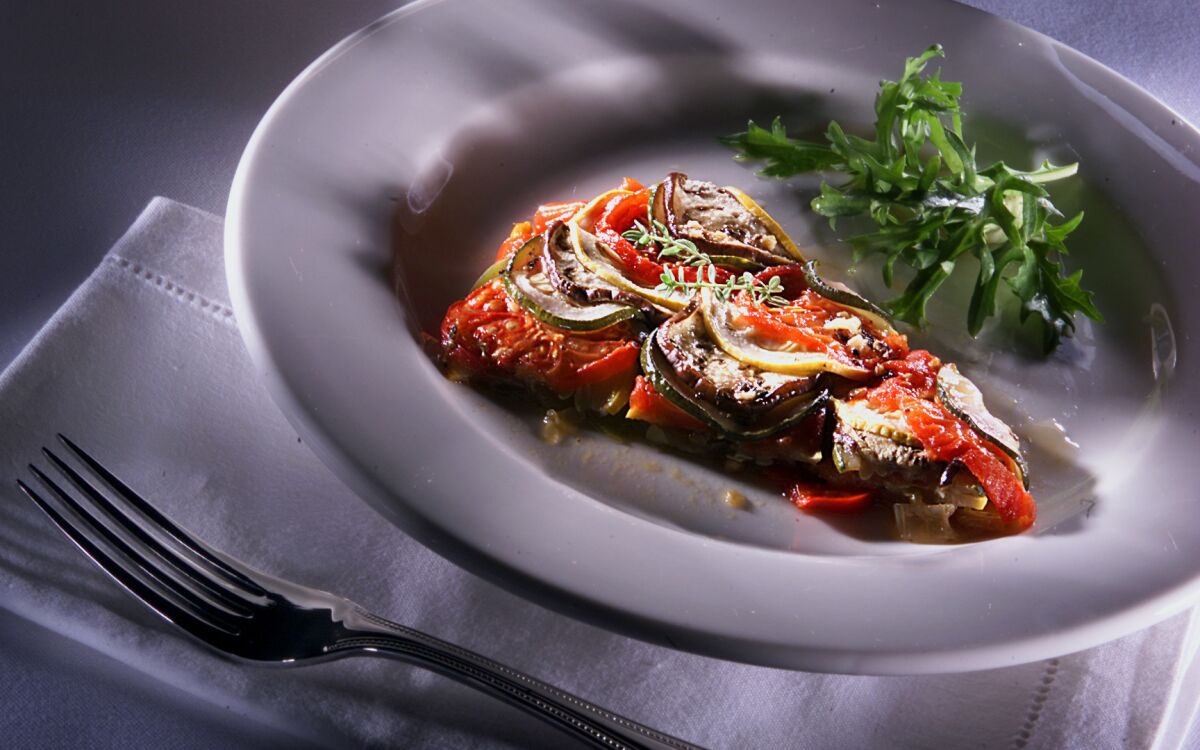 Print Recipe

Print Recipe
At this time of year, when the market is full of squash, eggplants and bell peppers, it's easy to take this abundance for granted. We might treat these vegetables casually and just throw them on the grill. But when they are carefully layered and cooked slowly, they become a complex, amazingly fragrant, visually beautiful dish--a preparation called byaldi .
The French cooking term byaldi is a corruption of the name of a classic Turkish dish: imam bayildi , which means "the imam fainted." That's how good this combination of eggplant stewed with tomatoes and onions is supposed to be.
In our version, sliced onions and peppers are cooked until they are limp and translucent, then layered with paper-thin disks of yellow squash, green zucchini, purple eggplant and red tomato. Finally, the dish is sprinkled with olive oil, garlic and thyme and slowly roasted.
Do this and you'll see bland, fleshy raw vegetables transformed into a gorgeous summer side dish, a perfect cold salad or a beguiling seasoning device-cum-garnish for fish or chicken.
You can make a case that byaldi is a kind of miracle of manipulation, the transformation of a bland vegetable into something ethereal through slow cooking. But you could also say quite rightly that byaldi is nothing more than a fancy-pants ratatouille.
Ratatouille, the common Provencal stew of eggplant, squash and tomato, is different from a byaldi mainly in terms of mechanics--the chopping and cooking. Byaldi is far more refined and considered, constructed with care.
Once cooked, it is amazingly aromatic. The sweet onion, peppers, eggplant, zucchini and tomato, whose flavors are intensified through slow cooking, the garlic and thyme, all conspire to produce a heavenly effect.
Wrap it and put it in the fridge, and it's even better the next day.
In fact, it makes a great and unusual summer salad, reminiscent of a caponata (again, a preparation that uses the same abundant summer vegetables). It's good by itself, but if you make a quick vinaigrette with olive oil, wine vinegar and capers--offsetting the sweetness with acid and salt--you've elevated it.
Or you can layer byaldi between two slices of bread and slather it with aioli for a perfect southern French summer sandwich.
You can take the byaldi even further by using its intense aromas to season meats. At the restaurant, we layer byaldi on the breasts of guinea fowl, wrap it all up in caul fat and roast it. You should be able to order caul fat from your butcher; it's a translucent membrane that holds what you're cooking together and then melts away. But you might easily layer byaldi onto chicken breasts, seal them tightly in plastic wrap and poach them. Or you could do the same with virtually any white meat or fish.
Byaldi in any of these forms is delicious, but for the cook the preparation is doubly satisfying because, through careful preparation, you have helped these pedestrian vegetables transcend themselves.
1
Heat the oven to 275 degrees.
2
Heat the vegetable oil in a large skillet over medium-low to medium heat. Add the onion, red, yellow and green peppers and the herb sachet, season with salt and pepper, and cook until the vegetables are softened but not browned, 15 minutes. Remove the sachet and spread the mixture in an even layer in a 12-inch ovenproof skillet or round baking dish.
3
Arrange the sliced zucchini, eggplant, squash and tomatoes over the onion and peppers, beginning at the outside of the pan and working toward the center, alternating and overlapping them.
4
Mix the garlic, olive oil, thyme and salt and pepper to taste and sprinkle over the vegetables. Cover with foil, crimping the edges to seal, or with a tight-fitting lid, and bake for 2 1/2 hours.
5
Remove the lid and check the vegetables (the eggplant will take the longest to cook): They should have softened and be almost cooked. Return to the oven, uncovered, and cook until very tender, an additional 30 minutes. The byaldi can be served immediately or cooled to room temperature and then refrigerated until ready to use, preferably within a day or two.
---
Get our new Cooking newsletter.
Your roundup of inspiring recipes and kitchen tricks.
You may occasionally receive promotional content from the Los Angeles Times.