California Greens
Yields
Serves 4 as a side dish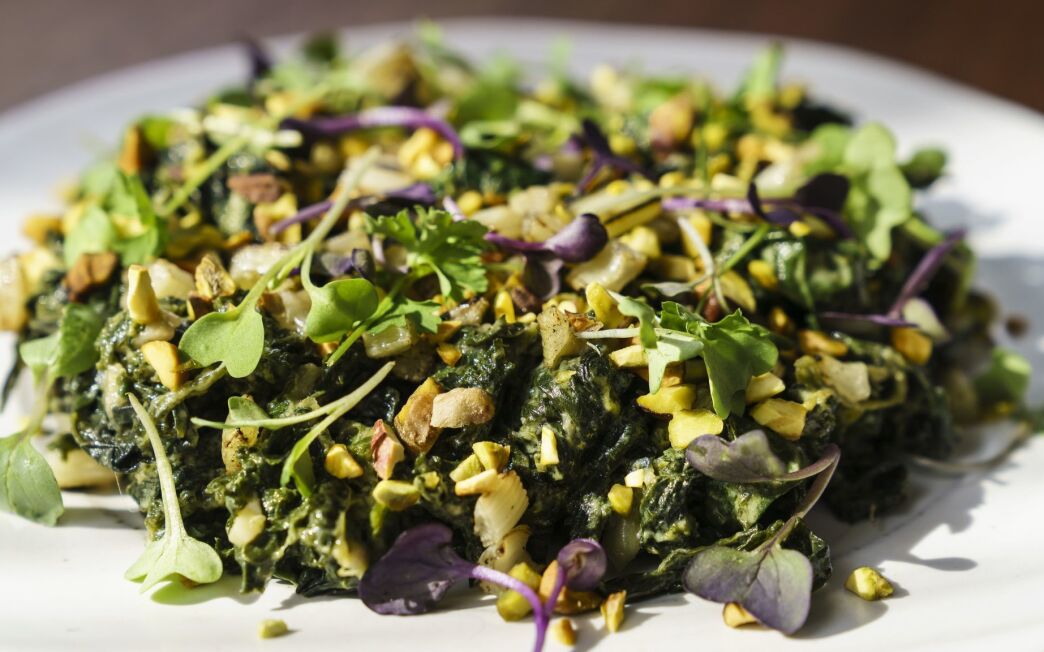 Print Recipe

Print Recipe
When I tell people I'm interested in making California soul food, I often get the response, 'So does that mean it has kale and avocado in it? Ha, ha!' Well, this dish is conceptually rooted in a play on the word 'green.' Green ingredients — green onion, green nuts (pistachio), green citrus (lime), etc. — is my cheeky, albeit very sincere, celebration of all that is cliché and wonderful about what consists of a 'California' dish.
Traditionally, greens are collards cooked until they're hammered in a smoked meat broth — typically ham hock or turkey neck. While they're very delicious that way, I've found that the actual flavor of the greens gets lost behind all the smoke. This recipe allows cooked greens to be all they can be — spicy (mustards), pleasantly bitter and slightly astringent (chard), deeply verdant (Tuscan kale) or bright (micro greens). The slightest bit of smokiness is retained with the grilled chard stems.
1
Set up a charcoal grill for direct, high-heat grilling or heat a gas grill over high heat. Bring a medium saucepan of heavily salted water to a boil. Fill large bowl with ice, then add water until nearly full.
2
While the water comes to a boil, make the avocado sauce: Halve, pit and peel the avocado and place in a medium bowl. Mash with a fork until smooth then whisk in the lime juice, 2 tablespoons vegetable oil and 1/2 teaspoon salt until smooth. Cover the bowl with plastic wrap and reserve while you cook the greens.
3
Trim the tough ends from the chard stems, then cut the stems into 3-inch lengths; cut each piece in half lengthwise. Drop the stems into the boiling water and cook until al dente, about 3 minutes. Using a slotted spoon, drain the stems and transfer them to the ice bath to stop their cooking. Drain the stems, then dry them on paper towels. Transfer the dry stems to a small bowl and toss with the remaining 2 teaspoons vegetable oil to coat and season with a pinch of salt.
4
Place the stems on the grill (if you don't have a grill, cook the stems in a large, lightly oiled cast-iron skillet over very high heat), and cook, flipping halfway through, until charred but not completely blackened, about 6 minutes total. Using tongs, transfer the stems to a cutting board, let cool for a few minutes, then finely chop. Reserve.
5
Heat 1 tablespoon olive oil in large, wide saucepan or Dutch oven over a medium-high heat. Add the sliced scallion whites and cook, stirring with a wooden spoon, until soft and starting to brown, 2 to 3 minutes. Add the curly kale leaves, season with a pinch of salt and stir to combine. Cover the pot and cook for 30 seconds to allow steam to wilt the kale. Remove the lid and stir until tender but with still a bit of chew, about 4 minutes.
6
Using your spoon, push the kale to the perimeter of the pan and pour in another 1 tablespoon olive oil. Add the Tuscan kale, followed by 1/4 cup water, then cover and steam for 30 seconds. Uncover and cook, stirring, until tender but with still a bit of chew, about 4 minutes more. Push the kale to the perimeter again and repeat with another 1 tablespoon olive oil and the Swiss chard leaves, steaming them for 30 seconds, then cooking them, uncovered, until tender, about 2 minutes. Push the greens to the perimeter again, add 1 tablespoon olive oil, then the mustard greens and another 1/4 cup water, and cover to steam for 30 seconds. Uncover and continue cooking until wilted and tender, 1 to 2 minutes.
7
Push the greens to the perimeter one last time, pour in the remaining 1 tablespoon olive oil, then add the garlic and cook, stirring, until fragrant but not browned, 1 minute. Stir to combine the greens and garlic, then remove the pan from the heat and stir in the sliced scallion greens. Transfer the sautéed greens to a bowl, add the avocado-lime sauce and stir to combine. Taste the greens and season with more salt if needed.
8
Spoon the greens onto a large plate or platter and sprinkle with the chopped chard stems followed by the pistachios. Drizzle with a spoonful of finishing olive oil and sprinkle with micro greens, if you like, before serving.
---
Get our new Cooking newsletter.
You may occasionally receive promotional content from the Los Angeles Times.