Cauliflower and potato gratin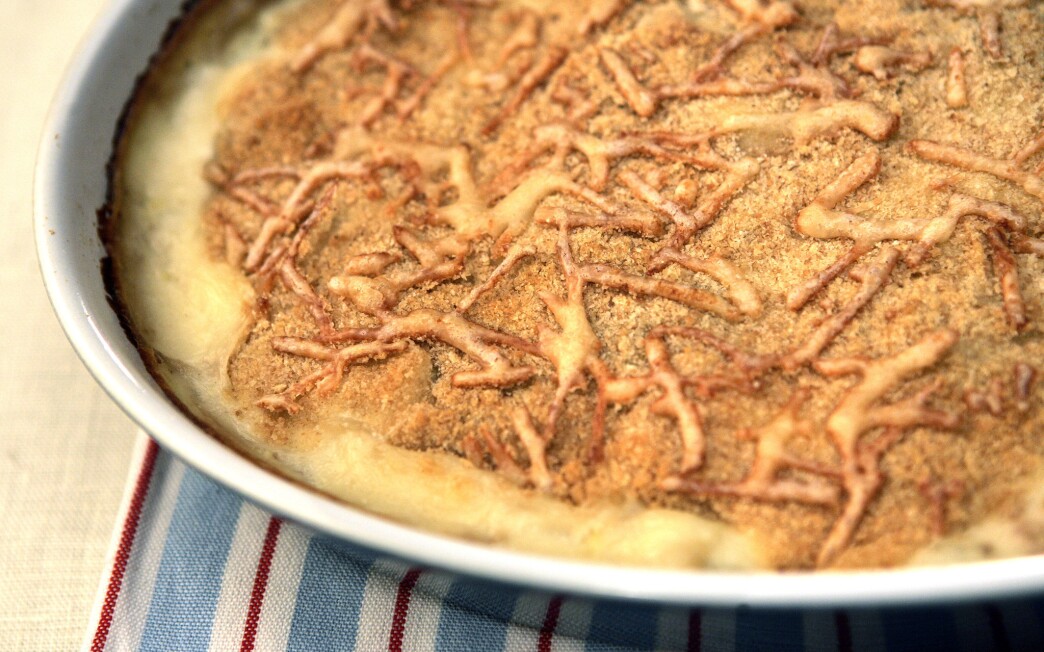 Print Recipe

Print Recipe
The big bang captures too much of our attention at Christmas. As kids (and maybe even later), we immediately go for the biggest packages under the tree, ignoring the more apparently modest stockings by the fireplace. The adult equivalent of that comes at the table, where we'll plan for weeks the massive roast that will be the centerpiece of Christmas dinner, the spectacular desserts that will cap it, or the fabulous wines that will make everything flow, and then wake up that morning thinking, "Oh shoot, maybe we ought to have a vegetable too."
I've been as guilty of that as anyone, spending weeks dreaming happily of my stuffed crown roast or my friend Martha's Christmas trifle. But just as we want our kids to appreciate the smaller gifts as well as the big ones, we adults should spend a little more time focusing on the quieter pleasures of the holiday table.
And let's face it, there's no part of the Christmas dinner that is more overlooked than the vegetable. We have an uneasy relationship with them to begin with. There is always a taint of obligation when it comes to vegetables. No matter how delicious they may be, that pleasure is always somewhat undercut by the knowledge that they're also good for us. It's like getting slippers for Christmas, or a vacuum cleaner.
Well, maybe it's time we grew up a little, huh? In the first place, I asked for slippers this year, and my daughter asked for a vacuum cleaner. So let's not make any jokes. Practical gifts that give small pleasures throughout the year are not to be overlooked.
--
Easy and delicious
This leads me indirectly, and not just a little bit sneakily, to these vegetable dishes. They're delicious, they're easy to make, and they're purely vegetarian, if you have someone of that persuasion coming to dinner.
The winter squash puree is very loosely based on a flavoring combination I learned years ago from Bruna Santini, the matriarch of one of Italy's great restaurant families. It's a medieval-tasting combination that plays the squash's natural sweetness against heat and spice. Crushed amaretti cookies add a subtle hint of almond bitterness. And a touch of balsamic vinegar brings everything into focus.
It's perfectly easy to make: Roast split squash until it's tender, then spoon the pulp into a food processor and puree it with the rest of the ingredients. It may be a little loose in texture at this point because of the moisture from the squash, but it will thicken as that moisture evaporates when you reheat it.
This is a remarkably unsubtle dish -- the flavors are bold and vibrant. But it's a great match for pork or poultry.
The Brussels sprout wilted salad, on the other hand, will get along with just about anything you put on the table. Brussels sprouts are an oddly detested vegetable because, I think, they're so often so badly prepared. Overcook them (which is easy to do because they're small), and you get nothing but that awful sulfuric smell, like bad cabbage.
The trick to preparing Brussels sprouts is cooking them briefly. If you're going to steam them, cook them whole and make sure they go no longer than the time it takes to get them just tender -- probably seven or eight minutes tops. (Once this is done, quarter them and then toss them with a dressing of crisp bacon deglazed with red wine vinegar and shallots.)
Another way to cook them so they come out great is to wilt them: Slice them into coins as thin as you can (ideally, no thicker than a quarter) and then flash-saute them in a very hot skillet. That's just enough to deepen the flavor and change the texture from simply crisp to a kind of crisp-chewy.
It'll take no more than a minute to do this, so be sure you have the dressing ready to go before you heat the pan. That way, you can pour it over the wilted sprouts, give everything a couple of quick tosses to evenly distribute the dressing and serve immediately. Of course, the dish is just as good served at room temperature, so it can be made a couple of hours before dinner.
--
Vegetarian, or not
I have a confession to make about this recipe: I have kept it meatless so you can serve it to vegetarian guests. And I do love the combination of walnuts, walnut oil and shallots -- this is the way I served it at Thanksgiving. But a part of me keeps wondering what this same dish would taste like larded with a few crispy bacon lardons.
There are no such concerns with the cauliflower gratin -- it's as satisfying a dish as you could ever want, even without a trace of meat. In fact, in the last few weeks, I've had it a couple of times for dinner, paired with nothing but a green salad.
There's no trick to it: Swathe cooked cauliflower and potatoes in a thick, cheesy white sauce, top it with bread crumbs and more cheese and bake until it is bubbling and browned.
Do be sure to cook the cauliflower well. Unlike Brussels sprouts, that mellows the flavor. And make the white sauce a little thicker than you might think appropriate -- the cauliflower and potatoes will both give off some moisture while they bake. Also, though I used Gruyere for the cheese, I've made it with a sharp cheddar too, and it worked beautifully.
The best thing about these recipes is that they're the kinds of dishes you can go back to again and again through the winter and even into the early spring. Who says Christmas comes only once a year?
1
Heat the oven to 400 degrees. Cut the dried base and green leaves from the cauliflower and discard them. Separate the head into florets about the size of walnuts and chop the stem into similar size pieces. Cut the potatoes into similar-size pieces as well.
2
Bring a large pot of water to a boil over high head and salt liberally. Add 1 tablespoon of vinegar and the cauliflower and potatoes (the vinegar will help keep the cauliflower white). Cook until the cauliflower pieces are tender enough to be easily cut with a spoon, 10 to 15 minutes. Drain and set aside.
3
While the cauliflower is cooking, make a cheese sauce. In a medium, heavy-bottom saucepan, melt the butter over medium-low heat and stir in the leeks. Cook until they are soft, about 10 minutes. Add the flour and whisk to make a smooth paste. Add the milk a little at a time, cooking until it thickens. When all the milk has been added, reduce the heat and cook over medium-low heat for 5 to 10 minutes.
4
Stir in the creme fraiche and then one-half cup of the Gruyere, 1 teaspoon salt and a generous grating of nutmeg (a little less than one-quarter teaspoon). Whisk until smooth, then taste and add more salt or nutmeg if necessary.
5
Butter a 6-cup gratin dish and spread a thin layer of the sauce evenly over the bottom. Arrange the cooked cauliflower and potatoes in an even layer over the sauce. Pour the remaining sauce over the top and spread evenly with the back of a spoon. It should come about three-quarters of the way up the vegetables.
6
Scatter bread crumbs evenly over top and then scatter the remaining one-quarter cup Gruyere over that. Bake until the gratin is bubbling and the top is browned, 30 to 40 minutes. Serve immediately.
---
Get our new Cooking newsletter.
You may occasionally receive promotional content from the Los Angeles Times.