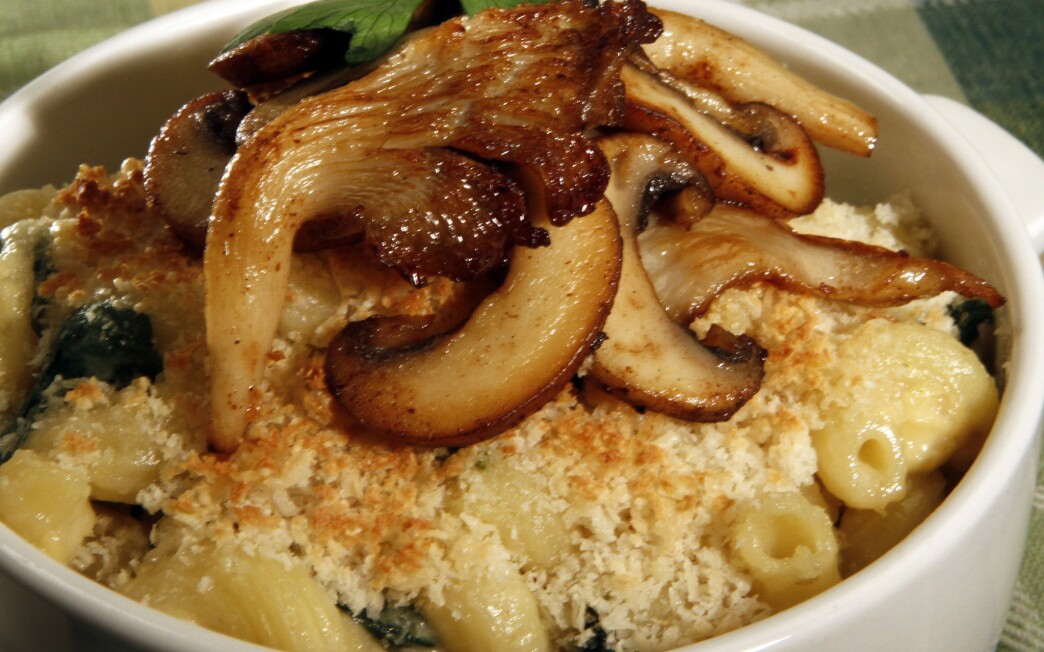 Print Recipe

Print Recipe
Dear SOS: I took out-of-town visitors to the Beachcomber in Crystal Cove, and several of us ordered the spinach truffle mac and were awed with the delicious combination of ingredients in addition to the lovely setting. Is it possible to obtain this recipe? Thanks.
Jan Nunes
Garden Grove
Dear Jan: The Beachcomber was happy to share its rich and creamy take on this classic comfort food, which we've adapted below. Enjoy!
1
Heat a medium, heavy-bottom pot over medium-high heat until hot. Add one-half cup (1 stick) of butter, swirling to melt.
2
Add the button mushrooms and saute until lightly colored, 2 to 3 minutes. Add the spinach and continue to saute for a minute to wilt.
3
Stir in the heavy cream, smoked Gouda, 8 ounces pecorino cheese and truffle oil, and reduce the heat slightly. Continue to cook, stirring frequently, until the sauce starts to thicken, about 5 minutes.
4
Toss in the pasta and heat through, stirring until the sauce is thickened and creamy. Taste and season if desired. Remove from heat and set aside in a warm place.
5
Heat a saute pan over medium-high heat until hot. Melt the remaining butter and saute the mixed mushrooms until lightly browned, 2 to 3 minutes. Remove from heat.
6
In a small bowl, toss together the panko crumbs with the remaining 1/4 cup Parmesan cheese.
7
To plate, divide the pasta among 4 to 8 oven-proof bowls. Top the pasta with the bread crumb mixture and place the bowls under the broiler. Broil the pasta just until the topping starts to brown, about a minute, depending on the distance of the broiler.
8
Remove the bowls from the broiler and top each serving with the sauteed mushrooms and a sprig of parsley. Serve immediately.
Adapted from the Beachcomber at Crystal Cove. Cavatappi pasta is a type of tube pasta, similar to macaroni; it is available at select gourmet grocers and cooking supply stores.
---
Get our new Cooking newsletter.
You may occasionally receive promotional content from the Los Angeles Times.