Chicken Kebab With Dried Lime and Mint
Time
1 hour 10 minutes, plus overnight marinating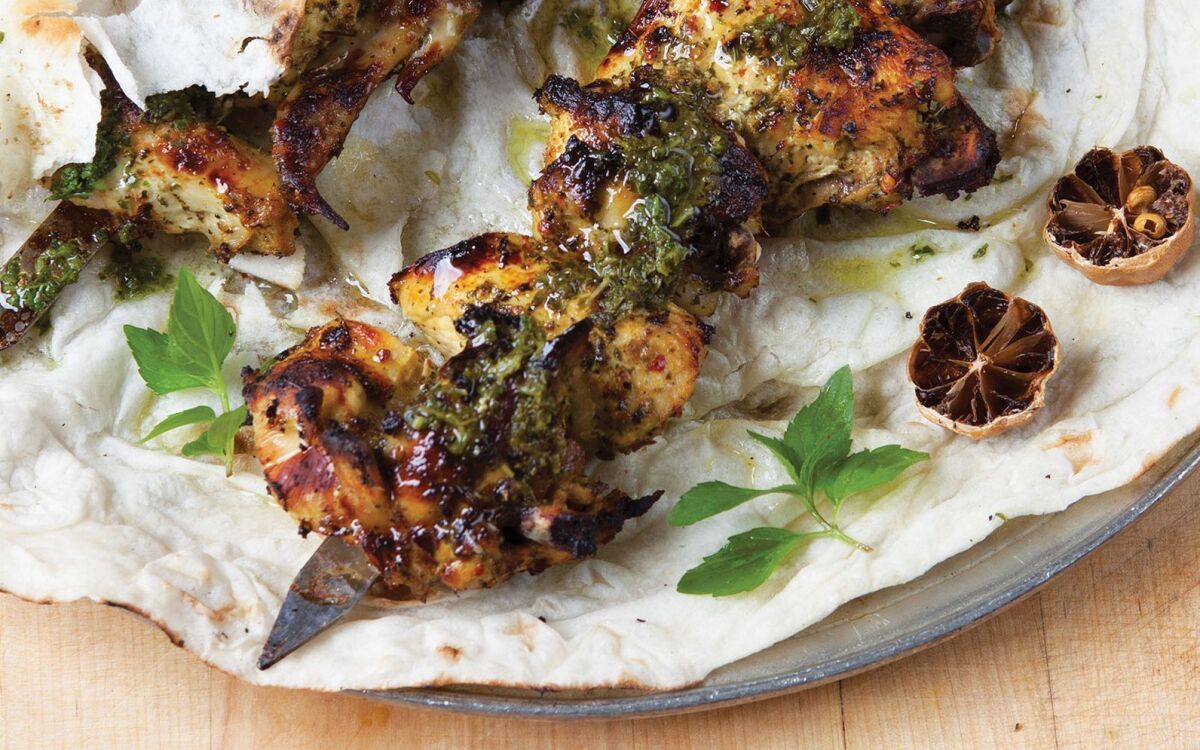 Print Recipe

Print Recipe
1
In a large storage container or gallon-size zip-top plastic bag, combine the olive oil, ½ cup lime juice, the cider vinegar, 3 tablespoons ground dried lime, the dried mint, chile flakes, salt, pepper, cardamon, turmeric, onion and garlic. Add the chicken and toss well to coat it in the marinade. Cover and refrigerate overnight and up to 3 days, turning the chicken twice while it marinates.
2
Prepare a charcoal grill for direct grilling, heat a gas grill to high or heat your broiler to high. (The success of a good kebab depends on a very hot grill.)
3
Using 12 flat, ½-inch-wide sword-like metal skewers or 10 to 15 wooden skewers (soak wooden skewers in water for 5 to 10 minutes before skewering to prevent burning), skewer the wings, breasts and legs onto different skewers (they will require different cooking times). Place the skewers on a baking sheet or platter.
4
Prepare the baste: In a small saucepan, heat the remaining juice of 1 lime, the fresh (or quarter-cup dried) mint and butter over low heat to marry the flavors. Remove from heat and hold in a warm place.
5
Grill the chicken pieces, turning frequently and basting often with the mint butter, until done, 8 to 15 minutes depending on size. The chicken is done when the juice that runs out is yellow rather than pink.
6
Arrange the lavash evenly on a flat serving platter. Remove the chicken from the grill and place on the bread. Keep the chicken on the skewers until just before serving to help keep it warm.
7
To remove the chicken from the skewers, steady them on the platter with a piece of bread and pull out the skewers. Sprinkle the remaining 1 tablespoon ground dried lime over the chicken and garnish with the basil.
Adapted from a recipe in "Cooking in Iran: Regional Recipes and Kitchen Secrets" by Najmieh Batmanglij.
---
Get our new Cooking newsletter.
Your roundup of inspiring recipes and kitchen tricks.
You may occasionally receive promotional content from the Los Angeles Times.