Chicken mangalorean
Time
Active work time: 35 minutes Total preparation time: 1 1/2 hours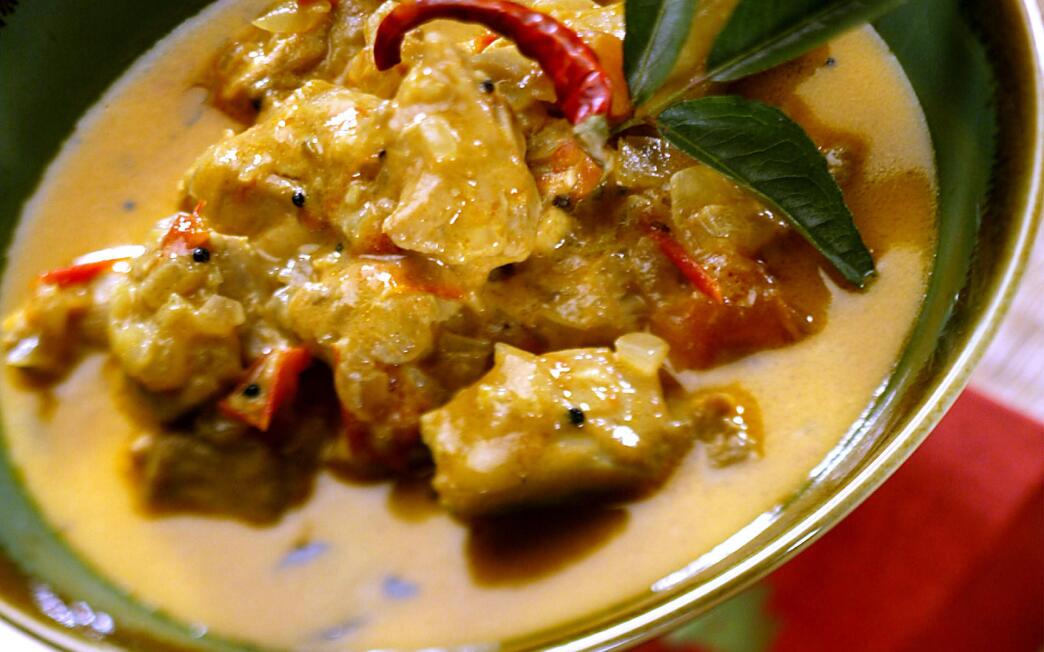 Print Recipe

Print Recipe
Los Angeles is a city proud of its spectacular range of ethnic foods and proud, too, that so much of it is authentic. When it comes to authenticity, however, a glaring exception is Indian curry. Oh, there are many dishes that are described as curry. But, trust us, they're just impostors.
Yet the genuine article does in fact exist here. It's just that you have to know where to look and know what you're looking for. And if you find it--or if you prepare it at home--you're in for a culinary epiphany. A true curry is carefully cooked, with freshly ground spices balanced skillfully so that the flavor is alluringly spicy--not just fiery hot. Good curries are never drenched with oil or thickened with flour. And they never taste alike. Each has its own character, and each should be eaten thoughtfully. Those who understand curry know it is best appreciated when it is tempered with rice or bread, rather than being scooped up straight, as if it were a soup or a stew.
These are four of the best curries I've eaten in this city. Each is from a different region of India, and each is a stunning representation of that style of cooking. The chefs were willing to tell how they make them, even volunteering to demonstrate so we could see how they created these superb flavors. All of them are easy to reproduce at home, even if you've never cooked Indian food before. There are no secret techniques, only meticulous procedures and timing. Follow directions, work with patience and use the correct ingredients, and you will have an excellent curry, too.
Once you've experienced the real thing, you'll never settle for bogus cooking--the kormas made with canned white sauce, Punjabi seasonings from the north thrown into south Indian food, garam masala sprinkled on every dish. It's not always a matter of deception. Cooks may have no professional training, and may not have the time or resources to roast and grind spices and prepare sauces fresh each day. It's more convenient to use commercially ground spices and store batches of sauce in the refrigerator.
Here's just one example of what happens. Almost every restaurant slaps the word vindaloo onto a fiery dish that tastes nothing like it would in its place of origin, which is Goa, the former Portuguese enclave on the west coast of India.
Goan food is particularly difficult to find here, so we sought out one of the few Goan chefs in the city, Addi Decosta, to explain how vindaloo should be made. For years, Decosta cooked his vinegar-seasoned curry at Chicken Madras in Hawthorne. (He has sold that place and will open a new restaurant, Addi's Tandoor, in Redondo Beach next month.)
A Goan native, Decosta is scandalized by American vindaloos that reek of tomato sauce--a real no-no. Goan cooks of the past relied on vinegar as a preservative, because they didn't have refrigeration, he says. When tomato sauce is added, the vinegar has to be reduced to balance the acidity. This throws off the flavor.
"Vindaloo is like a pickle, almost," Decosta says. "The longer you keep it, the better it tastes." Goan cooks stored their vindaloo in clay pots, reheating it as needed. The standing time also tenderizes tough meat. Pork is traditional in vindaloo, but today more Goan cooks are opting for lighter foods and have switched to shrimp. The difference is seafood has to be cooked and served immediately.
It's not likely Goan food will become more common in Los Angeles, because Goan chefs are not immigrating here. "In Goa, they have many resorts, so they are all busy over there," Decosta says. "And they are very well paid."
Sanjay Dwivedi, executive chef of Tantra, a new restaurant in Silver Lake, has just arrived from London where he cooked at Zaika, a top Indian restaurant that was awarded a Michelin star in 2001. He is also taking an ambitious approach here. "I want to put Indian food on the map--good Indian food, so that people know it's light, it's healthy, it's flavorsome, rather than just tasting of spices," he says.
Dwivedi already has diners raving about his intense, deep brown rogan josh, a Kashmiri lamb dish. One customer even rushed into the kitchen to say, "That's the best lamb curry I ever tasted."
Good rogan josh should taste "really oniony" and meaty, Dwivedi says. The dish cooks for hours, first a massive batch of sliced onions, along with some of the spices, then lamb shanks, meat and more seasonings. "The amount of time spent making this curry is why it tastes the way it does--beautiful," Dwivedi says.
Everyone in the kitchen gives a stir as the creamy mixture bubbles in a huge pot--but no cream is added, and very little liquid. "It's the onions that make the sauce thick and give the lamb flavor," Dwivedi says.
The onions are cooked until golden brown, and this darkens the curry. Other cooks in Tantra's kitchen were surprised at the deep hue. They were accustomed to lighter rogan joshes that contain much more tomato. "You can have a hint of tomatoes," Dwivedi says. "but you can't put in too much. It will spoil it."
The final touch is garam masala--freshly made from spices such as cinnamon sticks, cloves, mace, green and black cardamoms, fennel seeds and bay leaves that are dry roasted and then ground. Dwivedi stirs in sugar and lemon juice, too, to counteract sharpness.
"How you cook your spices is the main difference in a curry," he says. "If your spices are raw or have not been cooked all the way, it can taste very bitter. The oil can't be too hot, or the spices will burn. If too cold, the flavors won't come out." And don't even dream about spice blends. "The last thing you want to use is curry powder," he says.
Yes--a good curry is not made with curry powder. A classic book on Indian food, "Mrs. Balbir Singh's Indian Cookery," published repeatedly since it first appeared in 1961, attributes "drabness and monotony" to ready-made curry powders.
Those are the last words you'd use to describe the Chicken Mangalorean at Surya on West Third Street. It is a truly glorious dish. Even though it has never been put on the menu, everyone seems to know it's there. As a matter of fact, it's the second most popular dish after chicken tikka masala, says owner Sheel Joshi. "We have quite a few people who won't eat anything else, he says.
Creamy, unctuous and just a little spicy, it is devastatingly addictive. Joshi devised the recipe, phoning to Mangalore on India's southwest coast for input. "It's a mix of north and south," he says. The classic northern seasonings--ginger, garlic, cinnamon, cloves and cardamoms--get together with southern coconut milk, curry leaves and mustard seeds.
At first glance, one assumes the cook was not paying attention and burned the spices. But the black flecks in the golden sauce are deliberate. Fresh curry leaves, mustard seeds and red chiles cook in oil so hot that the curry leaves crackle and turn black instantly. The chiles also blacken. "They should burn--that really gives the flavor to the oil," Joshi says.
The taste of curry leaves is hard to describe. Think of toned-down eucalyptus crossed with pepper, a flavor unlike anything in the gamut of herbs and spices that most Americans know. It is what gives this dish its cachet. Without curry leaves, the sauce would be pleasantly creamy, but not distinctive.
No longer rare, curry leaves are sold fresh in many Indian markets. But they're not always available, and that's why chicken Mangalorean is not printed on the menu.
Another creamy curry, malai kofta, comes from the Punjab. It's usually reserved for weddings and other festive occasions, but you can have it every day at A-1 Produce and Veggie Lovers Deli in Northridge. At one side of this large market is a kitchen and deli counter serving vegetarian dishes and a display of luscious Indian sweets and snacks.
Here you can buy freshly made paneer cheese, one of the ingredients in malai kofta. Malai means creamy, and kofta is food shaped into a ball. The cheese is grated along with vegetables to form the balls, which are bound with besan (chick pea flour). The kofta are fried until golden brown, then added to a sauce that combines tomatoes, onion and a raft of spices with rich, heavy whipping cream.
Somi and Veena Rehil, who own the market, are from northern India. Somi is from Chandigarh, the capital of the Punjab, and so they know this style of cooking intimately. Like Decosta and Dwivedi, they insist on fresh seasonings. Customers sometimes think that curry means a dish made with special curry powder, Veena Rehil says. "We never use curry powder."
But of course, curry powder is entrenched in the West. It's the key seasoning for that common "curry" cooked with apples and served with cute little dishes of raisins, coconut, mango chutney and other condiments. I have to admit, this dish can be pretty good. I remember eating lots of it in college, cooked by Sikh students who did the best they could with what they could find in a small-town market.
But it's nothing compared with India's extraordinary curries--the sumptuous banquet dishes of the Mogul emperors, the Hyderabadi curries that blend Mogul cuisine with southern ingredients, the sweet vegetarian dishes of Gujarat, and so many more. Too bad we can't taste them all, but we're lucky to have a few worthy contenders.
1
Combine the garlic and ginger with about 1 tablespoon of water in a small food processor and process to a paste. Set aside.
2
Heat 1 teaspoon of oil in a Dutch oven over medium-high heat. Add the onions, tomatoes, garlic and ginger paste, cinnamon stick, cardamom pods, cloves, cumin seeds, coriander, turmeric and salt. Cook 10 minutes, stirring occasionally.
3
Add the chicken and stir to mix with the spices. Cook 15 minutes uncovered, stirring occasionally, then cover and cook 5 minutes. Add the coconut milk and water. Cover and cook 10 minutes.
4
Meanwhile, heat the remaining 1 1/2 teaspoons of oil in a skillet over high heat until very hot.Add the mustard seeds (be careful, they'll pop out of the skillet), chiles and curry leaves. The oil should be hot enough so the curry leaves crackle and turn black right away; the chiles should also turn black. Cook no more than 3 minutes. Pour this mixture into the chicken. Simmer 5 minutes longer.
This is from Surya restaurant.
---
Get our new Cooking newsletter.
You may occasionally receive promotional content from the Los Angeles Times.