Chicken, peanut and noodle wraps
Yields
Serves 8 as an appetizer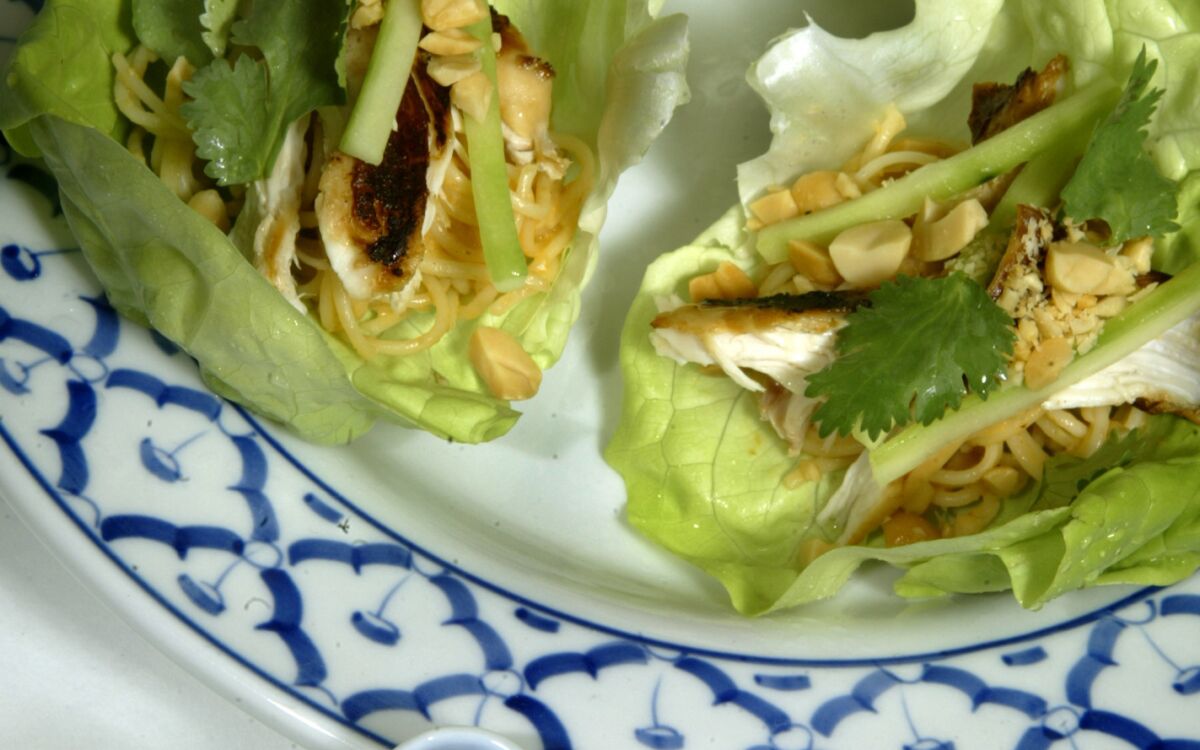 Print Recipe

Print Recipe
This is a great casual dish for a party, attractive, tasty and low-maintenance for host and guests alike. The recipe was inspired by Thai summer rolls, which use large lettuce leaves as edible wrappers for a savory filling. Butter lettuce, with its cucumber-like fresh flavor, adds a crisp, clean note to grilled chicken and noodles with a spicy peanut sauce.
From the story: Give us the greens
Sweet and sour sauce
1
In a small, dry saucepan, toast the chile flakes over high heat until fragrant, 1 to 2 minutes. Add the salt, sugar and rice vinegar. Cook over medium-low heat until the salt and sugar are dissolved. Stir in the garlic. Remove the sauce from the heat and cool completely. (Makes one-half cup.)
Fillings and assembly
1
Mix together the soy sauce, wine or sherry, sesame oil, 1 clove crushed garlic and 1 teaspoon minced ginger.
2
Rinse and pat dry the chicken breasts, then flatten them slightly with the flat end of a meat tenderizer or the bottom of a skillet. Place the chicken in soy sauce mixture and marinate one-half hour to an hour.
3
Combine remaining crushed garlic and ginger, the chile paste, peanut butter, sugar, peanut oil, lime juice and water in a blender jar. Blend until smooth to make the peanut sauce. (Makes 1 cup sauce.)
4
Cook the pasta according to the package directions. Drain, rinse under cold water; drain again. When the pasta is cool, toss with the peanut sauce.
5
Remove the chicken from the marinade; discard marinade. Heat a grill or grill pan to medium-high heat and grill the chicken on each side until cooked through, about 8 to 10 minutes. Remove the chicken from the heat. Cool slightly and cut or tear into strips.
6
Peel and seed the cucumber and cut it into 2-inch julienne strips.
7
Tear the lettuce leaves off the core and rinse, discarding any wilted or tough outer leaves. Pat dry.
8
Assemble bundles by placing about 2 tablespoons peanut noodles in the center of each lettuce leaf and topping with slices of chicken and strips of cucumber. Sprinkle with the chopped peanuts and cilantro. Serve with sweet and sour dipping sauce.
---
Get our new Cooking newsletter.
Your roundup of inspiring recipes and kitchen tricks.
You may occasionally receive promotional content from the Los Angeles Times.