Chilled Asparagus with Green Garlic Mayonnaise and Dijon Egg Salad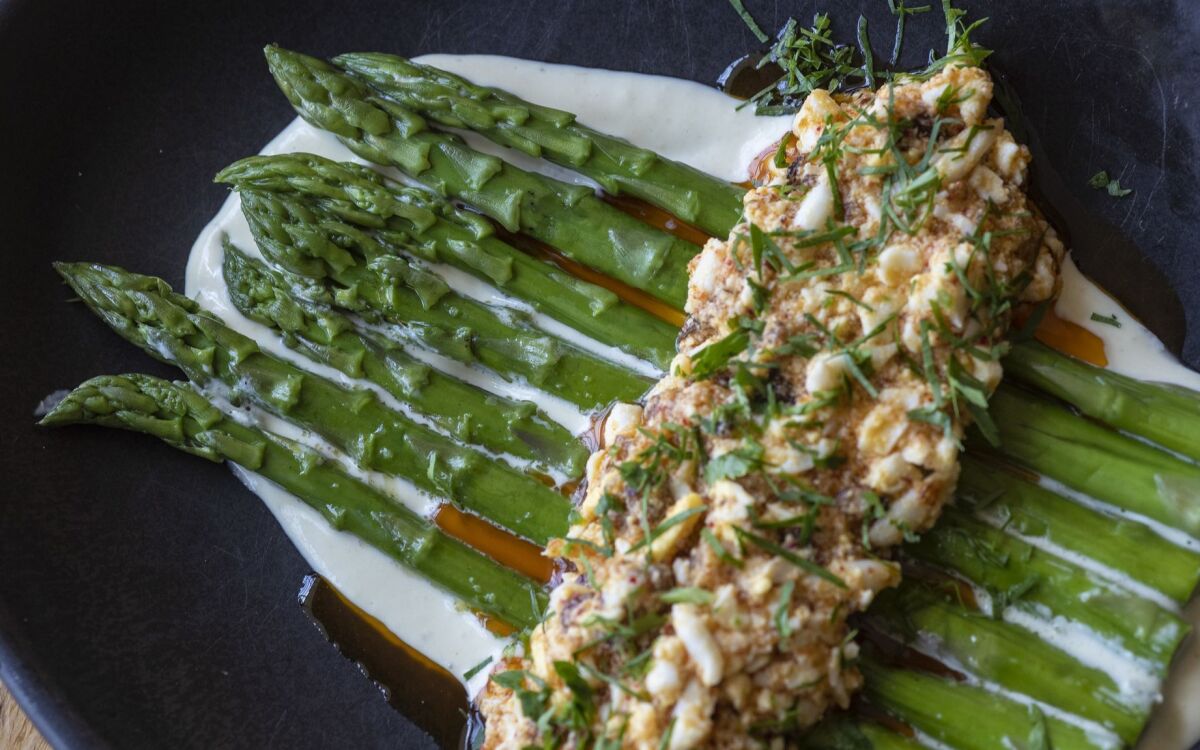 Print Recipe

Print Recipe
Green garlic, the fragrant but mellow stalks that haven't yet matured to full garlic bulbs, bring out the grassy side of asparagus in an easy blender mayonnaise. That creamy base is topped with a light egg salad dressed with a lemony mustard vinaigrette and laced with fat breadcrumbs. Their crunch is a welcome and delicious shock with each bite. For a final fresh touch, save the lemon rinds from squeezing the juice and zest the peel directly over the whole dish.
1
Bring 8 cups water to a boil in a large saucepan over high heat and add 2 tablespoons salt. Add the asparagus and cook, turning occasionally, until bright green and just tender, 3 to 6 minutes. Drain and immediately spread on a paper towel-lined baking sheet in a single layer. Refrigerate uncovered until chilled.
2
Meanwhile, put the eggs in a small saucepan and add enough cold water to cover by 1 inch. Bring to a boil over high heat, then cover and remove from the heat. Let stand for 9 minutes. Drain and run under cold water until cool. Peel the eggs and coarsely chop, then transfer to a bowl with the vinaigrette. Add the breadcrumbs and parsley and fold gently until evenly mixed.
3
Pull the paper towels out from under the asparagus and discard. Drizzle the olive oil over the asparagus and sprinkle with salt. Turn the spears with your hands to evenly coat.
4
Spread the mayonnaise all over a serving platter and top with the asparagus, then the egg salad. Serve immediately.
Green Garlic Mayonnaise
1
Heat 1 tablespoon oil in a small skillet over medium heat. Add the green garlic and a large pinch of salt. Cook, stirring occasionally, until bright green and tender but not brown, about 3 minutes. Remove from the heat and cool.
2
Transfer the cooled green garlic to a blender, along with the egg and lemon juice. Puree until smooth. With the machine running, add the remaining half cup oil in a slow, steady stream until the mixture is thick like mayonnaise. Season with salt.
Make Ahead:
The mayonnaise can be refrigerated for up to 1 week.
Dijon Vinaigrette
1
Whisk the vinegar, lemon juice, mustard, pepper, and a pinch of salt in a large bowl. While whisking, add the oil in a slow, steady stream and continue whisking until the vinaigrette emulsifies. Season with salt.
Make Ahead:
The vinaigrette can be refrigerated for up to 1 week.
Adapted From:
Keith Corbin at Alta Adams.
---
Get our new Cooking newsletter.
Your roundup of inspiring recipes and kitchen tricks.
You may occasionally receive promotional content from the Los Angeles Times.