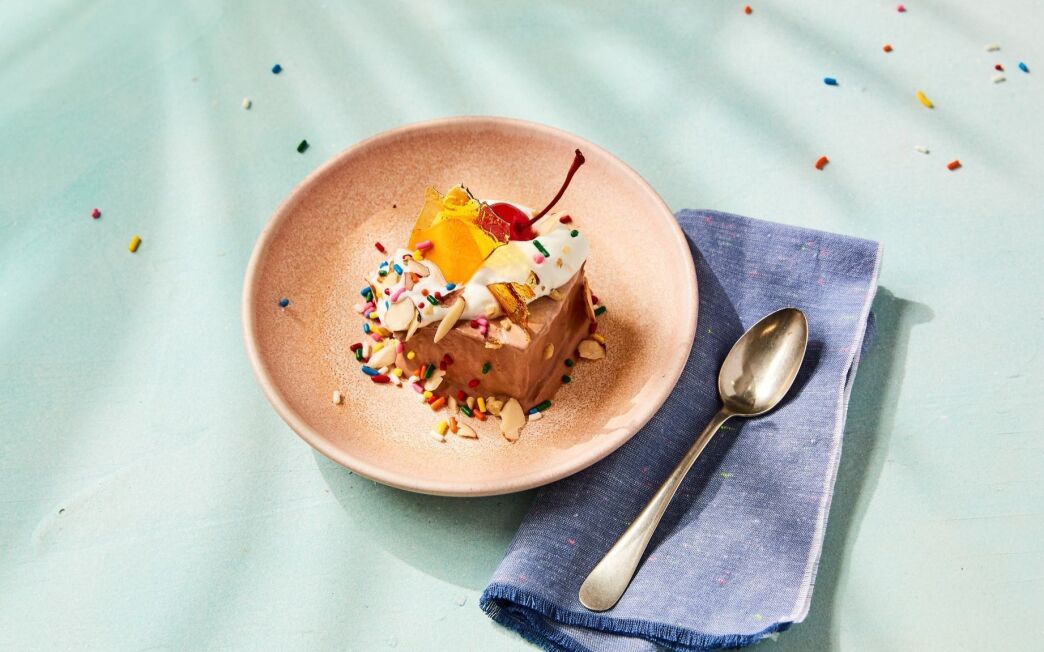 1
Press plastic wrap into the bottom and up the sides of a 9- by 13-inch rimmed baking sheet or cake pan with overhang on all 4 sides.
2
Sift the cocoa powder into a medium bowl. Add the sweetened condensed milk and stir until well-combined.
3
Whisk the cream using an electric mixer on medium-high speed until medium peaks form. Reduce the speed to low and add the cocoa mixture in a steady stream, then add the vodka and salt. When well-blended, pour the mixture into the prepared pan.
4
Smooth the top with a spatula, then gently press the plastic wrap overhang directly against the surface of the chocolate mixture. Freeze until firm, at least 4 hours and up to 1 week.
5
Lift the mixture out of the pan using the plastic wrap overhang and unwrap. Cut into 12 even pieces. Put on serving plates and top with shards of saffron glass. Serve immediately.
Saffron Glass
1
Put the saffron in a medium saucepan and set over medium heat. Toast, shaking the pan occasionally, until fragrant and brittle but not browned, about 3 minutes. Immediately pour the boiling water over the saffron and let stand for 1 hour to infuse.
2
Line a large rimmed baking sheet with parchment paper or a nonstick baking mat.
3
Add the sugar, cream of tartar and salt to the saffron water. Stir well, then spread in an even layer. Bring to a boil over medium heat without stirring. Use a pastry brush dipped in water to brush any sugar granules off the sides of the pan. Reduce the heat to medium-low and simmer until the sugar is an amber color and registers 310 degrees on a candy thermometer. Immediately pour onto the prepared pan and spread as thin as possible with a spatula.
4
Let stand until completely cooled and hardened. Break into shards.
Total time: 1 ½ hours, largely inactive. Serves 12.
Make Ahead: The semifreddo can be frozen for up to 1 week. The glass will keep in an airtight container at room temperature in a cool, dry place for up to 2 days.
---
Get our new Cooking newsletter.
You may occasionally receive promotional content from the Los Angeles Times.