Cielito Lindo's avocado sauce
Yields
Makes about 1 quart sauce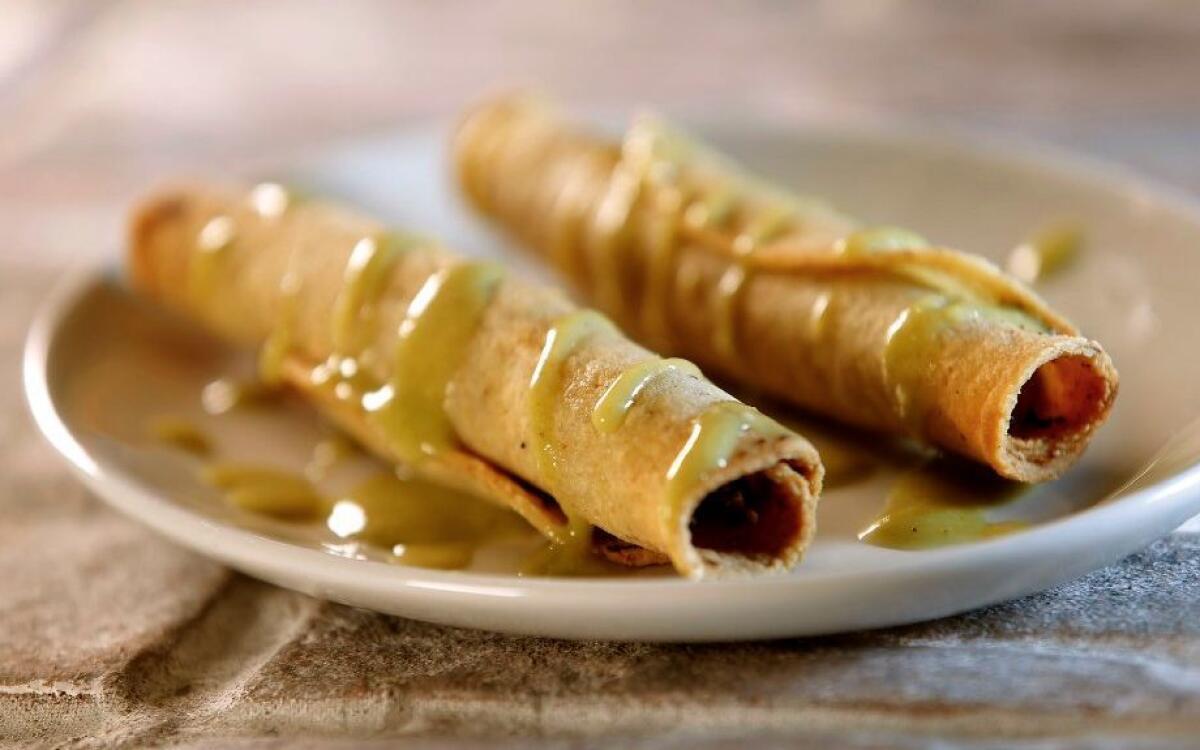 Print Recipe

Print Recipe
It's hard to walk through Los Angeles' Olvera Street without making a stop at Cielito Lindo. The restaurant, one of the oldest in the city, has been serving its famous crunchy taquitos since 1934, doused in a thin but spicy avocado sauce. Reader Jim Toomey from Reseda has been enjoying the taquitos for more than 40 years. "I have, on several occasions, attempted to replicate their sauce with little success," he writes. "Please help! How do they do it?"
The sauce is a combination of fresh yellow chiles, garlic, tomatillos and cilantro, simmered for a few minutes until softened, then blended with avocado. It's the perfect accompaniment for taquitos and tacos. Cielito Lindo was happy to share its recipe. Enjoy this flavorful little piece of L.A. history, Jim.
1
In a heavy-bottom saucepan, combine the water, chiles, garlic, tomatillos and cilantro. Bring the mixture to a simmer, loosely cover, and cook until the chiles and tomatillos are softened, about 5 minutes. Remove from heat.
2
Drain, reserving the water, and place the ingredients into a blender. Add the avocado and salt. Carefully blend at low speed, adding water as needed, until the mixture is pureed to form a thin sauce. Taste and adjust the seasoning if desired. The sauce will keep, covered and refrigerated, up to one week.
Adapted from a recipe by Cielito Lindo in downtown Los Angeles.
---
Get our new Cooking newsletter.
Your roundup of inspiring recipes and kitchen tricks.
You may occasionally receive promotional content from the Los Angeles Times.