Crab cakes with key lime mustard sauce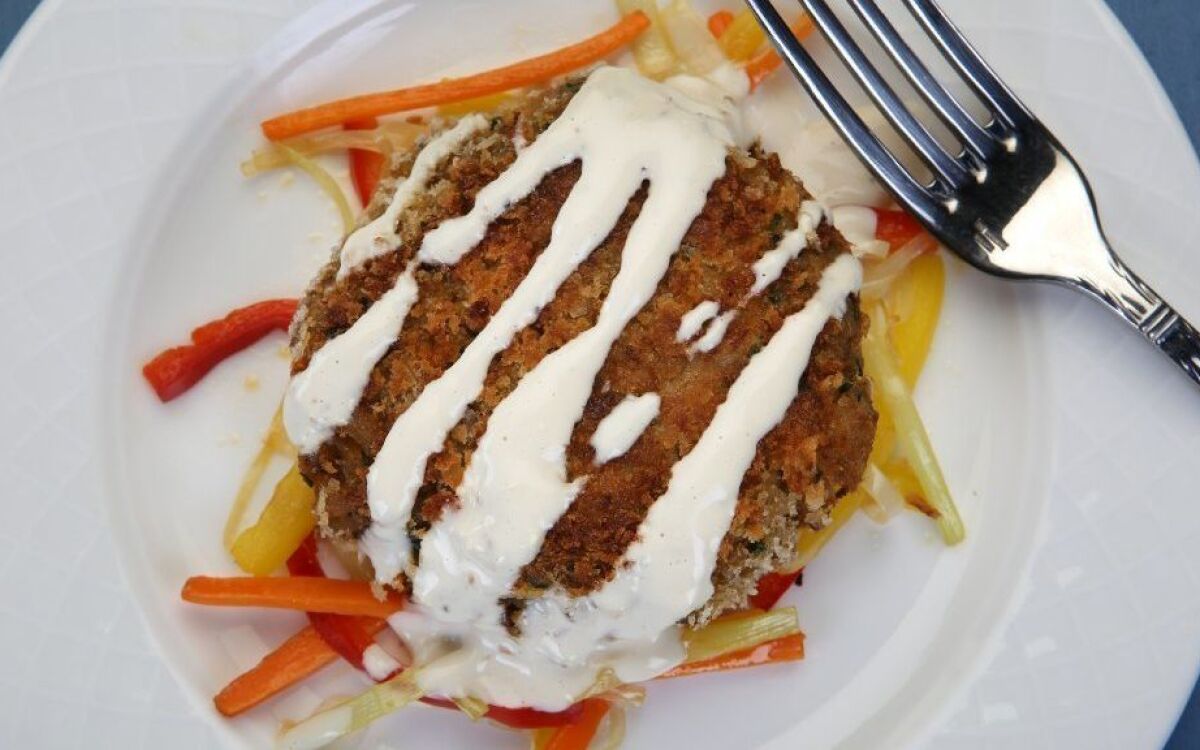 Print Recipe

Print Recipe
Reader Andrea Bardack can't stop thinking about the crab cakes she and her mother had at the Watercolour Grillhouse at the Clearwater Beach Marriott Suites on Sand Key in Florida. And the preparation is certainly a hard one to beat: Generously portioned, lump crab meat is flavored with fresh chives and cilantro along with a bit of Old Bay seasoning, the cakes dredged in panko bread crumbs and pan-fried. The cakes are served over a colorful bed of brightly colored vegetables and topped with a bright Key lime mustard sauce. The sauce "was so tangy, it really enhanced the flavor of the crab," Bardack wrote when she asked us to get the recipe.
The Watercolour Grillhouse was happy to share its recipe so you can have a little taste of Florida right here at home, Andrea. Enjoy.
Crab cakes
1
In a mixing bowl, combine the crab meat (leave large lumps there), chives, cilantro, nutmeg, Old Bay seasoning, crackers, mayonnaise, mustard and egg, mixing well. Take a small amount of mixture and cook to check for seasoning.
2
Refrigerate the mixture for at least one hour to give the flavors time to develop. Shape the mixture into 4 crab cakes and coat well with panko bread crumbs. Place the crab cakes on a baking sheet or plate and chill for at least 1 hour, up to overnight, prior to cooking.
Key lime mustard sauce
1
In a bowl, combine the mayonnaise, mustard, lime juice and salt and pepper to taste. Cover and refrigerate until ready to serve the crab cakes.
Assembly
1
Heat the oven to 350 degrees.
2
Heat a large saute pan over medium-high heat until hot. Add enough butter or oil to form a thin layer of fat on the bottom of the pan, then add the julienned carrot, leeks and bell peppers. Cook, stirring frequently, until the vegetables are brightly colored and crisp-tender. Remove from heat and keep in a warm place.
3
Add more butter or oil as needed, and fry the crab cakes until browned on both sides (this will need to be done in batches). Place the cakes on a baking sheet and bake until cooked through, 15 to 20 minutes.
4
Divide the vegetables among 4 plates, and top each serving with a crab cake. Serve with the Key lime mustard sauce.
---
Get our new Cooking newsletter.
Your roundup of inspiring recipes and kitchen tricks.
You may occasionally receive promotional content from the Los Angeles Times.