Cracked wheat mana'esh (flatbread with za'atar)
Yields
Makes 8 (6- to 7-inch) flatbreads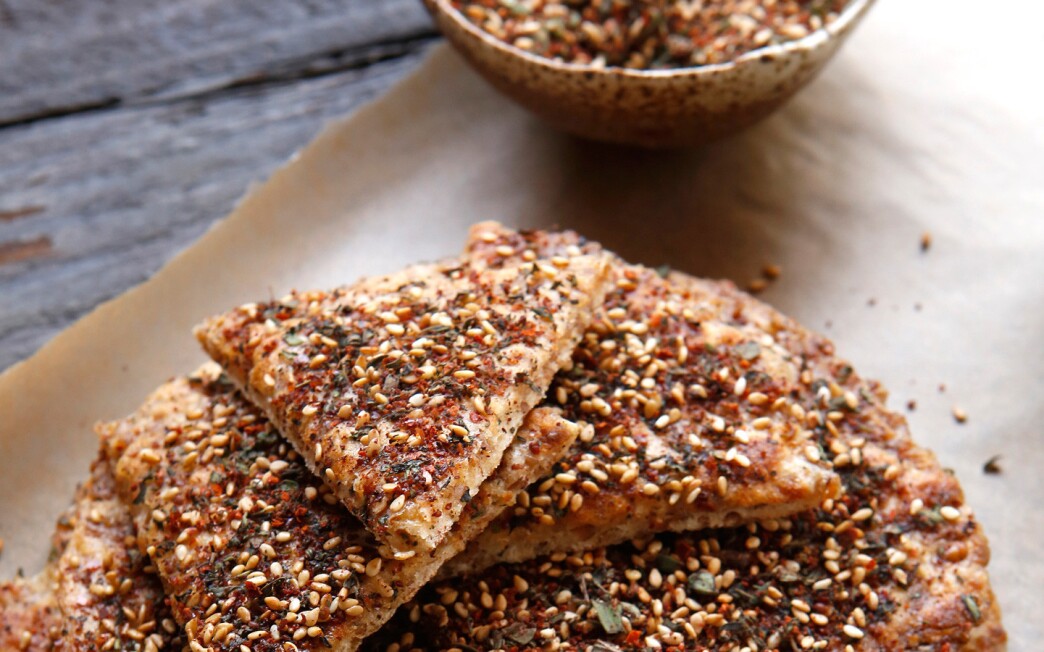 Print Recipe

Print Recipe
With a name that sounds like an exotic superhero, za'atar can save food from blandness with just a sprinkle. The woodsy, herbal, citrusy spice blend from the Middle East is thrilling to eat — one taste and the palate veers in surprising and delicious directions.
Za'atar is a harmony of herb, sesame seed and sumac. The herb component can be thyme, oregano, marjoram or a combination of the three; recipes vary throughout the Middle East depending on region and availability. Za'atar, translated from Arabic, refers to this collection of herbs, Origanum, but it has also come to mean the spice blend, similarly to how chili powder here is both the powdered chili and a mix of dried chilies, cumin and oregano. Sumac, if you're not familiar with it, is the ground berry from the Sicilian sumac plant, Rhus coriaria. It has a deep red color and delightfully tart and tannic taste.
Chef and celebrated cookbook author Yotam Ottolenghi has contributed to za'atar becoming popular with well-heeled cookbook collectors, but the spice blend has been a staple in the Middle East for centuries. Manaesh, a flatbread with a thick topping of za'atar, is as ubiquitous for breakfast as donuts are here. I got my first taste of za'atar as a child growing up in Pasadena in the '70s. Back then, knowledgeable cooks would shop at the small Armenian grocers on Pasadena's Washington Boulevard for good feta, olives, sarma (Armenian stuffed grape leaves), and what we called Armenian pizzas — lamajoun, a very thin ground-lamb-topped flatbread — and that prized manaesh to serve at cocktail parties. Reheated, the unfamiliar and exotic za'atar atop the manaesh would become warm and fragrant — and I got hooked by that alluring flavor.Commercial za'atar blends are available at Middle Eastern markets where they can look like big bags of powdered moss. I've even seen them at big box multicultural supermarkets with their own display — and a sign declaring "It's party thyme." While these purchased blends are good, the flavor can be a bit harsh and the contents pretty, well, dry.
The most popular use of za'atar is as on the aforementioned manaesh or manakish, a flatbread-like pizza with a slick of the pungent green herb blend. Here is a California version of the Middle Eastern staple featuring whole-grain flour, cracked wheat, good olive oil and the fresh herb za'atar. Hot off the griddle or grill with a spoonful full of lebni (kefir cheese), and you're pretty much transported. This version, topped with a fried egg and a small handful of parsley, is Sunday brunch worthy.
Za'atar is also really good with feta, and when the feta is broiled, drizzled with honey, then sprinkled with za'atar, it's amazing. Pair the salty-sweet za'atar-coated cheese with peppery arugula for balance, add succulent oranges to highlight the lemony sumac, biting onions to play off the funk of the herbs, and almonds for a good crunch.
Once you've sampled this fresh and heady spice blend on the flatbread and salad, you too will be convinced of za'atar's superpowers. This updated ancient can indeed transform ordinary into sublime.
When you make your own za'atar with fresh herbs from the garden or farmers market, the flavor is more subtle and nuanced than the powdery stuff in stores but equally compelling — and with that brightness that only fresh herbs can lend. The aromatic qualities of fresh, floral thyme and mildly piney oregano are rounded out in a most delicious way by nutty toasted sesame seeds and lemony sumac. And because a snap of heat is always a good thing, a dash of Aleppo pepper is added.
1
In a medium bowl, pour the boiling water over the bulgur and set aside until the water is completely absorbed and the bulgur has cooled to room temperature, about 1 hour. (This step can be done 1 day ahead. Cover loosely and set aside at cool room temperature.)
2
In a small bowl, combine the lukewarm water, yeast and sugar. Set aside until the mixture is foamy, about 5 minutes.
3
Meanwhile, in a large bowl, whisk together both flours along with the salt. Add the yeast mixture and bulgur and stir until a dough forms. Transfer the dough to a very lightly floured surface and knead until smooth, about 5 minutes.
4
Brush a medium bowl with olive oil. Place the dough in the bowl and turn to coat lightly with olive oil. Cover the bowl with a clean dish towel and set aside in a warm, draft-free area until dough doubles in volume, about 1 hour. Punch the dough down and knead briefly. Divide the dough into 8 equal rounds, about 3 1/2 ounces each. (The dough can be made ahead of time. Wrap each dough round in plastic and refrigerate up to 3 days. Unwrap the dough as needed, giving it time to warm up before using.) Cover the rounds with plastic wrap and set aside until slightly puffy, about 45 minutes.
5
Heat a griddle or grill over medium-high heat. Combine the oil and garlic in a bowl. Roll a piece of dough out on a lightly floured surface to a 6- to 7-inch round. Brush each round with the garlic oil and place, oiled side down, on the griddle and brush the top with garlic oil. Cook until lightly browned on the bottom, about 3 minutes. Turn the flatbread and brush with garlic oil and sprinkle with za'atar, about 1 tablespoon. Cook until lightly browned on the bottom, about 2 minutes. Transfer to a cutting board. Cut into wedges and serve with labneh.
---
Get our new Cooking newsletter.
You may occasionally receive promotional content from the Los Angeles Times.