Diner-style macaroni and cheese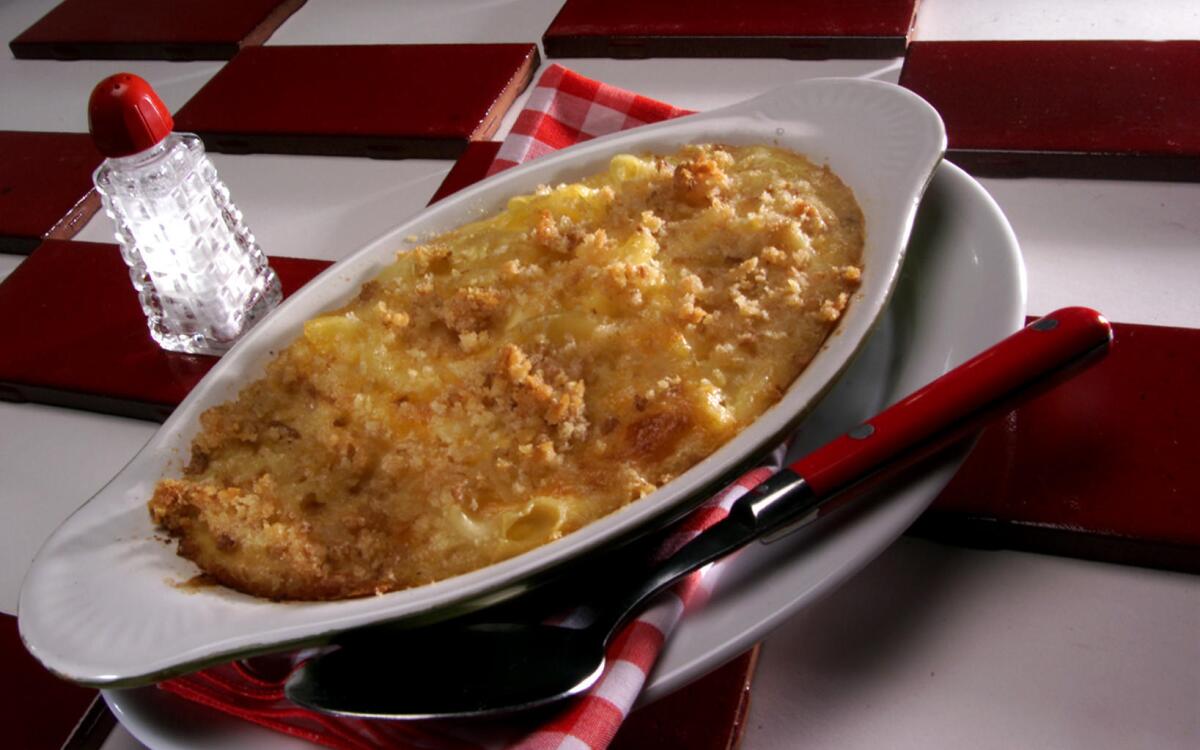 Print Recipe

Print Recipe
There is something about the speed and complexity of modern life that brings a hankering for plain and simple dishes, full of the delicious smack of nostalgia. In short, we long for home cooking-or for its commercial counterpart, diner cuisine.
A chef colleague recently confided that he sometimes feels a need to visit his mother just to taste her old-fashioned meatloaf. Professional though he is, he somehow can't replicate her dishes. "Maybe it's her recipes or her way of doing things, or just Mom herself," he said. "Why is it that Mom or that diner I used to visit as a kid-it was inside the corner drugstore, for God's sake!-always seem to make that food taste so good?"
I know why. It's the taste of simplicity. The food is hearty and lasting. And it's easy to prepare-with limited advance work and foolproof technique.
Some of the recipes even call for canned soup. Let me confess this: Every once in a long while, when the moment is right and nothing else will do (and no one else is around to see), I head to the pantry, open a can of soup, dump it in a recipe and create the kind of casserole a Junior League cook, circa 1955, would have been proud of. The fact is that the odd can of soup can make for some truly good eats.
Shocked? Well, get over yourself. There's a lot to be said for convenience, flavor and ease of preparation. (Sometimes I even go a step further and use packaged onion soup powder.) Can-of-soup cuisine is not something to brag about to your gourmet club, but it's not a crime either. And sometimes it's the only way to get that diner taste.
You don't have to be either a mom at home or even Chef Mom of Mom's Diner to bring out the shmek of these dishes in your own kitchen. These appetite-whetting plates celebrate the beguiling warmth of the family table. One taste and we are reminded of leisurely, uncomplicated times. We get a sense of comfort from every forkful.
What's more, these recipes are usually complete meals-main dish and vegetables all in one-making for a satisfying, effortless dinner that only requires a fresh green salad to round it out. Add an apple brown betty or a tapioca pudding for dessert and you have the stuff of legends.
So never mind that the old-fashioned neighborhood diner may no longer be there (it is now a tattoo parlor or feng shui supply store) or that Mom is no longer in the kitchen but is orbiting cyberspace looking for a wok on e-Bay, or that it's Dad or another significant "caregiver" at the domestic helm. The spirit of nurturing is alive and well and simmering away in any one of these casseroles.
Topping
1
Combine the bread crumbs, butter and pepper. Set aside.
Macaroni
1
Prepare the macaroni according to package directions, cooking it so it's a tad on the firm side. Drain and set aside.
2
Heat the oven to 350 degrees. Butter a 4-quart casserole.
3
Toss the cooked macaroni with the cheese, eggs, milk, butter, salt and black pepper to taste, paprika and cayenne and spoon it into the casserole. Sprinkle the crumb topping evenly over the top.
4
Bake the macaroni until it's golden brown and bubbling on the sides, 25 to 30 minutes.
---
Get our new Cooking newsletter.
Your roundup of inspiring recipes and kitchen tricks.
You may occasionally receive promotional content from the Los Angeles Times.