Fennel-aquavit gravlax with caraway creme fraiche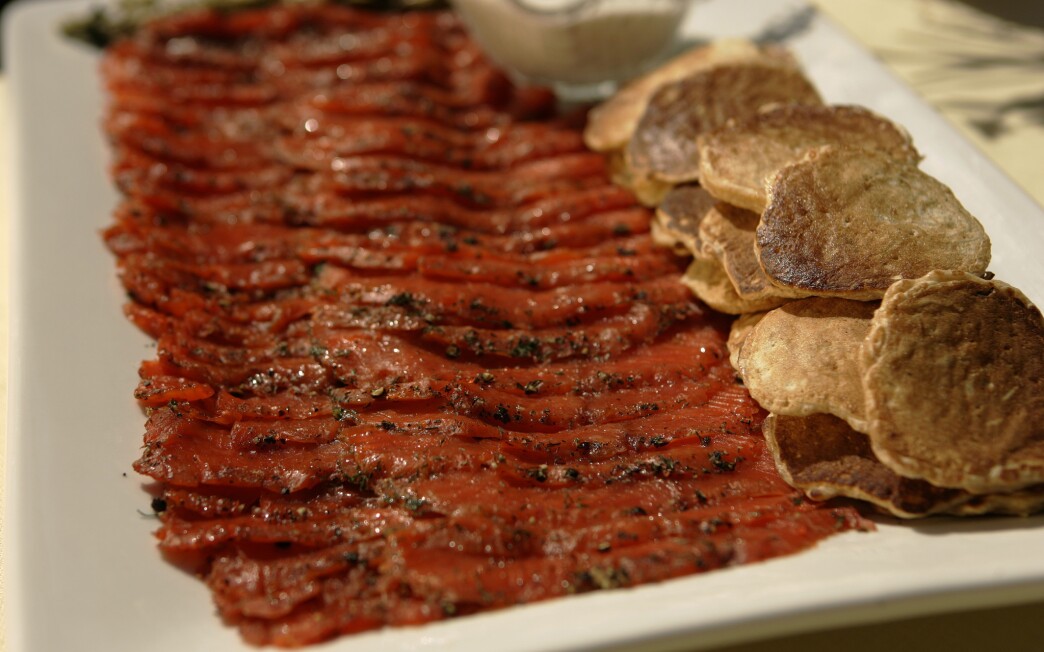 Print Recipe

Print Recipe
Come this way, up the garden steps and into a backyard where the patio is canopied by an old avocado tree. Take a seat in the mild yellow light of the resurgent sun, and fill a plate from a buffet of brunch dishes as spring-like as they are appetizing and fresh. Nibble a leek pancake wrapped around a crisp spear of asparagus, sip an herbal tisane, indulge in a chocolate-orange scone. Let the textures and aromas play over your senses -- here a creamy mouthful, there a vibrant touch of spice -- like flowers in a bouquet. Relax, and celebrate spring. For a few blissful hours, you have nothing else to do and nowhere else you'd rather be.
Maybe it's Easter morning, although it doesn't have to be. Most everyone's up anyway, awake to a world that's warmer and greener and more vertical than it's been in months. It's a perfect time to serve a leisurely brunch.
For the centerpiece there's a stack of leek pancakes, small and graceful and designed for wrapping around a roasted asparagus spear or a supple slice of prosciutto. Gravlax, arranged like a fan of rose petals on a platter, is a perfect match for the savory cakes. Basil and mint and lemon grass steep in a pitcher to make a fragrant tisane, an herb-garden still-life in glass.
Light and seasonal yet with touches of luxury -- bowls of dill hollandaise sauce and caraway seed-flecked creme fraiche, ribbons of satiny prosciutto -- this is a brunch that frames a casual alfresco meal with a sense of occasion.
With the dainty pancakes, roll up slices of gravlax or prosciutto, capture a few spears of spring asparagus, spoon a dollop of sauce on the top. Then meander around the garden, maybe hide a few eggs for the kids, and come back to the table for a plate of chocolate-orange scones (laced with oat flour, leavened with cream and still warm from the oven), or an individual parfait of Greek yogurt and macerated strawberries.
The sweet notes are an elegant segue into the slow end of the morning and the brunch itself.
The sun moves around the sky, warming the lawn chairs and brightening the plates and silverware; this is a patient meal, one that can linger into the afternoon. As you can, over a mug of coffee, maybe a chocolate rabbit.
Such a leisurely brunch is built not only by the arrangement itself, laid out buffet-style and assembled to suit personal tastes, but also by the fact that most of it can be done ahead of time.
For a Sunday brunch, you'll need to start curing your gravlax Friday morning. Just take skin-on salmon fillets, spread them with equal parts sugar and kosher salt. Add some sliced fennel and a sprinkling of aquavit -- a Scandinavian spirit similar to vodka that is typically flavored with caraway. Stack the fillets, wrap them in cheesecloth, add weights on top and put the whole thing in the refrigerator. After 24 hours, turn the package over; after two days, unwrap the fish, scrape off the salt-fennel mixture and slice it very thinly on a bias.
Subtler than smoked salmon, gravlax has a velvety texture and a delicate taste -- here scented with notes of anise and licorice -- that pairs beautifully with a bowlful of creme fraiche studded with toasted caraway seeds.
An early start
The day before the brunch, toast some caraway seeds in a pan, crush them a bit with the back of a spoon and mix the aromatic seeds with a cup of creme fraiche and a little salt and pepper. The flavors marry overnight -- and it's one more thing to check off your to-do list.
Pick up some thinly sliced prosciutto de Parma from your favorite specialty or grocery store the day before too. Store it, tightly wrapped, in the refrigerator; just make sure that it's served at room temperature.
The morning of your brunch, prepare some fresh herbs -- ideally, you'd just pick them from your garden -- to make a tisane, a refreshing ad hoc tea.
Just fill a clear glass teapot or pitcher -- so you can see the leaves inside -- with a few stalks of lemon grass and lush sprigs of mint or basil, lemon verbena or thyme. Or use a combination of a few herbs. (We used lemon grass, basil and peppermint.) For cooled tea, boil water, pour it over the herbs and set it aside. To serve hot, set the pitcher of herbs aside now and at serving time, pour hot water over and steep for five minutes. Either way, make sure you put the gorgeous pitcher in the center of the table.
Next, make the leek pancakes. These are simple cakes, enlivened with leeks and kamut flour, a high-protein wheat flour (available at Whole Foods markets) that has a lovely texture and a nutty flavor. Instead of adding melted butter to the batter -- the customary way of adding the fat that tenderizes the pancakes -- just saute the leeks in a generous amount of it. While the butter cooks the leeks into aromatic threads, it picks up their heady flavors. Cook the pancakes in a cast-iron pan or griddle, making them smaller than usual, almost the size of blini. Keep them warm on the stove, serve them at room temperature -- or just put a platter of them in a sunny quadrant of your table.
Thin stalks of asparagus appear in market stalls and produce aisles on cue, as much a signal of the season as herds of chocolate rabbits. Break the stalks off at their fibrous ends -- they'll snap at just the right place -- and put them into a hot pan with a drizzle of olive oil and a sprinkle of sea salt. They'll roast in a few minutes, tossed constantly over high heat. This method brings out the vegetable's flavor, while keeping its lovely crunch.
As for eggs, an Easter tradition in many cultures, whisk them into a luscious bowl of homemade hollandaise sauce, torqued with a bit of minced dill. It's a classic match for the asparagus, and it tastes pretty great spread on the pancakes too.
Hollandaise is a simple emulsion of egg yolks and melted butter -- it's easy to do, and it will hold just fine if kept warm on the stove until you're ready for it.
You can make the sauce the traditional way, by whisking egg yolks in a metal bowl set over a pan of hot water, then incorporating melted butter until the mixture emulsifies and finishing with lemon juice and a pinch of salt and pepper. Or using a time-saving trick, make your hollandaise in a blender. You'll have more time to enjoy the morning -- just don't tell your purist friends.
In keeping with the menu's herbal notes, add some finely minced dill for a fresh, bright flavor to the sauce.
With the savory side of the menu done, you'll want to hit the sweet spot, and chocolate-orange scones are the perfect fit. These scones are from Alice Medrich, the San Francisco baker and author who has a light touch and a way with chocolate. They're light and tender, a cinch to make because Medrich uses neither eggs nor butter-- all the fat and liquid come from heavy cream. There's no need for painstakingly cutting in the butter with a pastry blender or pair of forks.
We've added a generous amount of orange zest and substituted oat flour for half the regular flour, both flavors that pair beautifully with the high-cacao chocolate for which the recipe calls. The resulting scones are subtle, simple wonders.
Elegance made easy
For those still lingering over coffee, for late arrivals or for any kids needing something to counteract all the jelly beans, make individual fruit-and-yogurt parfaits. They're colorful, healthful and look like they took a whole lot more work than they did: In fact, they come together in minutes. Just sprinkle a few tablespoons of sugar and the peel from two lemons over a bowlful of fresh sliced strawberries, stir and let the fruit macerate while you find some pretty glasses.
After about 15 minutes, when the strawberries have yielded up their crimson juice, spoon a generous amount of Greek yogurt, creamy but with a slight tang that tempers the sweet strawberries, into the cups. Add some strawberries, then layer fruit and yogurt about three-quarters of the way up the glass. Toss on a mint leaf if you have some, or a bit more lemon peel, and you're done.
Then sit down, view the beautiful landscape of your table. Loaded with color, bright as spring, it may be the perfect way to mark a holiday that celebrates renewal.
Which, in a way, they all do.
Fennel-aquavit gravlax
1
Crush the peppercorns either with a mortar and pestle or by securing them in a thick, sealable plastic bag and hammering them with a hammer or a thick-bottomed pan. In a medium bowl, mix the salt, sugar and crushed peppercorns. Set aside.
2
Cut the fennel bulb very thinly into lengthwise slices and mince the fronds. Place a small rack in the bottom of a glass baking dish big enough to accommodate the salmon fillets.
3
Place one of the salmon fillets, skin-side down, in the middle of a piece of cheesecloth big enough to wrap securely around the fish fillets. Sprinkle half of the salt-sugar mixture on top of the fish, being sure to cover all of the salmon. Then press the sliced fennel and the minced fronds over the top of the salt-sugar mixture. Drizzle half of the aquavit over this, then cover with the rest of the salt-sugar mixture.
4
Place the second salmon fillet, skin-side up, on top of the covered first fillet, making sure that the two fillets align. Drizzle the rest of the aquavit over the top layer and tightly wrap the cheesecloth over the fillets. Cover with plastic wrap. Place a second baking dish (smaller than the first) on top of the wrapped fish and put the entire thing into the refrigerator. Weight with heavy items from your refrigerator (beer bottles, mayonnaise jars) and allow to sit for 24 hours.
5
After 24 hours, remove from the refrigerator and turn over the wrapped fish (you'll notice that brine has begun to fill the lower baking dish). Pour a little over the top of the fish, replace the weights and return to the refrigerator. (If there is a lot of brine in the bottom of the pan, pour it off; you don't want the bottom of the fish to touch it.) Allow the gravlax to sit for another 24 hours.
6
After a total of 48 hours in the refrigerator, remove the fish, unwrap, and scrape off the fennel-pepper mixture. With a very sharp knife, slice the fillets, one at a time, very thinly on a diagonal. Fan the slices out on a plate; serve with caraway creme fraiche.
Caraway creme fraiche
1
In a small saute pan over medium heat, toast the caraway seeds until fragrant and beginning to pop, about 5 minutes. Let cool, crushing them a little with a heavy spoon or with a mortar and pestle. In a small bowl, mix the cooled caraway, creme fraiche, pepper and salt.
Start the gravlax 48 hours before you want to serve it. You will need about 2 square feet of cheesecloth to wrap the gravlax. The Scandinavian liquor aquavit is available at most liquor stores.
---
Get our new Cooking newsletter.
You may occasionally receive promotional content from the Los Angeles Times.