Five-spice carrot-cashew butter
Yields
Serves 10 to 12 (2 cups)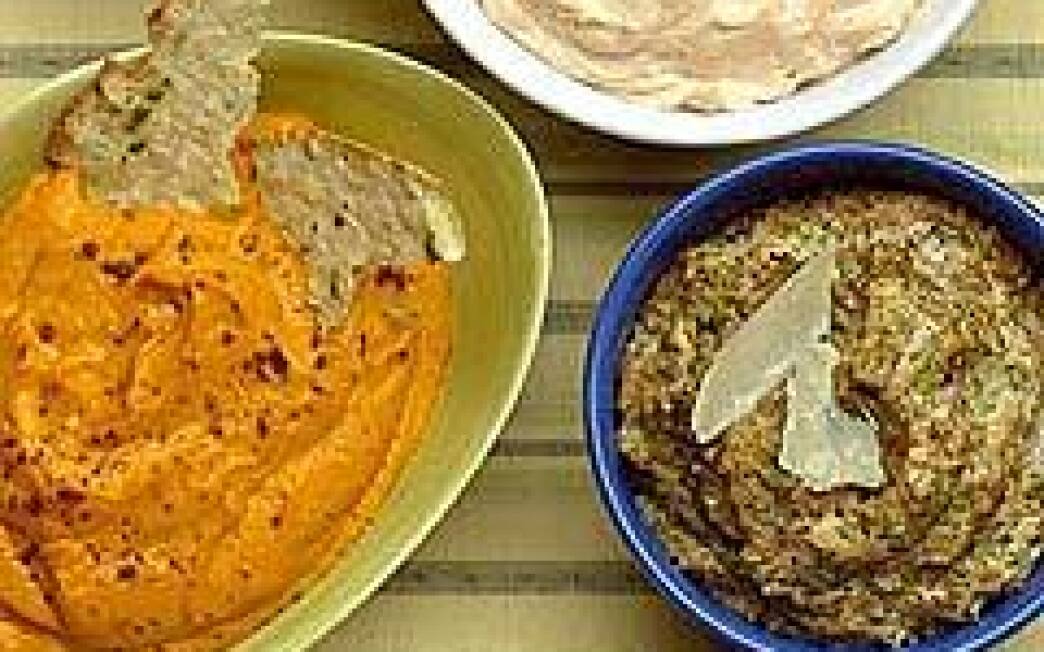 Print Recipe

Print Recipe
How nice it is to arrive at a restaurant, slide into a banquette and find a ramekin of something delicious to spread on a crispy flatbread or a chewy slice of sourdough. Tapenades, spiced purees, vegetable "butters" and savory marmalades -- these irresistible spreads are appearing on more and more on tables around L.A.
It's a great idea to steal. With friends and family and out-of-town guests stopping by to toast the holidays, these are the perfect hors d'oeuvres for 11th-hour entertaining. Made from inexpensive ingredients -- many of which you probably have on hand -- they're easy to toss together. Or make them ahead to keep on hand -- with a box of flatbread in the pantry or a baguette in the breadbox, you'll be ready for unexpected revelers.
Best of all, these spreads are intensely flavorful and nicely salty, encouraging everyone to stay for another drink.
Take the luxurious tarama served at Le Dome: Beautiful in peachy-pink, it has the mouth feel of full-fat ice cream, thanks to a combination of cream cheese and creme fraiche.
Chef Sam Marvin's travels to Greece were the inspiration. But his tarama is different from the classic taramasalata , the main components of which are carp roe, olive oil and bread crumbs. "We tweaked the classic recipe," he says. "They use only fish eggs. We use lox, which adds substance and makes it easier to spread."
At Le Dome, the spread is piped into small ramekins and chilled. It's served with thick slices of pumpernickel and sourdough bread. But, says Marvin, you could make canapes by spreading it on toast points and adding a sprig of dill or fennel, some thinly sliced red onion or caviar. You could make tarama pizzas or flatbreads. Or try it on toasted bagels.
In contrast with the smooth, elegant tarama, Cinch's almond tapenade is chunky and rustic.
"A lot of tapenades are just olives, capers and anchovies, and they taste like a puree," says chef Chris Behre. "But one of the joys of eating an olive is you're crunching into it." To retain that crunch, Behre includes roasted almonds that are hand-chopped or briefly pulsed in the food processor. There's also fresh parsley, which brightens the flavor and adds a bit of color.
The tapenade is served in a shallow dish along with crostini. To make them, Behre uses a long, skinny loaf of sourdough. The bread is sliced thinly, painted with a touch of grapeseed oil, then seasoned with salt and pepper and baked.
At Real Food Daily, the five-spice carrot-cashew spread is one of several bread accompaniments that may be ordered. It's flavored with Chinese five-spice mixture that combines five (or sometimes more) spices, including cinnamon, star anise, fennel, cloves, ginger, licorice, Sichuan peppercorn and white pepper. Silky and slightly sweet, it's wonderful with a cool glass of white wine.
We couldn't get fresh Christmas limas to prepare one of our favorite spreads served at the Restaurant at the Getty Center, so we tried substituting dried ones.
It took longer to cook the dried beans than the fresh, of course, and the spread wasn't the same gorgeous green as the one chefs Helene Kennan and Terri Buzzard turn out at the Getty. But a sprinkle of chopped parsley brightened it up nicely. In the end what it lacked in looks, it more than made up for in earthy flavor.
1
Heat the oil in a 4-quart saucepan. Add the carrots and onions and sweat until the onions are translucent and the vegetables start to soften, about 8 minutes.
2
Add the water, cover and bring to a boil. Reduce the heat and simmer until the carrots are tender and the liquid has been absorbed, about 12 minutes. Cool.
3
Place the vegetables in a food processor with the cashews, miso, soy milk, salt, spice mix and maple syrup. Puree until well-blended and completely smooth, about 3 minutes. Cover and refrigerate until ready to serve. Serve with toasted pita wedges.
From Ann Gentry, chef-owner of Real Food Daily. Chinese five-spice mix is a blend of spices available in the spice section of well-stocked markets.
---
Get our new Cooking newsletter.
You may occasionally receive promotional content from the Los Angeles Times.