Galettes (buckwheat crepes)
Yields
Makes 20 to 24 galettes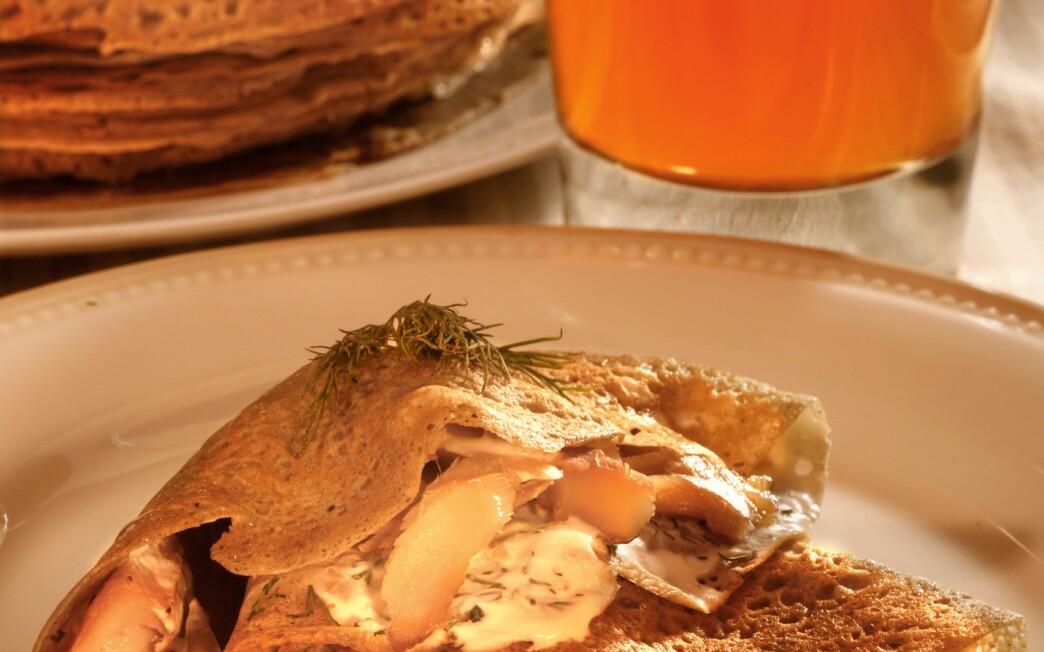 Print Recipe

Print Recipe
Batter spills across an expanse of hot iron like the tide washing over a beach. A rozelle spreads it, the T-shaped wooden tool making a wide arc and turn, into a circle. The edges move into a fine lace filigree, the wide interior cooks up the color and texture of muslin. A spatula flips the crepe on its back, where it pauses briefly before it's done, coming to rest on a plate, a paper-thin picture of the sun ready for whatever awaits it. A handful of grated Gruyere, a rain of sugar, your hunger.
A crepe is not so much a recipe as a pan and a state of mind.
There's an economy of movement and coordination of design -- a swirl of batter, a tilt of the pan -- that's beautiful, whether the crepes are coming off the pans of the street vendors in Paris, or the creperies in Brittany or Santa Monica, or the one on the stove top of your own kitchen. The crepe's beauty is in its utter simplicity, both in composition and in consumption; and though it looks difficult, it's actually much easier to make than you think.
And now is the perfect time to appreciate -- and practice -- the simple art of the crepe. You may not know it, but it's high crepe season.
Last Friday was Candlemas, or Chandeleur in French, a holiday that's traditionally a day to make crepes; the crepe-making continues throughout the month before Lent and Mardi Gras, the last day before it. In England and in this country, many churches celebrate this day, also called Shrove Tuesday, with a pancake supper. In golden stacks, shaped like the sun they can symbolize, crepes celebrate the harvest, good fortune and wealth.
"You put a coin, it's supposed to be gold, in your hand when you flip the crepe," remembers chef Alain Giraud, who was born in Paris and lived in France for many years before coming to Los Angeles, where he was chef at Lavande and then Bastide. "Only the first crepe; it's good luck."
It's also a way to use up all the eggs and milk and butter in your refrigerator before Lent -- eggs were not to be eaten again until Easter. Made from the simplest of ingredients and filled with whatever was on hand, crepes originated as street food for laborers in the sea-swept landscape of Brittany, in northwestern France. There the streets were filled with workers and farmers, townsfolk and -- later -- tourists and locals who would flock to the crepe stands and creperies for a quick meal. Filled with a sausage or spread with ham and cheese, crepes formed easy rustic repasts, simple and delicious fare that could be eaten easily, without utensils.
"It's fast food, but it's not," says Thierry Boisson, a Frenchman who owns Acadie, a Santa Monica creperie; he also sets up a popular crepe stand in the Sunday Main Street Farmers Market. Boisson and his wife, Isabelle, who is from Gourin, in Brittany, owned a creperie in Montpellier, France, before coming to California and opening their shop four years ago.
*
A delicious history
Originally, the Breton locals spread buckwheat paste on flat rocks they'd hauled back from the shores and heated in fire pits. The rocks evolved into wide cast iron disks called biligs and then to the smaller long-handled crepe pans. The crepes themselves also evolved, from the thin buckwheat pancakes called galettes and filled with the most rustic ingredients, to the sweeter crepes, made from the more refined wheat flour, butter, milk and sugar, even cream or brandy. Soon they were adopted by haute cuisine, served in chafing dishes and filled with the priciest of ingredients. Henri Charpentier, student of Escoffier and one of the best chefs in France in his day, famously lighted them on fire and served his crepes suzette to the future King of England.
Fame and fortune not withstanding, crepes are simple food, best eaten in kitchens or on paper plates along street sidewalks.
"On Sunday afternoon we would make crepes," says Giraud of his childhood in Paris. "All the ingredients were in the fridge ... milk, eggs, flour." And what do you put inside? "Anything," says Giraud. "A slice of ham, mushrooms, a little bechamel."
Giraud then begins a sudden catalog of ad hoc crepe recipes. Fill them, he suggests, with vanilla whipped cream and a compote of fresh fruit; with lobster and grapefruit; bake a lemon souffle inside; spread chocolate ganache in them; or maybe grate black truffles in the batter and then fill them with mascarpone cheese and grated fresh truffles, lots of them. "Or just Nutella, that's probably my favorite."
The original galettes were made from just buckwheat flour, water and a little salt, which were mixed together, then the batter left to rest. Later people added wheat flour to smooth out the batter, or traded in the buckwheat altogether, adding milk and eggs and butter. Although you can make serviceable crepes with only flour and water, the addition of the eggs and dairy makes crepes more tender -- and noticeably easier to cook.
*
Secrets of a silky batter
There are as many crepe recipes as there are regions where crepes are eaten, particularly as it's not really about an exact recipe but getting the right texture. A few cups of flour, a little salt, about twice as many eggs as you have cups of flour, and enough milk or water to thin the batter is the basic idea. You can add cream, or even use all water, but a proportion of half milk to half water works best, as it yields a smooth and creamy batter without over-thickening it. Likewise, too many eggs thicken the batter too much, making it too cakey, too much like an extremely thin omelet. If making galettes, use half buckwheat flour to half wheat flour, which brings out the nutty flavor of the buckwheat but softens the texture. Instead of kosher salt, throw in a generous pinch of fine sea salt from Brittany. If making regular crepes, you can add a tablespoon of sugar, and/or vanilla or brandy -- even cinnamon or orange flower water or Pernod.
You can whisk the ingredients together in a bowl, but a blender makes an even smoother batter. Blend on high speed for about 10 seconds, scrape down the sides, then blend for another 10 seconds. Strain the mixture through a fine sieve into a bowl, which ensures that you have a fine, velvety batter.
Let the batter rest, at least for an hour and up to overnight, to allow the flour to absorb the liquid, the gluten to relax, and the air trapped within the batter from the mixing to dissipate. The rest also gives the crepe its distinctive flatness: Good crepes shouldn't have any lift to them; ideally, they're paper thin.
When cooked on the traditional bilig used in creperies and in many crepe stands, the crepe maker uses the rozelle, an old Breton tool. If you're making crepes at home on a large cast iron crepe pan, you can also use a rozelle, which some crepe pan manufacturers sell with their pans. It's a cute little tool -- imagine Peter Rabbit's garden rake -- but you don't really need one.
*
Just pour and swirl
Making good crepes simply requires a flat pan that you can swirl -- a griddle, a wide saute pan, a nonstick omelet pan -- anything with a flat surface area. But best, not surprisingly, is a crepe pan. Not the large cast-iron crepe pans -- which, though serviceable, make crepes that are rougher and sometimes difficult to turn over -- but the round, smooth metal crepe pans that are usually 8 inches across, with a long handle and an edge that curves up from the base. The lip allows the batter to swirl and meet the sides, forming an easy circle without rising up from the base. Brushed with a little butter, the pan easily yields up the crepe, which is then flipped and cooked briefly on the other side.
On a pan like this, about one-fourth cup of batter will be the right amount for each crepe. When you swirl the batter around the pan you can check: Add more if it's not enough to coat the surface of the pan, pour off the extra if it's too much.
After the batter has rested, stir it gently to recombine it if it's separated, and add a little more water if it seems too thick: It should move like heavy cream when you stir it.
In his memoirs Charpentier described the ideal crepe batter: "Stir the ingredients smoothly to the consistency of thick olive oil," he wrote in 1934, "or until it will pour back silently and smoothly from a foot or more above the mixing bowl." In other words, like a classic sauce, or perfectly tempered chocolate.
Once your batter's ready, assemble the ingredients for filling the crepes. Nutella; some sliced fresh strawberries and whipped cream; diced ham and grated cheese; lox, a slice of tomato, a few capers. Or spike creme fraiche with a little horseradish and chopped fresh dill, spread it across a buckwheat galette, and top with crumbled smoked trout.
Or if you want to get fancy, cook sliced apples in butter and sugar until they're caramelized, then flambe them with a splash of Calvados, then spoon the mixture into a crepe and top with a spoonful of cinnamon-spiked Chantilly cream. The apples and cream are familiar Brittany ingredients, and the Calvados, a heady apple brandy, recalls the hard cider that crepes were often paired with. Or whip up a ganache with sweetened heavy cream and bittersweet Valhrona chocolate, pipe it across a sweet crepe.
On the savory side, saute wild mushrooms and shallots in butter, add a splash of sherry and a little fresh thyme, then fold in some creamy goat cheese. Or spread a thin layer of sour cream over a galette, add a fine dice of red onion or a handful of chopped chives, then a large spoonful of caviar or salmon roe.
For a savory filling that's great with buckwheat crepes, shake off the 19th century weight of the traditional fruits de mer in white sauce by trading the roux for a little creme fraiche. Saute leeks in butter, add equal parts dry white wine and cream and reduce. Throw in a handful of shrimp (langoustines are traditional in Brittany), some sweet bay scallops, fresh tarragon and lemon juice, then swirl in creme fraiche for texture and a little zing.
Once your fillings are ready, keep them warm on the stove top and make your crepes. Because although crepes keep very well, tightly wrapped in the refrigerator or the freezer, they're at their finest right out of the pan. So have everything ready -- including your guests and any available children, who adore crepes simply dusted with powdered sugar or a little lemon.
Then heat the crepe pan over medium-low heat, oiling it with a paper towel dipped in a little melted butter. You want a thin film, just enough to keep the pan greased: Too much butter will fry the crepe and give it an unpleasantly rubbery texture. When a few drops of water skitter across the pan, it's hot enough to begin.
Pour batter onto the pan and immediately swirl it around so it reaches the edges. If the batter bubbles and spits too much, the pan's too hot and the batter will cook before it covers the entire pan: turn the heat down and try again. Making crepes, like the pancakes and blini that are its cousins, often requires the sacrifice of the first few, until you get the pan to the right temperature.
But once you get the feel of it, the crepes come off the pan one after another. You may need to lower the heat, to brush the pan with a little more butter every now and then, but you'll get a rhythm going that will seem almost effortless.
As the crepes stack up, layer them with wax paper so they don't stick together, and make a pile. From that, you can quickly assemble them, filling the crepes with whatever strikes your fancy. Impress your guests with a dinner party, or your family with a simple dinner.
Or eat them yourself. With a demitasse of espresso, crepes are the perfect street food for your own sidewalk.
1
In the jar of a blender, blend the flour, eggs, milk, salt and melted butter with three-fourths cup water at high speed for 10 seconds, stop and scrape down the sides with a spatula, then blend for 10 seconds more. Strain the batter through a fine-mesh sieve. Cover and let rest, refrigerated, for at least an hour, or overnight.
2
Heat a crepe pan or nonstick saute pan over medium heat until a sprinkle of water sizzles when you throw it on the pan. With a paper towel, spread butter over the pan, being sure to wipe most of it off.
3
Using a bowl or a measuring cup with a spout, pour enough batter to just cover the pan (for a crepe pan, a little less than one-fourth cup), immediately swirling the batter around until it covers the whole surface. The batter may be thicker than basic crepes once it has been resting and may need to be thinned a little; if so, add up to one-fourth cup water and stir until blended. It will have a different consistency than sweet crepes (more like honey than pancake batter) and will cook slightly differently, forming bubbles and lacier edges. Adjust the heat, if necessary, to medium-low. As with pancakes, the first one or two galettes are usually experiments.
4
When the edges of the galette begin to turn golden and move away from the pan, about 3 minutes, lift the edge nearest to you using a spatula (an offset spatula works best). Flip the galette over. Cook the second side of the galette only long enough for it to set, less than a minute. Remove from the pan and start a stack of galettes, using wax paper to layer between each galette as you cook more. Add more butter when needed with a paper towel.
Buckwheat flour is available in the baking section of well-stocked supermarkets. Be sure to store it in the refrigerator.
---
Get our new Cooking newsletter.
You may occasionally receive promotional content from the Los Angeles Times.