Gefilte Fish Steamed Between Cabbage Leaves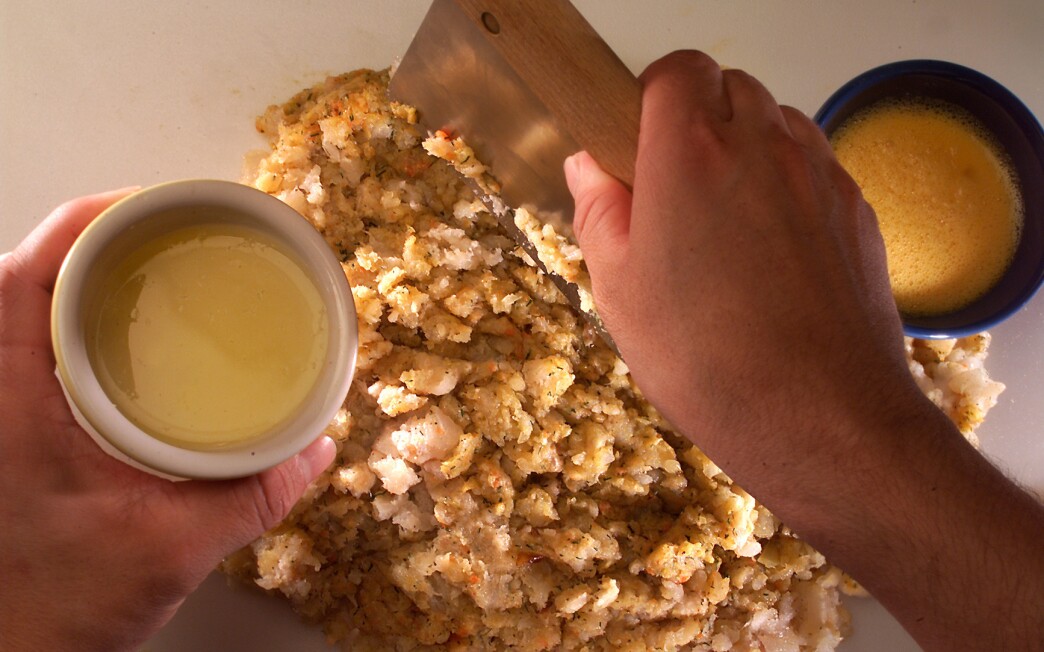 Print Recipe

Print Recipe
Inspired by the Chinese method for preparing tender, soft dumplings, I cushion these wonderfully delicate fish balls between cabbage leaves for a gentle 20-minute steam bath. The wet vapor helps preserve all the subtle flavors of the fish while the nutty-sweet cabbage wrapper keeps it moist as it steams and later as it chills, without broth, in the refrigerator. I like a combination of salmon and red snapper or lemon or gray sole. I've also used half Chilean sea bass and half flounder. Be sure to use a combination of fat and lean fish.
Fish balls
1
Bring 1 cup lightly salted water to boil in small saucepan. Add carrot and parsnip, and simmer until vegetables are very tender, 12 to 15 minutes. Drain, reserving cooking water, and transfer vegetables to food processor. Place matzo meal in small bowl and stir in 1/3 cup reserved cooking water. Let sit so matzo meal can soften as it soaks in liquid, 5 minutes.
2
Heat oil in 8-inch skillet over medium heat. Add onions, sprinkle them lightly with salt and pepper, and saute, stirring, until soft, shiny and just beginning to color palest gold, 8 to 9 minutes. Don't let them brown. Transfer onions and any remaining oil to food processor. Add shallots and dill to food processor and puree until fairly smooth. Transfer mixture to large wooden chopping bowl or wooden chopping board. (Don't wash out food processor if you are grinding your own fish.)
3
If your fish is not ground, put it, about 2 teaspoons salt and 1/8 teaspoon pepper in bowl of food processor and pulse just until mixture is chopped fine, but not pasty. Add fish to wooden bowl or board. (If you are using pre-ground fish, add it now, seasoned with salt and pepper.) Add soaked and softened matzo meal mixture. Beat eggs and yolks in bowl until thick and lemon-colored. Using hand chopper or cleaver, work beaten eggs and lemon juice into fish mixture, a little at a time. (Hand-chopping at this point incorporates air into mixture, making it lighter and fluffier than pulsing in food processor.)
4
Poach 1 teaspoon fish mixture in lightly salted boiling water for a few minutes. Taste and, if needed, add salt and pepper. Chill fish mixture, covered, 1 to 4 hours. It will be easier to mold and fish balls will cook fluffier.
Dill-horseradish mayonnaise
1
While fish is chilling, combine mayonnaise, dill and horseradish. Cover and refrigerate.
Assembly
1
Place steamer rack in Dutch oven containing 1 inch water. Line rack with layer of cabbage leaves.
2
Wetting your hands with cold water if necessary, form fish mixture into about 20 ovals, using a scant 1/4 cup for each. (Depending on variety of fish used, mixture may be very soft, but it will firm up as it cooks and later, as it chills.) Bring water to boil. Gently put as many ovals on top of cabbage leaves as will fit comfortably in a single layer without touching. Place sprig of dill on each. Top fish with another layer of cabbage leaves and cover pot tightly. Reduce heat to medium and steam fish ovals until completely cooked through at center, 20 to 25 minutes. (When steamed in raw cabbage leaves, fish will probably take closer to 25 minutes; when steaming second batch in already-cooked cabbage leaves, it will probably take about 20 minutes.)
3
Line platter with some of cooked cabbage leaves and carefully put cooked fish on top. Using any additional cabbage leaves as needed, cook remaining fish ovals in same way, transferring fish as it is done to cabbage-lined platter. Remove and discard dill sprigs, then cover fish with layer of cooked cabbage leaves to keep moist. Let cool to room temperature. Wrap platter with plastic wrap and chill fish until cold, 30 minutes to 1 hour.
4
Serve fish chilled but not icy cold. Remove fish from cabbage leaves and arrange ovals on platters or individual plates lined with lettuce, endive or radicchio and accompany with Dill-Horseradish Mayonnaise.
---
Get our new Cooking newsletter.
You may occasionally receive promotional content from the Los Angeles Times.