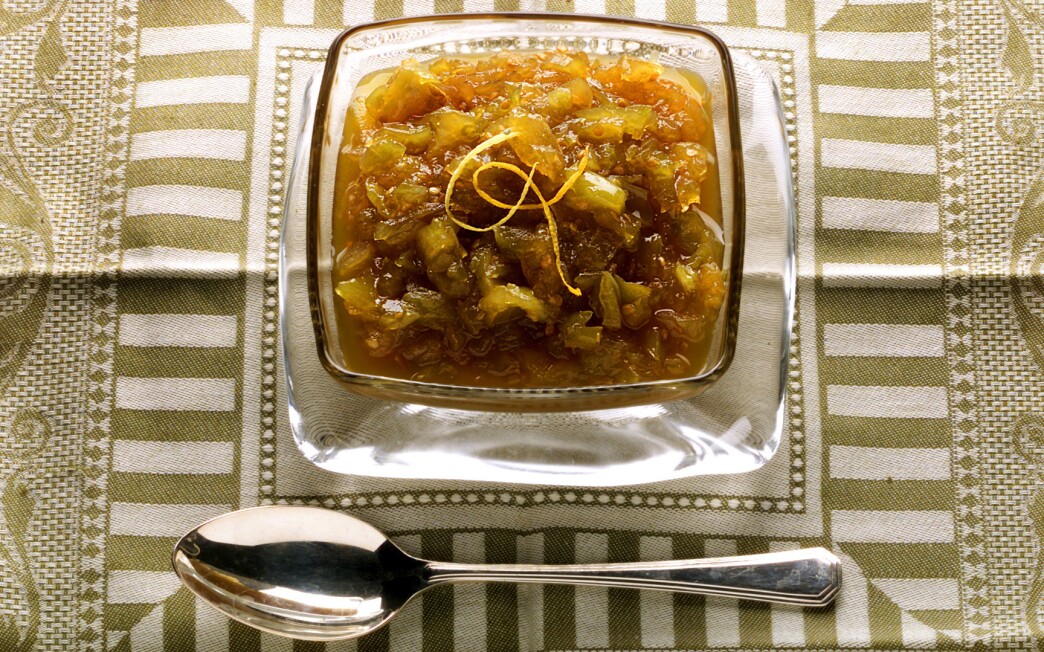 Print Recipe

Print Recipe
Every year at Hanukkah I think of my grandmother and the stories she told about making beef brisket and potato latkes for her first Hanukkah dinner in America. But as much as I love the stories, our food focus has changed. One year we even served meatloaf and cabbage borscht. After a trip to Brazil, we had feijoada for our Hanukkah family dinner, and last year fried chicken was the main course.
This year, we are going back to our traditional Hanukkah fare but with a few twists. I am roasting the beef brisket with prunes, almost like a tzimmes , in a wine sauce and will serve it with crisp potato latkes and a green tomato marmalade.
I remember helping my mother make the potato mixture for the latkes using a hand-held grater. Today, while the latkes are similar, they take much less time to prepare. Use the knife blade of the food processor to chop the onions and then the grater blade to shred the potatoes. When everyone arrives at our home, we begin frying the latkes while our grandchildren play spin the dreidel. Before dinner, we serve fried zucchini sticks prepared in advance. Then we sit down to a salad of shredded iceberg lettuce tossed with sliced tomatoes and fresh fennel and topped with fried parsnip chips. The main course and side dishes--brisket and potato latkes and green tomato marmalade--are served family style.
For dessert, we bow to tradition. A Hanukkah dinner is unthinkable without doughnuts. These doughnuts can be made in advance and stored in plastic bags in the refrigerator; before serving, just reheat them in the oven and roll them in sugar. Make an extra batch for your guests to take home--they are delicious for breakfast the next day.
1
Combine the sugar and water in a large heavy skillet and bring to a boil over medium-high heat, mixing constantly, until the sugar dissolves, 3 to 4 minutes. Reduce the heat and simmer until the sugar begins to turn golden, 20 minutes.
2
Add the tomatoes, warm orange juice and zest, bring to a boil, reduce the heat and simmer until the tomatoes are soft and the liquid has reduced to a thick syrup, about 30 minutes. Cool.
---
Get our new Cooking newsletter.
You may occasionally receive promotional content from the Los Angeles Times.