Grilled Turkey With Piquillo-pine Nut Sauce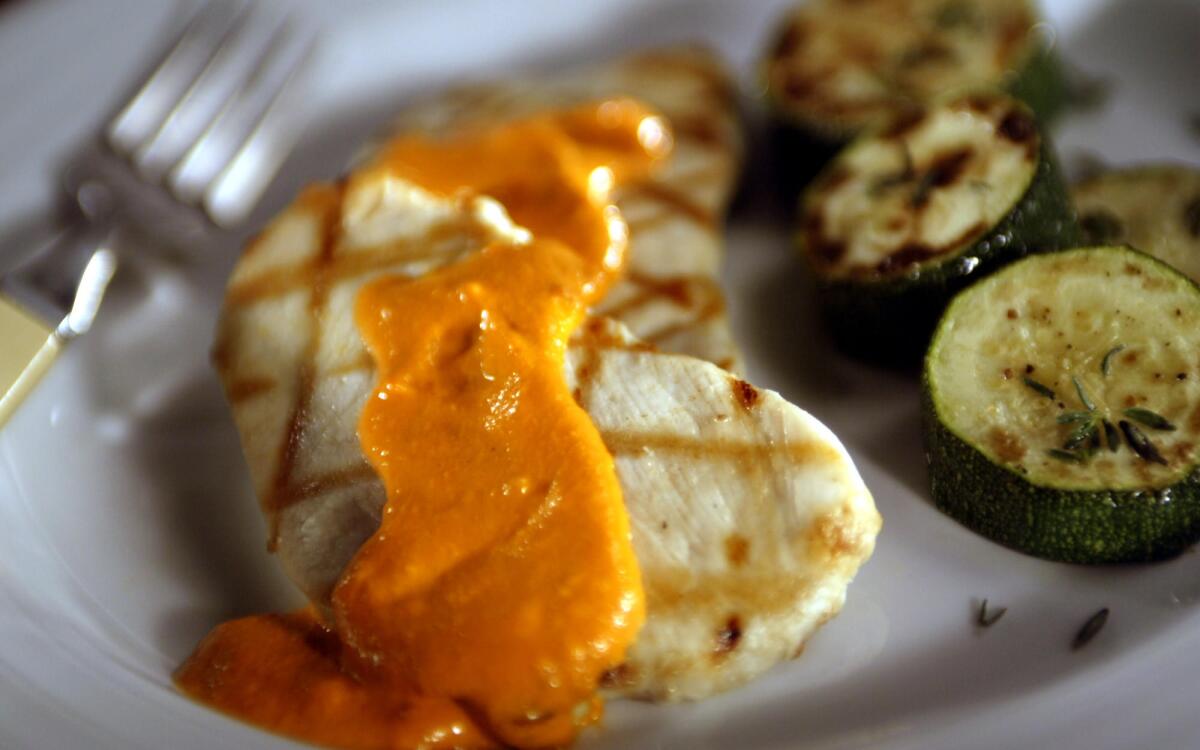 Print Recipe

Print Recipe
Half the secret of cooking turkey breast lies in the carving. If your slices are not quite of uniform thickness, you can always lay them between sheets of wax paper and pound the fat parts thin as you would veal. The only sure route to tender meat, though, is careful cooking -- even half a minute can turn scaloppine into leather.
Turkey is not averse to grilling, and those nice black marks make it look worlds away from roast turkey. Searing the cutlets in a hot skillet will also work.
The sauce can also be made with regular roasted red peppers but add a little cayenne to liven them up.
From the story: The great pretender
1
Heat the oven to 300 degrees. Toast the pine nuts until very lightly browned, 8 to 10 minutes. Cool.
2
Place the turkey cutlets in a shallow dish. Add the olive oil and salt and pepper to taste and turn to coat all sides. Set aside while heating a grill.
3
Combine the piquillos, pine nuts, pine nut oil and peanut oil in a blender and process until smooth. Season with salt to taste. Add a splash of vinegar if desired. This makes two-thirds cup sauce.
4
Grill the turkey until just done, about 2 to 3 minutes on each side. Divide among serving plates and spoon piquillo sauce in a ribbon over the cutlets, passing the remainder on the side.
Pine nut oil, walnut oil and hazelnut oil are available at Surfas in Los Angeles.
---
Get our new Cooking newsletter.
Your roundup of inspiring recipes and kitchen tricks.
You may occasionally receive promotional content from the Los Angeles Times.