Grilled Whole Beef Tenderloin with Smoky Persimmon Kimchi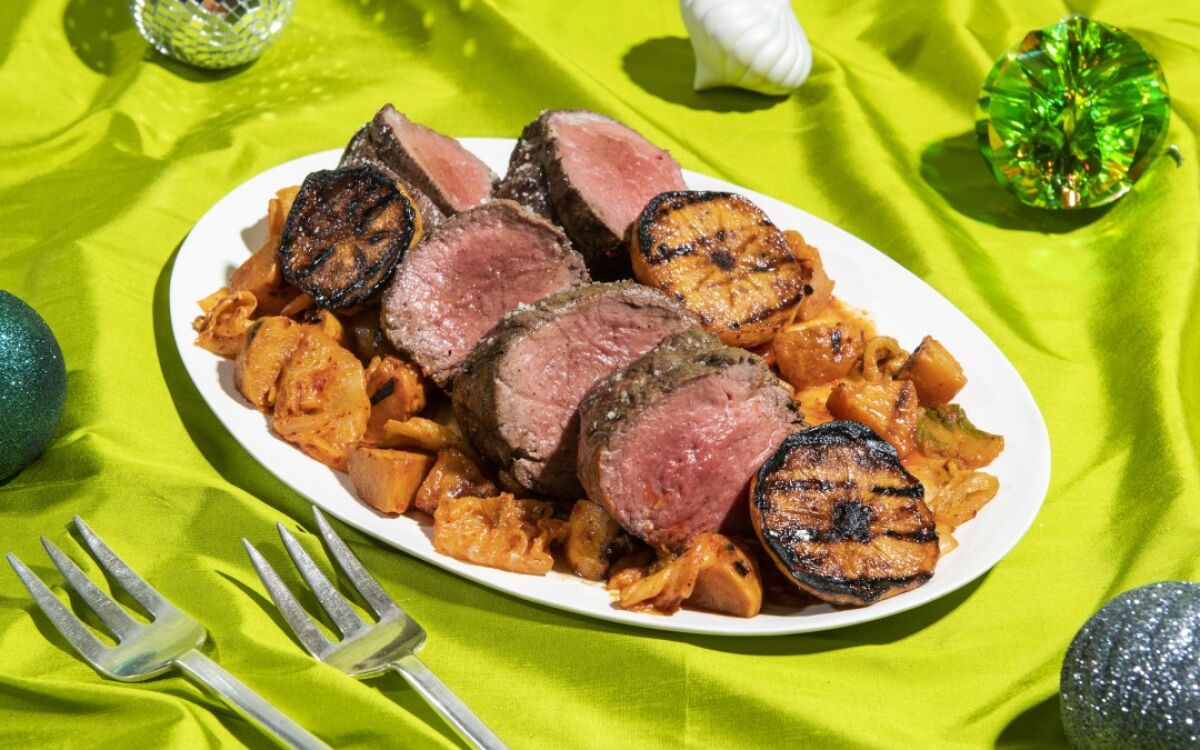 Print Recipe

Print Recipe
A beef tenderloin remains the ultimate holiday party centerpiece. To complement its mild flavor and buttery texture, a punchy condiment of grilled persimmons and kimchi adds a fruity heat. And to achieve the ideal juicy medium-rare, the meat starts on the cool side of the grill to come up to temperature, then gets seared on the hot side. Brushing the lean tenderloin with a garlicky ancho chile oil throughout the process enriches the meat while helping it brown beautifully.
1
Take the beef out of the fridge, rinse and pat very dry, then let stand at room temperature while you prepare the grill
2
Prepare a charcoal or gas grill for indirect heat grilling. If using a charcoal grill, heat the coals until hot and ashed over, then bank to one side. If using a gas grill, heat all the burners to high. (You'll heat the whole gas grill first, then turn off burners before cooking for indirect grilling.)
3
While the grill heats, tie the beef at 1-inch intervals with butcher's twine. Sprinkle very generously with salt. Combine the ancho, garlic and ½ cup oil in a small bowl, then brush a coating of the mix all over the beef. Toss the persimmons with the remaining 2 teaspoons oil in another bowl, then sprinkle lightly with salt.
4
If using a gas grill, turn off all but one burner. Put the beef on the cool side of the grill and the persimmons on the hot side; reserve their bowl. If using a charcoal grill, put the persimmons over the coals and the beef on the other side. Cover and adjust the knobs or vents to maintain a grill temperature of 300 to 325 degrees.
5
Grill the persimmons, turning once, until charred and softened, 10 to 12 minutes. Grill the beef, turning 3 to 4 times and brushing lightly with the oil mixture, until an instant-read thermometer inserted in the thickest part of the beef registers 108 degrees, 25 to 30 minutes.
6
Return the persimmons to the reserved bowl and toss with the butter to evenly coat. Add the kimchi with its juices and fold to mix well.
7
Transfer the beef to the hot part of the grill. Grill, turning to evenly char and basting with the oil mixture every 5 to 6 minutes, until browned and an instant-read thermometer inserted in the thickest part registers 120 degrees, 15 to 20 minutes. Transfer to a cutting board and let rest for 15 minutes. Cut the beef into slices and serve with the persimmon kimchi.
---
Get our new Cooking newsletter.
Your roundup of inspiring recipes and kitchen tricks.
You may occasionally receive promotional content from the Los Angeles Times.