Keema samosa (ground lamb samosas)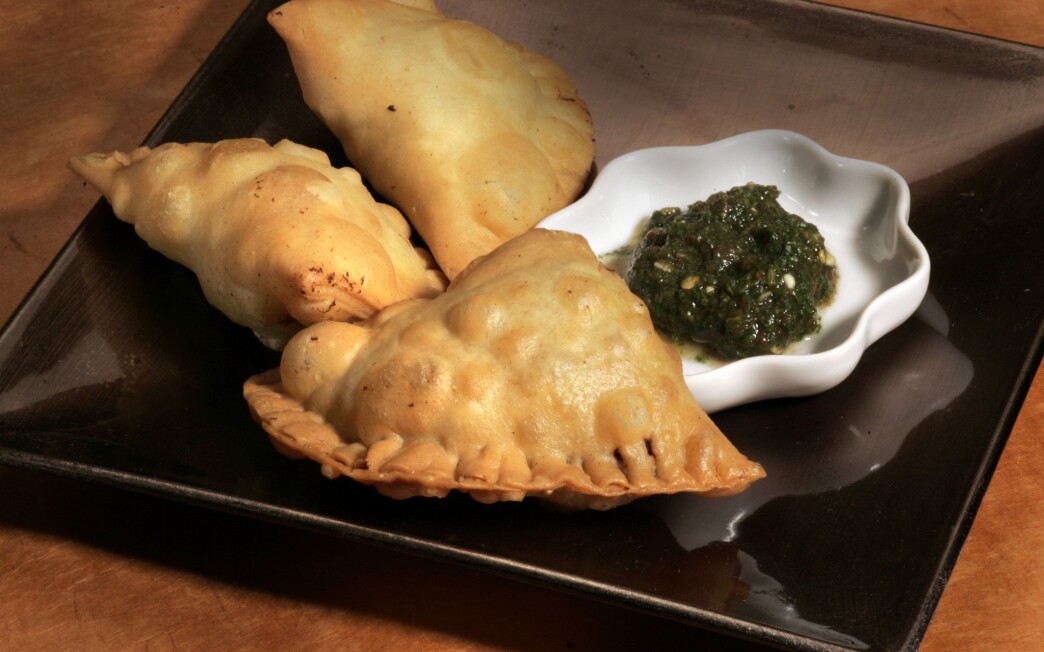 Print Recipe

Print Recipe
The ground lamb with peas is a delicious, delicate filling and the dough recipe, made with clarified butter, is simple to prepare. For the filling, you may use low-fat or whole-milk yogurt. You will need about 3 cups of the filling for the samosas; the remaining can be served as a main dish with basmati rice or Indian bread. The dough should come to room temperature before it is rolled out.
Ground lamb with peas can also be served as an entree, with Indian bread or turmeric-tinted pilaf.
From the story: Memoir, with mangoes
Ground lamb with peas
1
Put the yogurt in a bowl and whisk lightly until smooth and creamy. Add the turmeric, cayenne, cumin, coriander, salt, ginger and garlic. Mix until well blended.
2
Put the lamb into a large bowl. Pour the yogurt mixture over the top and mix (using your hands) until thoroughly blended. There should not be any pools of yogurt left.
3
Pour the oil into a large (preferably nonstick) saute pan and set over medium-high heat. When it is hot, put in the cinnamon, cardamom and bay leaves. Stir once or twice, then add the onion. Stir and fry about 5 minutes, or until the onion pieces are reddish brown.
4
Add all the meat. Stir and cook, breaking up the meat until lumps and pinkness are gone, about 5 minutes.
5
Add the tomato puree and stir. Bring to a simmer. Cover, turn the heat to medium-low and cook for 30 minutes, stirring every 6 to 7 minutes and making sure there is enough liquid so the lamb does not stick to the bottom. Uncover. Most of the liquid should have evaporated by this time.
6
Stir and fry the meat for the next 5 minutes, removing and discarding the cinnamon sticks, cardamom pods and bay leaves. After 5 minutes, spoon out as much of the fat as you can and discard it. Now add the peas, cilantro, green chiles (if desired), garam masala, cayenne, lemon juice and 6 tablespoons water. Mix, cover and cook on low heat for an additional 6 to 7 minutes, or until the peas are tender and no liquid is left. Makes 7 cups.
Dough and assembly
1
Sift the flour and salt into a bowl. Rub the ghee into the flour. (All the flour should be moistened with the ghee so no loose flour remains.) Slowly add about 5 tablespoons water. Mix, kneading as you go. Gather the flour into a ball and knead for 2 to 3 minutes to make a stiff dough. The dough will not necessarily be smooth at this stage. Make a ball and slip it into a plastic bag. Set aside for 30 to 60 minutes. The dough can also be made a day ahead and refrigerated.
2
Knead the dough again. It should be smooth now. Roll into a 12-inch-long snake and divide into 12 equal pieces. Roll the pieces into balls. Keep covered.
3
Put one or two large platters near you that can hold 24 uncooked samosas. Also place a bowl of water and a sharp knife nearby.
4
Remove one ball and, without using any extra flour, roll it out into a 6-inch round that is a little more oval than circular. Cut the oval crosswise with a sharp knife. Lift up one section. Join half of the cut side to its other half to form a cone with a one-fourth-inch overlapping "seam." Stick the "seam" together with water, pressing down on it so it will stay together. Hold the cone loosely in one hand, and with the other, fill it with 1 heaping tablespoon of the lamb-and-pea mixture, making sure that you have one-fourth-inch left clear at the top. Now put some water along the open top edges and stick them together, pressing the well to close firmly. Press down on it with a fork as for a pie crust. Stand the samosa on a plate with its pointed end up. Keep the plate in a cool place. Make all 24 samosas this way.
5
Pour the oil into a deep pan or Indian karhai and set it over medium-low heat. Let it heat slowly. This can take about 30 minutes. When it is hot (325 degrees), drop in as many samosas as will lie in a single layer. Let them fry, turning them over gently when needed with a slotted spoon, about 7 to 8 minutes, or until golden brown. Remove with a slotted spoon and spread out on a platter or baking sheet lined with paper towels. Make all the samosas this way.
From "Climbing the Mango Trees" by Madhur Jaffrey.
Make Ahead:
The filling and dough can be made the night before and refrigerated.
---
Get our new Cooking newsletter.
You may occasionally receive promotional content from the Los Angeles Times.