Grub's Spinach-Mushroom-Ginger Soup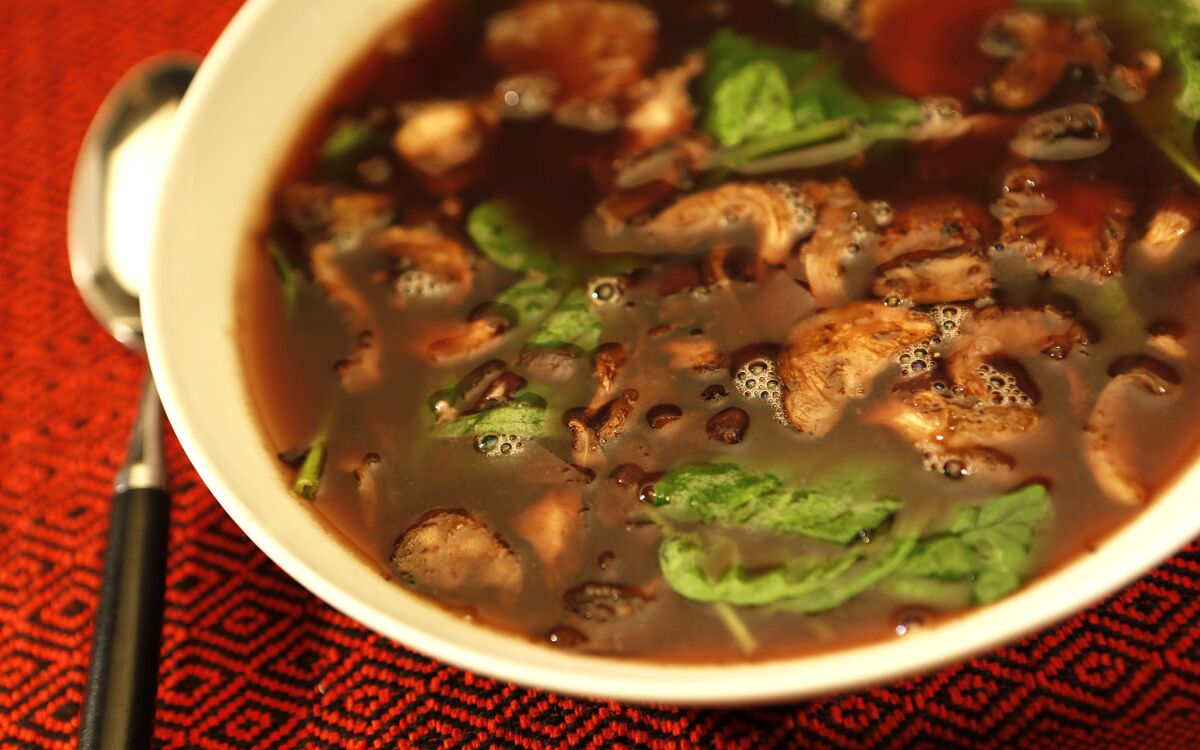 Print Recipe

Print Recipe
Betty Fraser of Grub Gals Catering and Hollywood's Hidden House was happy to share the recipe for Spinach-Mushroom-Ginger Soup from the now-closed Grub. It's rich and flavorful, and also simple to make.
Vegetable Stock
1
Chop the onion, celery, carrot and parsnip into one-half-inch pieces.
2
Heat the oil in a medium stock pot over medium-high heat and cook the vegetables, garlic and shallot until softened and aromatic, 8 to 10 minutes. Add the parsley, thyme and bay leaf, along with the salt and water, and increase heat to high. When the stock comes to a boil, reduce the heat and gently simmer for 30 minutes.
3
Strain the stock into another pot, discarding the vegetables and herbs.
Soup
1
While the stock is simmering, prepare the mushrooms: Heat the oven to 450 degrees. On a rimmed baking sheet, toss the mushrooms with the olive oil and one-half teaspoon of salt and several grinds of pepper, or to taste. Roast the mushrooms until they darken, are aromatic and begin to release their juices, 15 to 20 minutes. Stir the mushrooms about every 5 minutes, so they roast evenly.
2
Remove the mushrooms and save any juices that have collected in the pan. When the stock is ready, add the juices from the mushrooms along with the wine, and gently simmer for about 20 minutes to marry the flavors. Taste the broth and adjust the seasoning with additional salt and pepper as desired.
3
To plate the soup, in each of 4 bowls, divide the mushrooms, spinach and fresh ginger. Pour the hot broth over and serve immediately.
Make Ahead:
Adapted from a recipe from the former Grub restaurant in Hollywood.
---
Get our new Cooking newsletter.
Your roundup of inspiring recipes and kitchen tricks.
You may occasionally receive promotional content from the Los Angeles Times.