Herb-roasted spatchcocked turkey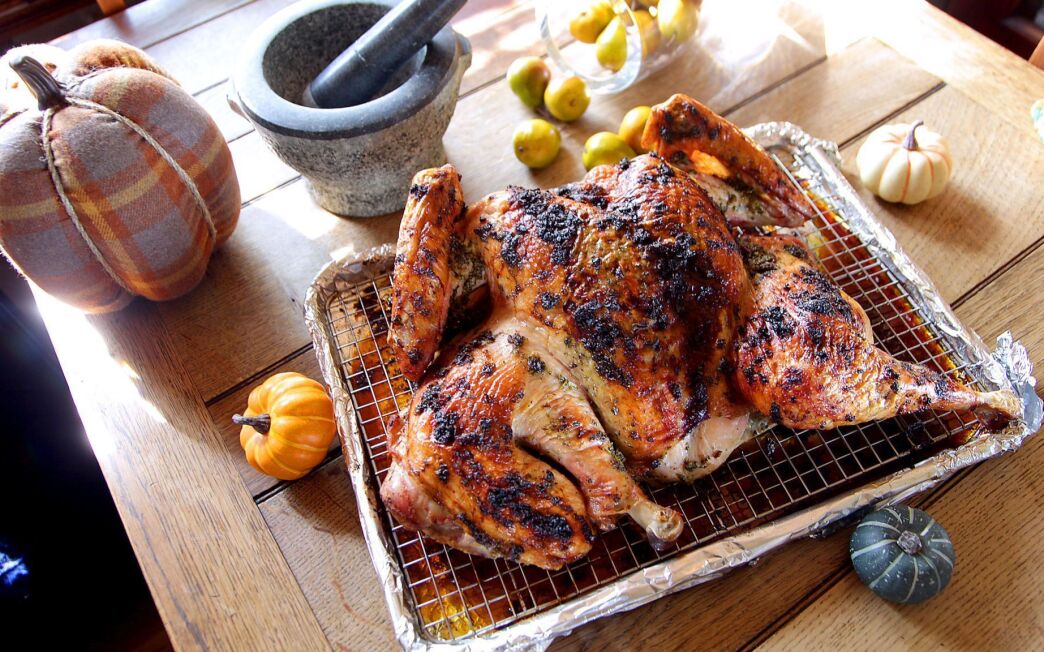 Print Recipe

Print Recipe
The trick to cooking a turkey on a sheet pan is to spatchcock it — to use heavy-duty kitchen shears to remove its backbone. Although it won't look like a bird from a Norman Rockwell painting, it will cook in half the time as a whole turkey and be just as delicious.
From the story: Thanksgiving just got a whole lot easier
1
About 1 hour before roasting, remove the turkey from the refrigerator to temper and remove the chill. Meanwhile, heat the oven to 425 degrees. Line an 18- by 13-inch rimmed baking sheet with heavy foil, and place a wire rack over the foil in the pan.
2
Prepare the turkey (you can also ask your butcher to do this): Using a pair of sturdy kitchen shears, remove the backbone from the turkey, carefully cutting all the way from tail end to neck on either side. Place the turkey skin-side up on a cutting board, opened like a book. Press down on the center of the breast to crack the sternum and flatten the bird (with a turkey, this will take a little muscle). Save the back, tail piece and neck to make the gravy.
3
Separate the skin from the breast meat: Lift the skin flap at the bottom of the breasts, slowly working your way up the bird, gently pulling the skin (be careful not to tear) away from the meat.
4
In a bowl, combine the butter, salt, pepper, parsley, thyme, marjoram, rosemary, garlic and lemon, mixing until evenly combined to form an herb spread. Rub the herb spread evenly under the skin and over the skin of the bird.
5
Place the turkey, skin-side up, on the rack, tucking the wing tips underneath the breasts. Position the bird so the legs and wings are contained in the pan so they don't drip onto the oven while the turkey cooks.
6
Place the turkey in the oven and roast for 20 minutes. Reduce the temperature to 375 degrees and continue roasting until a thermometer inserted in the thickest part of the breast and thigh reaches 160 degrees, an additional 50 to 80 minutes (timing will vary depending on the size of the bird). Rotate the turkey every half hour or so for even roasting. If any part of the turkey browns too quickly, tent that part with foil.
7
Remove the turkey from the oven and cool for 15 minutes before carving.
---
Get our new Cooking newsletter.
You may occasionally receive promotional content from the Los Angeles Times.