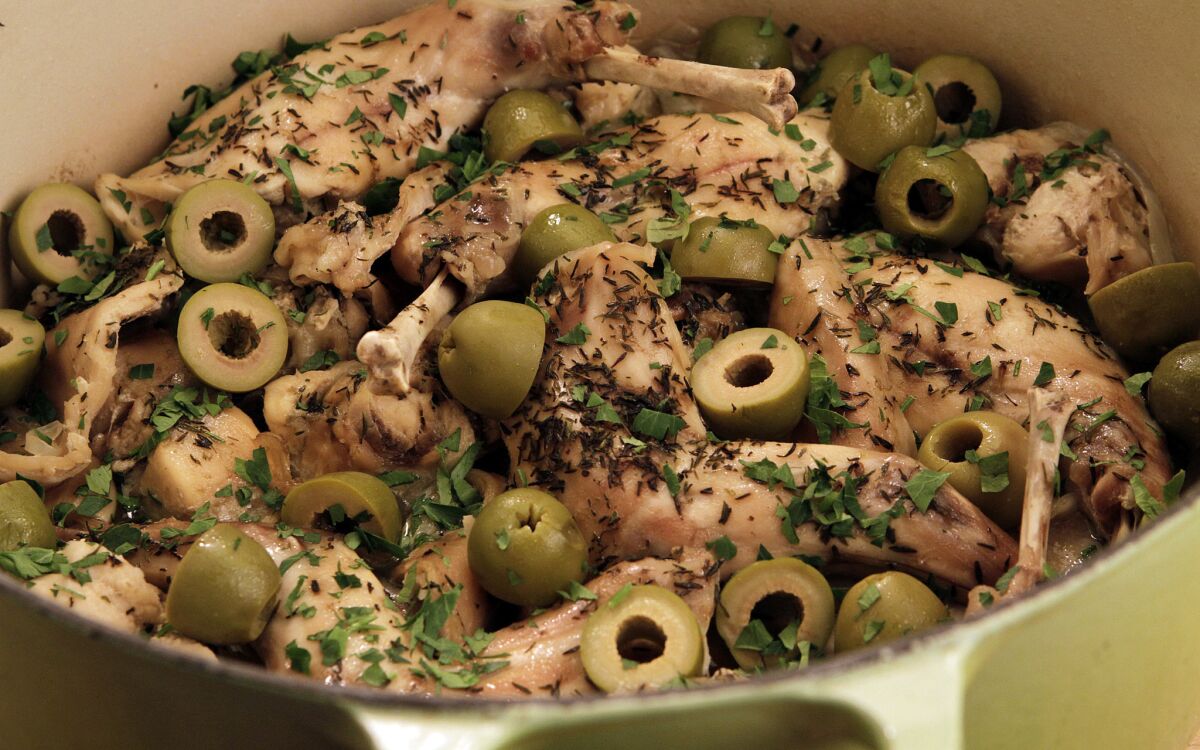 Print Recipe

Print Recipe
Rabbits "are helping win the war," proclaimed a Los Angeles Times article from 1943. Touted as a patriotic food during World War II, rabbits were raised by thousands of Americans in their backyards. Along with victory gardens, rabbits helped put food on the table when much of the nation's supply was shipped to soldiers overseas and ration stamps provided less at home. But even though rabbit consumption spiked during the war, it all but disappeared afterward.
Think rabbit today and your thoughts probably veer to cartoon characters, cereal mascots, Easter and adorable pets. Perhaps the only "bunny" you've ever eaten was of the milk chocolate breed. For years, it seems the only place you could find "the real deal" was occasionally on the menu at French or Italian restaurants.
But rabbit appears to be going through a renaissance of sorts.
"I think it's gaining in popularity," says Mark Pasternak, co-owner, along with wife Myriam, of Devil's Gulch Ranch in Marin County. Their farm supplies rabbit to a number of butcher shops and restaurants in and around Northern California, including the French Laundry and Chez Panisse.
And in an era when game meats and nose-to-tail eating are redefining fine dining as food sport, rabbit is both familiar and exotic enough to appeal.
"It almost has a prohibitiony quality to it, like it was something your grandfather ate. It's a great 'old-fashioned' meat," says chef Ken Addington, who, with restaurant partner Jud Mongell, owns LA Chapter in downtown's Ace Hotel as well as Five Leaves and Nights and Weekends in Brooklyn, N.Y. "We've always had rabbit on the menus in Brooklyn. It's a fun, versatile meat."
And though Mongell was hesitant to feature rabbit at first, he's come around to the idea. "In these times when we're trying to be so conscious of what, and how, we're consuming, it's something to consider."
At a time when buzzwords like "organic," "local" and "sustainable" are driving the market, rabbit is ripe for resurgence. According to Slow Food USA, rabbit can produce 6 pounds of meat using the same amount of food and water it takes for a cow to produce only 1 pound. Not to mention the health benefits. Rabbit is a lean meat that is higher in protein but lower in calories, fat and cholesterol than many other meats, including chicken, beef and pork.
But how does it taste?
Domestic rabbit's all-white meat is fine-grained and has a mild flavor compared with other game meats.
"Rabbit is one of my favorite subjects because it is so versatile, like veal or chicken," says chef Evan Funke of Bucato. A favorite dish of his for those new to rabbit is ragù. "Anytime I get the opportunity to introduce people to rabbit, [I do]. Ragù is easy."
Addington likes to pair bright flavorings, such as citrus, with rabbit; he currently has a lemon grass rabbit ragù on the menu at LA Chapter.
Though rabbit is mostly available through butcher shops such as Belcampo Meat Co. and Puritan Poultry and online, it is turning up more frequently in upscale markets, including select Gelson's markets. It is usually sold whole, though you can have your butcher break the animal down into parts. (But if you've ever wanted to learn how to break down any four-legged animal, rabbit is a great place to start because it's so small. Do be careful with the bones, however; rabbit bones are even more delicate than those of a chicken.)
And despite its reputation as an inexpensive option during frugal times, store-bought rabbit is not cheap; prices in Los Angeles range from about $10 to $13 a pound for a 2- to 3-pound rabbit.
noelle.carter@latimes.com
1
Cut the rabbits into serving pieces. Save the stray bones in the pelvis, ribs, belly flaps and neck for the stock.
2
Make a quick rabbit stock: Place all of the rabbit pieces — not just the stray ones — into a pot and cover them with cool water by about one-half inch. Bring this to a boil, then remove from heat. Skim off any sludgy stuff that floats to the top. Fish out all the good pieces of rabbit — legs and saddle — and put them in a bowl in the refrigerator. Add the bay leaves, fennel seeds, coriander seeds, juniper berries (if using) and cracked black peppercorns to the pot. Return everything to a bare simmer and cook for 1 hour. Strain, discarding the solids, and set aside. You will need 1 cup rabbit stock to complete the recipe; any remainder can be covered and refrigerated for up to five days, or frozen for up to 3 months.
3
In a heavy, lidded pot, such as a Dutch oven, heat the olive oil over medium heat. When it is hot, add the sliced onion and cook until soft and translucent. Do not brown them. Add the white wine, 1 cup of the stock, the rabbit pieces from the refrigerator, the thyme and the garlic. Bring to a simmer and add 1 teaspoon salt, or to taste. Reduce the heat to low, cover the pot and cook until the meat is tender, about 1 1/2 to 2 hours.
4
Finish the dish by adding the green olives and fresh parsley. Cook for 2 to 3 minutes and serve.
Adapted from a recipe on Hank Shaw's food blog Hunter Angler Gardener Cook. Shaw recommends serving the rabbit "with mashed potatoes, white polenta or rice. A green thing alongside is always nice, too."
---
Get our new Cooking newsletter.
Your roundup of inspiring recipes and kitchen tricks.
You may occasionally receive promotional content from the Los Angeles Times.