King Trumpet Mushroom Salad With Arugula and Shaved Parmigiano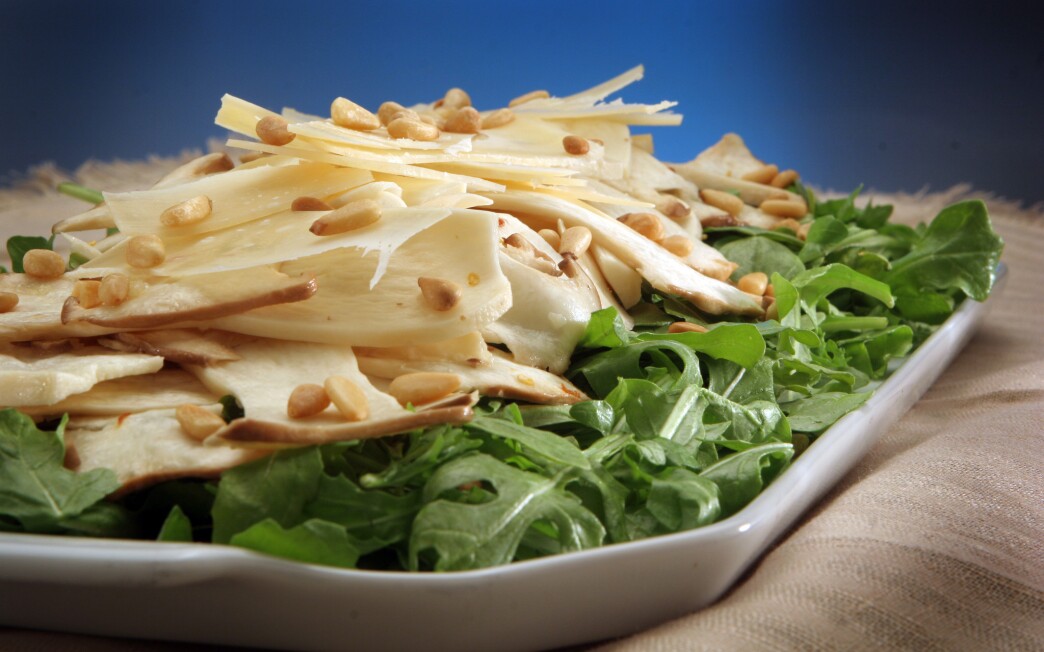 Print Recipe

Print Recipe
King trumpets are almost all stem and are large — commonly 3 or 4 inches long and sometimes as much as 6 or 7 inches. Their texture is firm and meaty, and their flavor is mild, slightly briny. Slice them thin (lengthwise so you get the full effect of their size). Strew them across a bed of lightly dressed arugula greens. Shave Parmigiano-Reggiano in long, thin strips over the top and finish with a scattering of toasted pine nuts.
1
Trim the mushrooms of any dried ends if necessary, then slice them lengthwise as thin as you can. Place the mushrooms in a mixing bowl and season with 1 teaspoon salt, the garlic and red pepper flakes.
2
Whisk together the lemon juice and olive oil and add 2 tablespoons of the dressing to the mushrooms. Toss to coat lightly.
3
Place the arugula in a large mixing bowl and add just enough of the remaining dressing to coat lightly. Sprinkle with salt to taste and toss well.
4
Arrange the arugula on a serving platter and mound the mushrooms on top. Use a vegetable peeler to shave long strips of Parmigiano on top of the mushrooms. Sprinkle with pine nuts and serve immediately.
King trumpet mushrooms are generally available at Asian markets.
---
Get our new Cooking newsletter.
You may occasionally receive promotional content from the Los Angeles Times.