Lamb rillettes
Yields
Makes 12 ( 1/4 cup) servings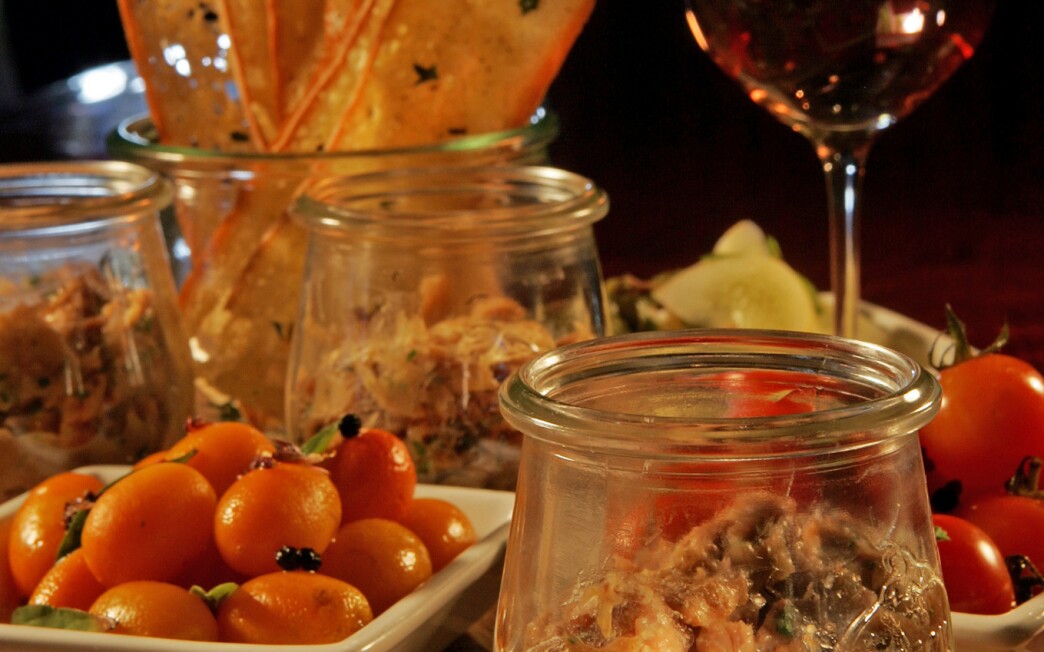 Print Recipe

Print Recipe
Served in pretty, hinged Mason jars, squat glass pots or ceramic ramekins, rillettes -- savory, toothsome meats or fish that have been braised or prepared as confit-- are multiplying on restaurant menus, a second wave in L.A.'s charcuterie renaissance.
"I love the shredded texture and the rich, creamy quality," says Suzanne Goin, chef-owner of the Los Angeles wine bar A.O.C., who presents her luscious pork rillettes on a rustic wooden board. Sprinkled with freshly ground black pepper, served with a stack of warm, grilled bread, pickled red onions, cornichons and a bit of frisee, the popular dish is at once a soul-satisfying appetizer and a painterly still life.
The dish that 19th century French novelist Honore de Balzac lovingly called "brown jam" is rustic fare, casually spread onto bread, spooned from small pots and shared with friends. Born of traditional peasant techniques, rillettes can be made of pork, game, poultry, fish or even vegetables that are braised with fat until tender and deeply flavored -- even caramelized -- then seasoned or spiced and packed into jars.
Don't look for a genteel layer of aspic or the beautiful mosaic of many terrines -- rillettes is simply a pot filled with flavor, meat condensed to its essence.
"There's been a change in the last 10 years," says David Myers, chef-owner of the West Hollywood brasserie Comme Ca. "Young people have traveled, they've been to small, nameless bistros somewhere in France." After they come home, "they want those experiences."
Myers serves smooth-as-butter pork rillettes pressed into a little ceramic bowl as part of his charcuterie plate, served on black slate with pickles, whole grain mustard, toasted baguette and a slice of house-made pork and duck terrine.
There are always three rillettes on the menu at Palate Food + Wine in Glendale, and even chefs who don't make their own are offering rillettes made by local specialty chefs including Bruno Herve-Commereuc, former chef at Angelique Cafe in downtown L.A. Rillettes are best in small quantities, great nosh food when matched with contrasting bites of warm bread ("I love how when you spread the rillettes on the warm, grilled toast it half melts into the bread," Goin says), a tart bite of pickle, the acidic punch of mustard. Spread some on toasted bread, pair it with a glass of wine, maybe a handful of cornichons and a bit of salad, and you have a perfect appetizer -- or a light, casual supper.
To make rillettes, meats are first marinated or given a brief salt cure, then braised or confited (poached in their own fat) until very tender. The tender meat is then mixed with a bit of the reserved poaching liquid and fat, maybe a few herbs. That's it.
Packed into jars or terrines, loaf pans or ramekins, sometimes sealed with a layer of fat, they're stored in the fridge, where they can last for up to a week -- longer if sealed with a layer of duck fat or butter.
"It's becoming trendy here [in the U.S.]; in France, it's a part of everyday life," says chef Florent Marneau of Marche Moderne in Costa Mesa. Marneau often includes duck rillettes on the charcuterie plate, with pickled cauliflower and cornichons, slices of bread and pots of mustard.
Marneau, whose duck rillettes are made with duck confit shot with notes of cardamom and star anise and mixed with a bit of pork confit, also makes pork, rabbit, even quail and wild boar rillettes.
--
Among the charcuterie
At FRAICHE in Culver City, chef-owner Jason Travi serves a selection of charcuterie and salumi, including luscious duck rillettes made by Herve-Commereuc. (Travi says he gets all his charcuterie from Herve-Commereuc, who plans to open a restaurant and retail shop in Culver City.)
At the Sunset Junction bistro Cafe Stella, there were two rillettes among the appetizers on a recent menu. Chef Missy Kim makes house-made salmon rillettes studded with capers and fresh dill; savory pork rillettes, which Kim gets from Herve-Commereuc, are part of the charcuterie plate.
In West Hollywood, chef T. Nicolas Peter lines the walls of the Little Next Door with Mason jars of pickles and jams and fills refrigerated cases with jars of pates and preserves -- and rillettes. Recently, Peter's rabbit and pork rillettes were on offer. The Belgian-born chef says that though Americans have traditionally viewed pates and rillettes as "luxe, white-tablecloth," in France, "this is peasant food."
Ben Ford, chef-owner of Ford's Filling Station in Culver City, says rillettes are showing up on menus because "chefs are cooking what they like to eat more." He often makes rillettes and terrines with rabbit, but his rotating menu might also include rillettes made with smoked trout and bound with creme fraiche, or made with a confit of goose or duck.
Palate chef-owner Octavio Becerra likes how rillettes work with his menu so much that he's given them their own section, called "Mason jars." The rillettes, served in little glass pots with thin, crisp slices of baguette, are meant to be shared as an appetizer
On a recent night there were the three on the menu: salmon rillettes; potted poulet (chicken rillettes) and potted Berkshire pork. Becerra also makes rabbit rillette, and sometimes luscious lamb rillettes spiced with thyme and tarragon, parsley and shallots.
To make Becerra's meltingly tender lamb rillettes, start by marinating lamb from a combination of cuts (shank, shoulder and neck), then sear the meat and braise it in wine, chicken stock, duck fat and aromatics until it's fall-apart tender. After the braised meat cools, it's shredded and combined with herbs, some of the braising broth, a bit of fat and butter (Becerra uses his own house-churned butter) and packed into jars.
Chef Josef Centeno, recently of Lot 1 in Echo Park, makes ocean trout rillettes that are another good choice for the home cook. Ocean trout and smoked salmon are combined, smoothed out with lebni (kefir cheese) and seasoned with yuzu (Japanese citrus). Buttery smooth, with a lovely depth of flavor from fresh dill, black pepper and the yuzu, it's a lighter, faster take on rillettes.
CLASSIC PORK RILLETTES
For classic rillettes, make Suzanne Goin's pork version -- and for best results, start about six days before the meal. Goin cures cubes of pork shoulder, fat back and belly in a mixture of salt, black pepper, fresh thyme and bay leaves for three days, then braises the meat with onions and shallots, wine and herbs. After cooling, the pork is shredded, mixed with the cooking liquid and packed into a terrine -- or loaf pan, which is a nice alternative if you don't have jars or ramekins.
Weighted down (to compact it) and chilled ("They're best made at least three days ahead," Goin says), the rillettes are then sliced and served at room temperature. Ahead of the trend, Goin had pork rillettes on the menu at A.O.C. when the restaurant opened in 2002; she's since added rabbit and duck rillettes to the menu as specials.
"It's a dish that's all about sharing and hanging out for me," Goin says.
An earthenware pot, a crusty baguette, and thou beside me, singing in the wilderness.
Braised lamb
1
In a large, nonreactive bowl, combine the lamb with the onion, carrot, celery, white wine, garlic, thyme and bay leaf. Cover and marinate, refrigerated, for 24 hours.
2
Strain, reserving the wine. Separate the lamb, herbs and wine from the vegetables and reserve each individually. Heat the oven to 300 degrees.
3
Place a medium, oven-safe casserole (with a lid, to be used later) over medium-high heat on the stove top. Add the olive oil, then the lamb and sear the pieces on all sides to a rich brown, 8 to 10 minutes. Remove the lamb from the casserole and set aside.
4
Add the vegetables and cook until tender, 5 to 7 minutes. Pour in the reserved wine and deglaze the casserole, scraping up the flavoring at the base.
5
Return the lamb to the casserole and add the chicken broth, lamb fat, duck fat, the reserved herbs and the sea salt, stirring to combine.
6
Bring to a slow boil over high heat, then reduce to a simmer, cover the casserole with the lid and place it in the oven. Braise the lamb until it falls apart at the touch, about 2 1/2 hours.
7
Remove the lamb, vegetables and herbs from the casserole, leaving the liquid. Set aside the lamb, discarding the vegetables and herbs. Place the casserole over high heat on the stove top and reduce the liquid by half. Remove from heat and set aside one-half cup of the reduced liquid to make the rillettes, discarding the rest or reserving it for another use.
8
Remove the meat from the lamb bones and finely shred. Set aside the shredded meat, discarding the bones. You will have about 1 pound.
1
In a medium bowl, combine the lamb, parsley, chives, tarragon, thyme, shallots and duck fat, using your hands or a fork to thoroughly combine.
2
Stir in the butter and reduced braising liquid until incorporated. Season with one-half teaspoon salt and several grinds of black pepper, or to taste.
3
Serve immediately, or cover and refrigerate until needed; allow the rillettes to come to room temperature before serving.
From Octavio Becerra of Palate Food and Wine. Lamb neck, shoulder, shank and fat are available at Huntington Meats, Marconda's Meats and Owen's Market in Los Angeles. Check with your local butcher. Duck fat is available at Whole Foods stores, Surfas in Culver City and other specialty food markets. Becerra packs rillettes in 3-ounce Mason jars, and serves them with croutons and pickles.
---
Get our new Cooking newsletter.
You may occasionally receive promotional content from the Los Angeles Times.