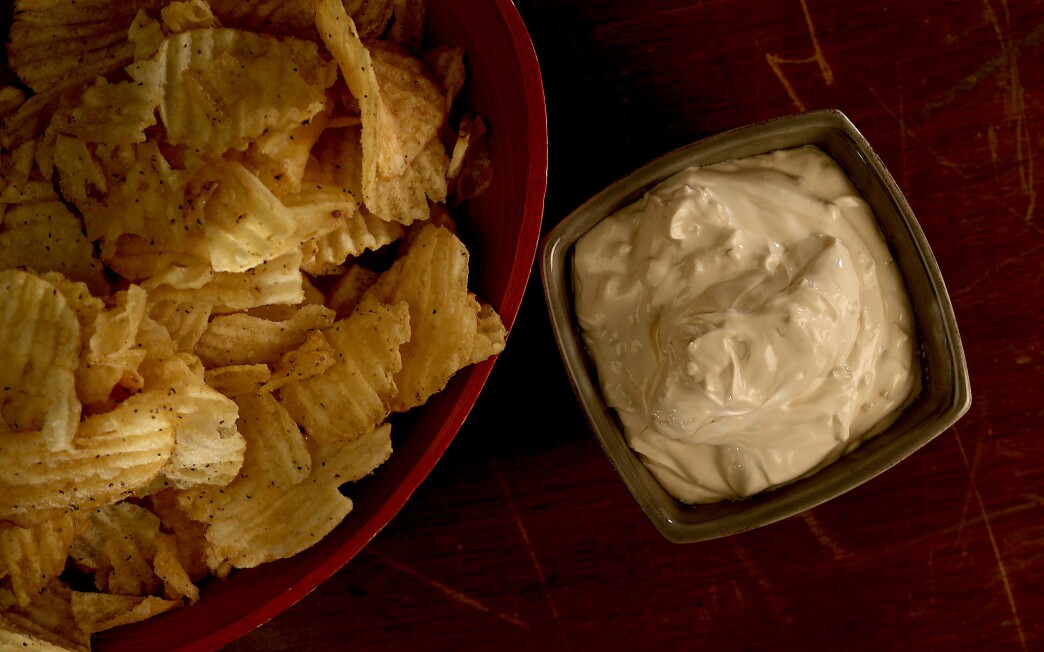 Print Recipe

Print Recipe
Around here, we spend a lot of time thinking about what to serve for dinner and why, whether it's a holiday feast that requires days to construct or a meal with all the simplicity of a Flemish still life. Planning the food for a party is a lot about context, especially when the party in question will be charged not only with hunger, but with partisanship and high emotions. Super Bowl parties, not unlike election parties, are great occasions for comfort food and booze — and what constitutes comfort under such circumstance depends a lot on where you are, your relationship to football and to what's on your plate and in your glass.
This year's Super Bowl, to be played in Minneapolis on Sunday between the Philadelphia Eagles and the New England Patriots, is an excellent excuse to put a tray of lobster rolls or a few cheese steaks on the menu. If that's too obvious, or if your allegiances are firmly locally based, we have a few alternatives for you: burritos from an El Monte institution, a plate of decadent nachos from a downtown Los Angeles chef, an onion dip redolent of both soup mix and childhood, a jug of margaritas built with citrus from our local trees.
If I threw a Super Bowl party, I've always sworn there would be blood-clam micheladas, crackers and Brie, and bottles of ice-cold Bandol rose; warm walnuts dusted with vadouvan curry; and probably slow-roasted six-hour lamb shoulders with fennel pollen and rosemary. I would undoubtedly spend most of the time in the kitchen slivering the very first of the season's green garlic and maybe topping and tailing green beans to toss with almonds and zhoug.
I do not think it is a coincidence that nobody has ever asked me to host a Super Bowl party. And it isn't just because the family flat screen is better suited to broad comedy than to beads of sweat dripping into a cornerback's eye, my over-reliance on bacon or my taste for Corbières. I believe it is a matter of temperament. For years we all piled over to Pablo's house, where the game was accompanied with chips, a rudimentary vegetable platter, and an enormous container of jalapeno poppers from Costco, re-crisped in the oven until they became lethal firebombs, ripping the skin from the roof of your mouth with boiling cheese before they ravaged your tongue with chile heat. Molten droplets adhered to corners of your face that you hadn't recognized they had reached. There is no limit to the amount of poppers a motivated dude can eat. Then there were the years at John and Sandi's house — tea-smoked duck from a local Sichuan restaurant, bowls of Persian salad, and a complicated, delicious sambal that Sandi made each year from a bushel of laboriously minced shallots, a process that left her hands smelling of the vegetable for a week but made her friends deliriously happy.
If I behave, I'll be invited back to John and Sandi's. If not, on second thought, I'll settle in with an armful of birria burritos hauled in from Burritos La Palma in El Monte — slender but perfect creations made from supple, toasty handmade flour tortillas wrapped tightly around a few tablespoons of shredded beef. The standard order is at least two or three per person, but can, and occasionally should, be pushed toward infinity. They are all but guaranteed to be more entertaining than any first half of football Tom Brady has ever played.
5120 Peck Road, El Monte, (626) 350-8286; also at 410 N. Bristol St., Santa Ana
— Jonathan Gold
Lipton onion dip
I like to think that my lifelong love of chips and dip started in the backyard of my grandmother's Torrance house in the '80s with a wooden bowl, a tub of sour cream and a blue box of Lipton onion soup mix. I'd spend most summer days in that backyard, lounging on a beach towel in the shade of my grandmother's giant, aboveground pool. She would always saunter out of the house wearing something fabulous — a kaftan from the '60s over a one-piece bathing suit — holding a wooden bowl of onion dip and a larger wooden bowl of chips.
The dip, magically whipped up in two steps and made by following the directions on the box, has been a fixture at family gatherings ever since. If we're sitting down to watch the U.S. Open, the Lakers, the Seahawks (my dad will follow Pete Carroll wherever he goes) and of course, the Super Bowl. There's something comforting in the bits of dehydrated onion and the sometimes swirls of salty, almost-real-onion flavor that result when someone has been a little lazy in mixing in the onion powder that day. When I once tried to make a version from scratch, with actual caramelized onions, there was an all out chip and dip revolt. So we go back to the original, every time, and I can't imagine a Super Bowl party, or any Harris party, without it.
— Jenn Harris
One of my favorite Super Bowl parties (XLVII, the Blackout Bowl) was held in the basement of a house in northern Minnesota's Iron Range. The host, an avid hunter, had constructed a platter of elk nachos not much smaller than one of the framed Vikings posters on the wall. While I appreciated the snow belt terrior of the dish, I remember missing the way local produce can inform that classic party recipe. Of course it had been about 25 below at the time, and the vat of pozole I'd brought to the party had been paired not with corn tortillas but the Scandinavian potato flatbread lefse, so my nostalgia was a little misplaced.
This year the Super Bowl may be in Minnesota, but we are not, and I want nachos that showcase the produce — Edenic even in winter — that we have in Southern California. I want a small mountain of thoughtful components that together create casual party food that's also a paean to the dish itself. At B.S. Taqueria, chef Ray Garcia's casual downtown L.A. taco joint (his high-end restaurant Broken Spanish is nearby), the plate of nachos that have been on the menu since the place opened seem at first like ad hoc snack food. But pull the crisp tortillas out of the pile one by one, Jenga-like, and you'll find intricacies — of flavor, of technique — loaded inside. Habanero-jolted pinto beans. Picadillo and escabeche and pico de gallo. A silky cheese sauce thickened with rice flour and spiked with serranos. A tomatillo-avocado salsa that's less like the taqueria salsa you might expect than a complex sauce verte. Sure, it takes a bit of time to make all this stuff, but that's what all those pre-game shows are for.
— Amy Scattergood
1
In a bowl, stir together the soup mix and sour cream until evenly combined. Chill if desired.
2
Serve with your favorite chips or vegetables, preferably Kettle Salt and Pepper chips with ridges.
Adapted from the Lipton Recipe Secrets Onion Soup mix box.
---
Get our new Cooking newsletter.
You may occasionally receive promotional content from the Los Angeles Times.