Maple bacon biscuits
Yields
Makes 2 dozen biscuits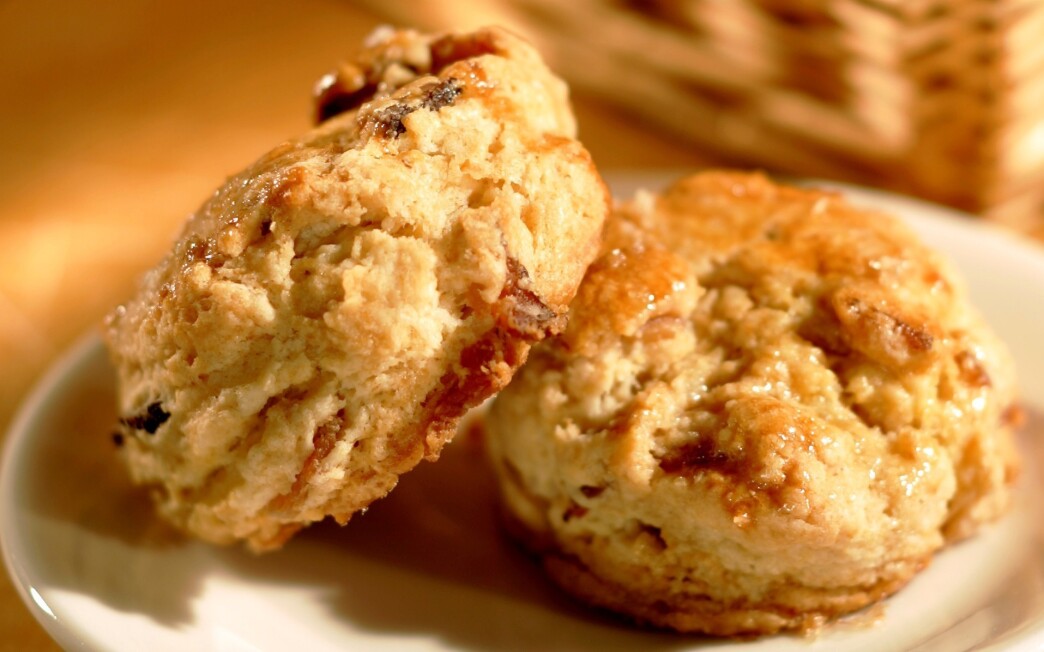 Print Recipe

Print Recipe
When Campanile stopped serving daily breakfast a decade ago, the regulars (but obviously not enough of them) who'd made a cappuccino and pastry or poached eggs and ham at the restaurant part of their morning routine were devastated. They had become accustomed to using the white tablecloth restaurant as an office away from the office. Over a sumptuous breakfast, they would meet clients, hold meetings, plot goals and projects. Screenwriters scribbled, actors pored over scripts and there may already have been a few bloggers at their keyboards. And then it ended (except for weekend brunch, which is still going strong).
If Campanile couldn't keep breakfast going, what ambitious restaurant could? Du-par's and the Original Pantry rarely venture beyond the basics. Yet there's reason for optimism: After several years of deprivation for diners, the L.A. breakfast is making a comeback.
Why? It's a result of more relaxed working hours, unpredictable traffic and changing dining habits. Restaurants are noisier at night: If you want to spend time with a friend or colleague over a meal, breakfast has a certain novelty and convenience. And, usually, baby sitters are not involved. Or hard liquor. You can enjoy all the perks of a top-notch restaurant without the expense of a three-course meal, plus wine. Breakfast, I'm here to say, is a civilized affair, and compared with other dining options, a relative bargain.
Neal Fraser and his wife Amy Knoll Fraser helped jump-start the trend when they opened the casual BLD -- breakfast lunch dinner -- down the street from their more formal, contemporary American restaurant Grace. And they weren't just doing brunch, but breakfast every day. Ammo joined in too, with its early-morning offerings.
And now, a handful of restaurants, formal and laid-back, are discovering an enthusiasm for breakfast. Time it right, and you can stop on the way to work, avoid the worst of the traffic, eat something serious and leave ready to take on the day.
Suddenly there is an array of delicious options -- a Japanese bento box breakfast, a perfect croissant and cafe au lait, billowy pain perdu, a stack of blueberry ricotta pancakes, soft-scrambled tofu and the classic two eggs sunny side up with toast. Here's where to look.
1
In a medium frying pan, cook the bacon over medium heat until cooked but not crispy, 10 to 12 minutes, stirring frequently. Remove the bacon to a paper towel-lined plate or pan, to remove excess fat.
2
In a large bowl, whisk together the flour, sugar, baking powder, baking soda and salt.
3
Using a pastry cutter or fork, cut in the diced butter, until it resembles small peas. Stir in the bacon, then one-fourth cup plus 2 tablespoons of maple syrup and the buttermilk until the dough just comes together (it will still be clumpy). Be careful not to overwork the dough.
4
On a lightly floured surface, gently press or roll the dough to 1-inch thickness. Cut the biscuits using a 2-inch round cutter; you should have 24 biscuits. Place 12 biscuits on each of two parchment-lined baking sheets, spaced 2 inches apart. Freeze the trays just until the biscuits are chilled, about 10 minutes.
5
Heat the oven to 350 degrees. While the biscuits are chilling, prepare the egg wash: In a small bowl, whisk together the egg yolk, egg and cream. Brush the chilled biscuits with egg wash and top each with a pinch of fleur de sel.
6
Bake the biscuits until they just begin to brown, about 25 minutes (you should easily be able to pick the biscuits up off the tray). Remove the tray from the oven. Quickly drizzle 1 teaspoon of the remaining maple syrup over each biscuit, then place the tray back in the oven for 3 minutes more. Serve while still warm.
Adapted from Zoe Nathan of Rustic Canyon.
---
Get our new Cooking newsletter.
You may occasionally receive promotional content from the Los Angeles Times.