Mexican hot chocolate ice cream with dark chocolate sauce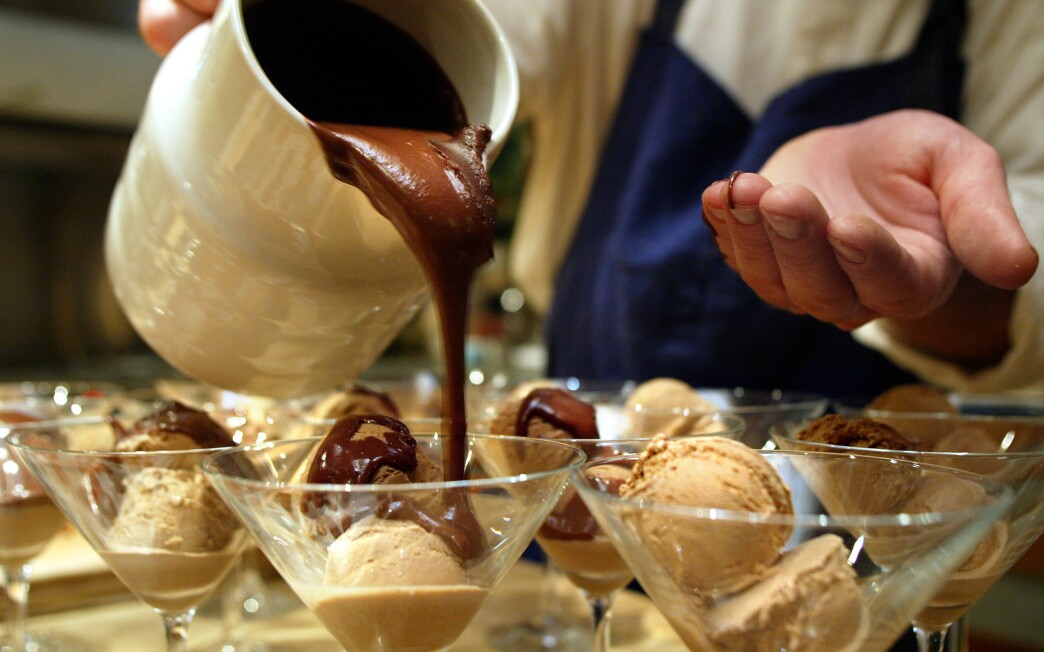 Print Recipe

Print Recipe
Carneros, Calif.--Here's the image of a dinner party in the wine country: Formally dressed guests gather at some centuries-old chateau. The table is set with heavy silver and antique china. Conversations murmur politely as white-gloved waiters bring out ancient vintages and precious foods prepared by a famous chef.
Here's the reality: A dozen guests are milling about at Rob and Maria Helm Sinskey's house -- a newly reconstructed barn. In the kitchen, Maria is working madly putting the finishing touches on the first course. In the living room, four kids under the age of 6 are howling their heads off at a cartoon. In the dining room, Rob, barefooted, is sweeping up the shattered remains of a wine glass he dropped while giving it a last-minute polish.
The scene is more Ricardo than Rothschild -- provided Ricky made great wine and Lucy had once been a star chef.
"You see?" Maria says, turning to a guest, a little wild-eyed. "That's what it's like here. It's chaos. Total chaos." She goes back to her chopping, then turns again with a smile. "That's the way I like it."
In the Napa Valley, spur-of-the-moment dinner parties are the rule rather than the exception. That's the way things go in the wine country, where entertaining is a necessary -- albeit enjoyable -- part of everyday business.
Even so, there are few who handle it with the aplomb of Maria Sinskey. She was, after all, already famous for her cooking when she married Rob, vintner at the highly respected Robert Sinskey Vineyards. As chef at Plumpjack Cafe in San Francisco, she earned rave reviews nationally for her hearty, delicious food.
"I segued right from the restaurant to the vineyard," Maria says. "When Rob and I first got married, it used to drive him crazy, I couldn't cook for just two. I kept making enough for eight. So Rob got used to inviting impromptu dinner guests."
Maria's cookbook featuring menus from some of those dinners, "The Vineyard Kitchen," will be published by HarperCollins in September.
The Sinskeys are a perfectly made match. Not only was Plumpjack a wine-oriented restaurant, Sinskey Vineyards has long been in the forefront of promoting the connection between food and wine. The winery offers regular food and wine pairings as part of its tasting program, and two of its former chefs have gone on to Napa Valley prominence: Greg Cole of Celadon and Cole's Chop House restaurants, and Vincent Nattress of Roux in St. Helena.
Carl Doumani, one of the grand old men of the Valley, is a frequent guest at the Sinskey home. Founder of Stags' Leap Winery in 1971 and current owner of Quixote Winery in Napa and Benton Lane Winery in Oregon, he also knows something about food: His daughter Lissa is chef and co-owner of Terra restaurant in St. Helena.
"It always seems like she just cooks something up, although you know there's more to it than that," he says. "But there are no architectural presentations or any of that stuff. It's just food with really good flavor that is pretty simply done. That's the way most people I know cook here in the valley and that's what is enjoyed."
Starlight and Pinot Noir
It's hard to imagine a better place for a wine country dinner than the Sinskey home, particularly on this early summer night. It sits on a hillside among the vineyards of Carneros just outside the town of Napa. When a guest asks Rob the sources of his top-of-the-line "Four Vineyards" Pinot Noir he's pouring, he points out three of them, Vandal, Old Sonoma Road and Capa vineyards, which abut the house.
Not more than five miles away, the setting sun glints off a sliver of San Pablo Bay, and only two houses are visible in between. One of them is the Sinskey guesthouse, a small turn-of-the-century farm cottage. That's where the family -- Rob and Maria and their daughters, Ella, 4, and Lexi, 3 -- lived until just before Christmas when they finished the new building.
Like most new houses, this one is perfect for entertaining, unencumbered by bulky furniture or finishing touches. Unlike most, it seems likely to stay that way. The free-flowing open floor plan downstairs fits perfectly with the way the Sinskeys live.
A quarter of it is filled with kids' toys. Most of the rest is devoted to cooking and eating. In one corner is the kitchen, anchored by a long pine baker's cabinet they found at an antique store. Against one wall is a huge Viking range featuring two ovens, six burners, a grill and a griddle. There's a window over the sink with a pretty-enough-to-frame view of the vineyards.
The acid-washed cement floors -- stained red in the kitchen, burnished gold elsewhere -- already are worn to bare concrete in the work path. The Sinskeys throw dinner parties the way most of us go out for lunch. Maria says she does a big sit-down meal at least once a week, frequently twice and even more often than that in high season, when there are lots of winery visitors.
Typically, these are a very Napa mix of business and pleasure. This is, after all, an area with really only two inextricably linked industries -- wine and tourism. At this dinner, there's Doumani and his partner Pam Hunter, a wine and food publicist. There's Bettina Rouas, co-owner of the hot new Napa restaurant Angele. There's the winery's national sales manager, his wife and a friend and there's a local cookbook writer. Then there are a couple of friends from Ella's preschool.
"Which is business and which is pleasure?" Maria asks. "So many of our friends are in this business I guess it's killing two birds with one stone. And then we have friends we've met through the kids who don't have anything to do with food and wine except they like it."
Maria is hard at work when the guests begin to arrive. Rouas, the first at the party, is immediately put to work laying the trestle table that has been set up on the screened-in porch. The temperature is sweltering, unusual for the area. "Cool Region One, huh?" one smart aleck guest ribs Rob, referring to Carneros' reputation for chilly weather that makes elegant wines. "Well, that's on average," he replies.
The menu is classic Sinskey: seasonal and wine friendly. There's a painterly assortment of cold vegetables from the St. Helena farmers market: Chioggia beets, green and yellow beans, sweet thin carrots and bright yellow and red cherry tomatoes that taste much better than they have any right to this early in the summer. From the same farmer, she got large flavorful heirloom tomatoes she'll cook briefly for the sauce for the halibut.
In the old days, dinner with a Napa winemaker meant grilled steaks and big Cabs in the backyard. Though the wines and the menus have changed, the essential style has remained the same. This is Napa, after all, and entertaining is very casually done.
That's casual, not careless: The big difference between then and now, says Doumani, is the quality of the wine and of the food.
"We were making those big heavy tannic wines then, so steak worked," he says. "Now we're making wines that are more elegant, more approachable, so we don't have to make steaks all the time. Since we've become more sophisticated in our winemaking, we can make food that doesn't have to stand up to the assault. And, I think, as our palates became more sophisticated, the food did too."
Wine is always an important part of the menu, but not necessarily the centerpiece. As with most winery families, the Sinskeys are proud of their own product and love to pour it. And that frequently means some surprises -- not just the old and precious, but special things such as graceful long-necked magnum bottles of Pinot Blanc -- they only made a couple of hundred cases for special occasions. Or the "Zinskey" sweet late-harvest wine served with dessert, like a Port made from Zinfandel, which can be found only at the winery.
Maria says she usually plans the wines and the food at the same time. "Think about the wine you're going to be serving at the same time you're developing the menu, not after," she says. "I always have them running simultaneously in my head. What wine with the halibut? Well, if I'm doing it with bacon and mushrooms that would be great with Pinot. Or maybe I'll just serve it with tomatoes. That's a great white wine dish."
Strategy and a timer
Once the menu is decided on, the list-making begins. "Even when I was just cooking for the two of us, it was so ingrained in me I'd make a long list before every meal," Sinskey says. "It's almost one of those obsessive kinds of things where I just need to get it done. Once I've written it down, I have kind of an out-of-body experience where I can just let it all go. It's almost like dinner is done. I can just think about cooking and it becomes kind of therapeutic."
Indeed, at regular intervals during the preparation of the meal, Maria stops and, thinking out loud, figures out how much time is remaining and what tasks are still to be done.
She's also a firm believer in timers. "I always think I'll remember what's going on, but then one phone call comes in and everything screws up," she says. "You burn 5 pounds of walnuts because you're talking to a friend."
At the table, both the vegetables and the halibut are passed on big platters. "It just makes people feel like they're at home rather than at some restaurant," she says. "The only time I make individual plates is if the dish is too hard to serve from a platter. You don't want people worrying about getting sauce all over their clothes."
Talk turns around Napa topics: gossip about the wine business and restaurants. Here's the kind of thing that happens in the valley: Three of the guests are reminiscing about the great San Francisco restaurant where they all were working when they met and it turns out Doumani was one of the first investors in it.
Also, almost constantly, people talk about how the valley has changed in the last couple of years. A very social St. Helena native says she rarely goes out anymore. "All of these new people who come up to their weekend houses, they just go nonstop for 48 hours," she says. "I can't keep up."
As dusk fades into darkness, Maria brings candles out to the porch. Then she realizes she has no matches to light them. "This house is so kid-proofed it's ridiculous," she says. None of her guests admit to having any either, this being nonsmoking Northern California.
So she goes back to the kitchen and emerges with a blazing butane torch, normally used for welding projects and caramelizing creme brulees.
Somehow, you can't help thinking, they probably never have this much fun in Bordeaux.
*
A wine country menu
Ice cream
1
Chop the chocolate fine. Heat the milk and cream to boiling in a saucepan, then remove the pan from the heat. Add the chopped chocolate. Stir well until dissolved. Let the mixture steep 10 minutes.
2
Whisk the egg yolks to a thick ribbon. Return the cream-chocolate mixture to barely a simmer, then pour over the egg yolks while whisking constantly. Strain the custard and cool.
3
Place in an ice cream maker and freeze according to the manufacturer's instructions. Chill in the freezer 4 hours before serving.
4
To serve, scoop the ice cream into a mug. Pour the chocolate sauce over it and top with the chopped almonds and a cinnamon stick. (Makes 1 1/2 quarts ice cream.)
Dark chocolate sauce
1
Chop the chocolate fine and place in a 2-quart bowl.
2
Bring the cream, milk and rum to a boil in a heavy-bottomed saucepan. Turn off the heat and cool slightly.
3
Slowly pour the milk-cream mixture into the chopped chocolate, stirring rapidly. Stir until well combined.
4
Stir in the butter until it is completely incorporated. (At this point, the sauce can be refrigerated for up to one month.) Warm slightly to a pourable consistency to serve. (Makes 2 cups.)
Ibarra chocolate from Mexico can be found at Latino markets and specialty stores. This sauce is a dark bittersweet chocolate sauce (if it is too intense, add up to 2 tablespoons of sugar when heating the milk and cream). To make the toasted almonds for topping, toss 1 1/2 cups whole almonds with 2 teaspoons oil and 1 teaspoon salt and bake at 400 degrees about 10 minutes.
---
Get our new Cooking newsletter.
You may occasionally receive promotional content from the Los Angeles Times.