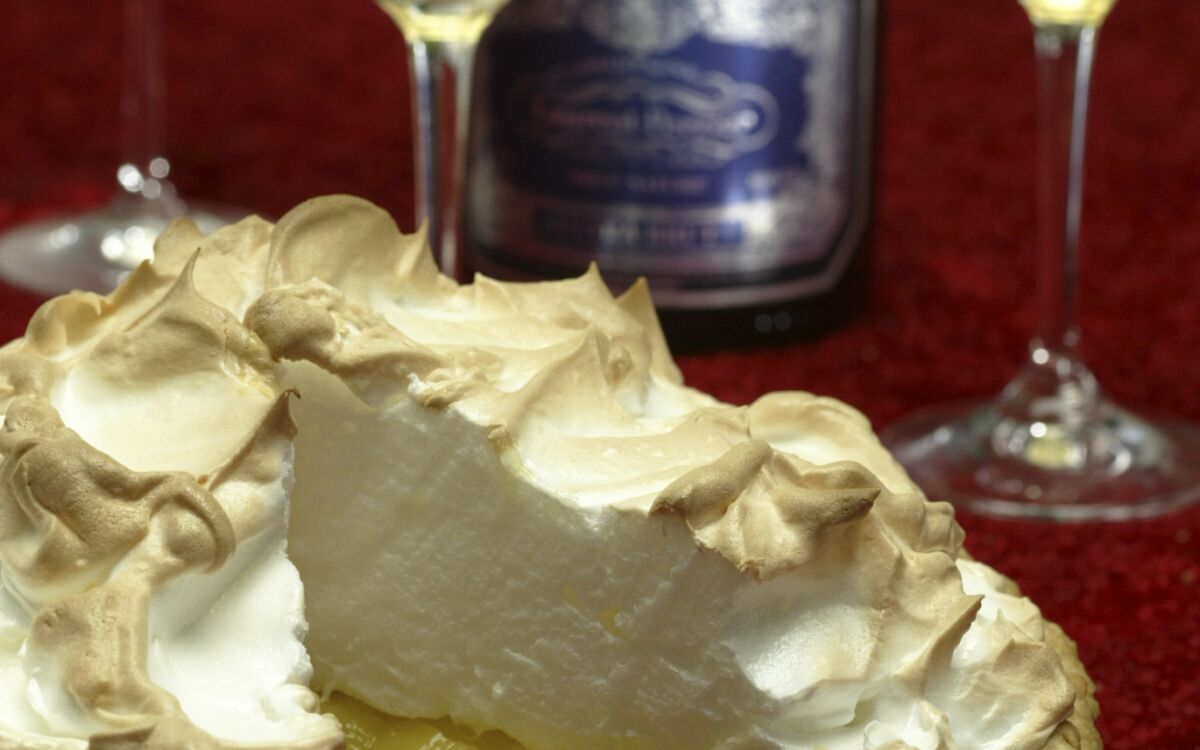 Print Recipe

Print Recipe
The Times Test Kitchen director Donna Deane's recipe is from her mother, a classic version of lemon meringue pie with a buttery-toasty crust, terrifically lemony filling and a cloud of ethereal meringue.
Crust
1
Stir together the flour and salt. Cut the butter into the flour mixture with a pastry blender or by hand until the ingredients are combined and the mixture resembles coarse meal.
2
Sprinkle in the ice water. Quickly stir the water into the flour mixture with a fork just until the dough holds together.
3
Shape the dough into a ball, then flatten it into a 1-inch-thick circle. Cover in plastic wrap and refrigerate 30 minutes.
4
Roll the dough into a 15-inch circle on a lightly floured board. Lift the pastry onto a 9-inch pie plate and gently fit it into the bottom and up the sides of the pie plate. Trim the edges, leaving a 2-inch overhang. Flute and crimp. Chill the shell 30 minutes.
5
Heat the oven to 475 degrees. Line the pie shell with a piece of parchment and fill with pie weights. Bake 15 minutes. Remove the parchment and pie weights and continue to bake until the crust is golden brown, about 3 to 5 minutes. Cool to room temperature.
Filling
1
Combine the cornstarch, sugar and salt in a saucepan. Gradually add the boiling water and stir until blended.
2
Heat the mixture over medium heat, stirring, until it boils and the mixture is clear and has thickened,
3
4 to 5 minutes. Pour the filling into the top of a double boiler or into a metal bowl set over a pan of simmering water and cook 10 minutes, stirring occasionally.
4
Add a small amount of the hot mixture to the beaten egg yolks and return all to the pan, stirring until blended. Cook 2 minutes.
5
Remove from the heat. Stir in the lemon juice, butter and lemon zest. Place plastic wrap on top of the filling and cool to room temperature.
6
Pour the filling into the baked pie shell, spreading it evenly.
Meringue and assembly
1
Beat the egg whites and cream of tartar until frothy. Continue beating until soft peaks form.
2
Slowly add the sugar, beating until the mixture is stiff but not dry.
3
Spoon the meringue onto the pie filling. Spread and swirl the meringue over the filling, sealing to the edges of the pie.
4
Bake at 400 degrees until the meringue peaks are golden brown, about 8 to 10 minutes. Cool to room temperature.
Get our new Cooking newsletter.
Your roundup of inspiring recipes and kitchen tricks.
You may occasionally receive promotional content from the Los Angeles Times.