Momofuku's Crack Pie
Yields
Makes 2 pies (6 to 8 servings each)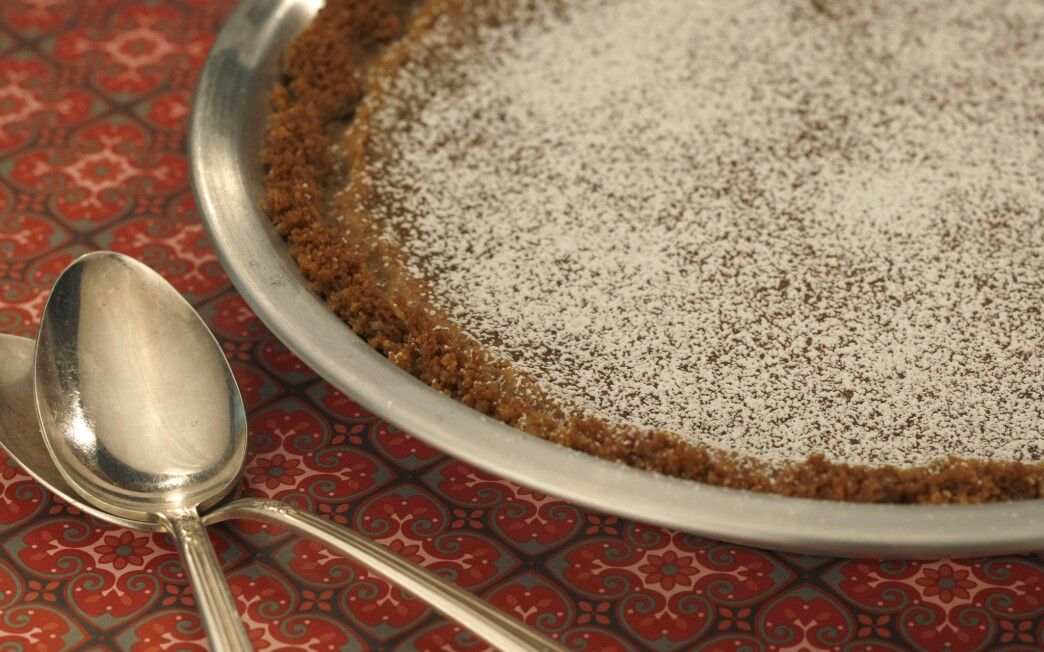 Print Recipe

Print Recipe
As a woman, I know I'm supposed to swoon at the sight of chocolate and lower my voice when I rhapsodize about chocolate truffles, souffles and bouchons, as if I were talking about an illicit love affair.
So the first time my then-boyfriend, now-husband brought me a box of exquisite chocolates for St. Valentine's Day, I squealed with delight like I knew I should -- and then promptly stowed the box in the back of the fridge. He found them a few months later -- the cold and the cocoa butter had already rendered them dusty, and it was clear that I hadn't eaten a single one.
He looked at me, he looked down at the box he held in his hand, he looked back at me -- a look of utter shock on his face. I was caught. I had no choice but to confess:
I don't like chocolate.
I'm actually not much for sugar at all. Now, don't get me wrong. I have yet to turn down a dessert that is offered to me. But when it comes to cravings, I tend toward the salty and crunchy. Say, a plate piled high with twice-fried French fries. Or salty potato chips. Or salty pretzels. Or salty . . . well, you get the idea.
But then I met Crack Pie.
Sold at Momofuku Bakery & Milk Bar in Manhattan, this pie has taken New York City by storm, partly because of the audacious name, party because of the jaw-dropping price tag -- $44 a pie, yes, $44 a pie -- and partly because anyone who has tried it, including myself, CNN bigwig Anderson Cooper and the people who are buying the 60 to 90 Crack Pies sold each day or two, can't stop raving about it.
Still not convinced? Out-of-town demand is so high that the bakery just started shipping the pie by FedEx. They've even sought trademark protection for the name.
Crack Pie is a twist on Chess Pie -- an old-school dessert found in the "Joy of Cooking," popular because it can be made with common pantry ingredients such as butter, eggs, sugar and vanilla.
But Milk Bar pastry chef Christina Tosi's reimagining makes Crack Pie an original. Instead of just a humdrum pie shell that serves as a container for the filling, Tosi dreamed up a shell that begins with a homemade oat cookie blended with a bit more butter, sugar and a healthy dash of salt.
The result is a crust that is divinely rustic and unrefined -- don't bother trying to get a perfect edge as you press it into the pie plate. It just won't happen.
Under Tosi's reconsidering, the interior of this pie takes a glug of heavy cream, a bit of milk powder to help give the mixture body and egg yolks instead of whole eggs.
It's baked at 350 degrees for 15 minutes, and then 325 degrees for about 10 minutes, just until the top is golden brown. The interior will jiggle when you remove it from the oven.
You will fear that the pie is undercooked.
But you must have faith.
It's not an understatement to say that this pie defies description. But I'll try. It's ooey-gooey. Buttery and rich. Silky. Pillowy. I'll wager that it's not like any pie you've ever had before because that salty-sweet-crunchy-oaty crust is as much a part of the pie as the filling itself. In a weird way, it remind me of kettle corn, with that one-two, salty-sweet hit that keeps you coming back for more. And more. And more.
Now, Tosi says Crack Pie must be served cold. And this is where she and I disagree. Take it out of the oven and let it cool just a bit -- otherwise, it's like pouring molten lava on your tongue, and I tell you this from personal experience -- but you want it to be warm when served.
Tosi and I agree, however, on how it should be eaten.
With a spoon.
While it's still in the pie plate.
With your favorite someone.
It's clear that I'm in love. I'm prepared to forsake all others. In my mind, I might as well be on a Crack Pie diet -- reaching this level of dessert nirvana means I can happily pass up all other desserts forevermore. (This must be what other women mean when they say they will do anything for chocolate.)
As for my husband, he's given up trying to guess what I want for Valentine's Day. We're at that "Here's the credit card, just tell me what I bought you" stage. But that doesn't mean romance is dead. I know exactly what I am buying for this holiday of love, and with whom I'm going to eat it.
And if you ask me for details, I'll look around to make sure no one else is listening in, drop my voice to a throaty whisper -- and tell you all about it.
Cookie for crust
1
Heat the oven to 375 degrees.
2
In a medium bowl, sift together the flour, baking powder, baking soda and salt.
3
In the bowl of a stand mixer using the paddle attachment, or in a large bowl using an electric mixer, beat the butter, brown sugar and sugar until light and fluffy.
4
Whisk the egg into the butter mixture until fully incorporated.
5
With the mixer running, beat in the flour mixture, a little at a time, until fully combined. Stir in the oats until incorporated.
6
Spread the mixture onto a 9-inch-by-13-inch baking sheet and bake until golden brown and set, about 20 minutes. Remove from heat and cool to the touch on a rack. Crumble the cooled cookie to use in the crust.
Crust
1
Combine the crumbled cookie, butter, brown sugar and salt in a food processor and pulse until evenly combined and blended (a little of the mixture clumped between your fingers should hold together). Divide the crust between 2 (10-inch) pie tins. Press the crust into each shell to form a thin, even layer along the bottom and sides of the tins. Set the prepared crusts aside while you prepare the filling.
Filling
1
Heat the oven to 350 degrees.
2
In a large bowl, whisk together the sugar, brown sugar, salt and milk powder. Whisk in the melted butter, then whisk in the heavy cream and vanilla.
3
Gently whisk in the egg yolks, being careful not to add too much air.
4
Divide the filling evenly between the 2 prepared pie shells.
5
Bake the pies, one at a time, for 15 minutes, then reduce the heat to 325 degrees and bake until the filling is slightly jiggly and golden brown (similar to a pecan pie), about 10 minutes. Remove the pies and cool on a rack.
6
Refrigerate the cooled pies until well chilled. The pies are meant to be served cold, and the filling will be gooey. Dust with powdered sugar before serving.
Adapted from Momofuku. This pie calls for 2 (10-inch) pie tins. You can substitute 9-inch pie tins, but note that the pies will require additional baking time, about 5 minutes, due to the increased thickness of the filling.
---
Get our new Cooking newsletter.
You may occasionally receive promotional content from the Los Angeles Times.