Napa Valley Grille's kale chopped salad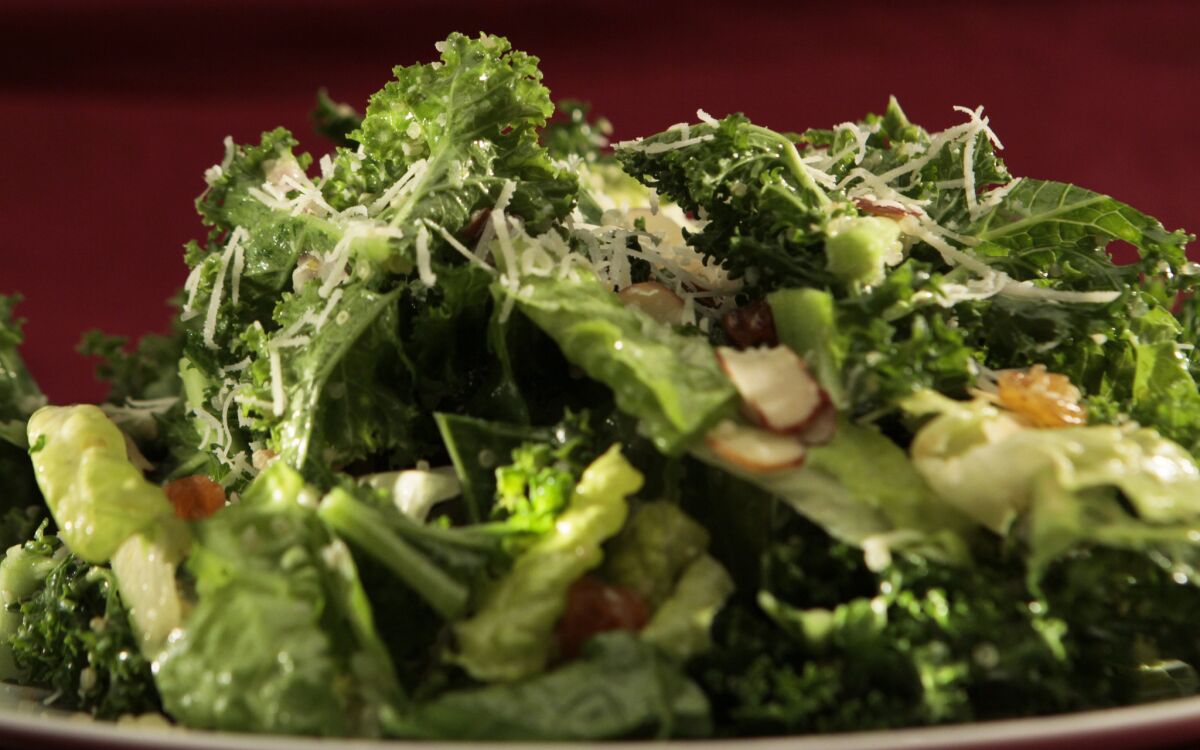 Print Recipe

Print Recipe
The chopped kale salad at the Napa Valley Grille in Westwood is the sort of healthy, interesting dish you could eat every day. In fact, a waitress there who recommended it told me she does exactly that. After I ordered it a few times, I saw her point. Can you pry the recipe loose from the restaurant? Many thanks.
Allison Engel
Los Angeles
--
Dear Allison: Chopped kale and romaine are tossed with quinoa, almonds, raisins and parmesan cheese, with a bright lemon vinaigrette added just before serving. Napa Valley Grille was happy to share its recipe, which we've adapted below.
Lemon Vinaigrette
1
In a medium bowl, whisk together the lemon juice, lemon zest, olive oil, shallot, anchovy, cheese and basil. Season to taste with one-fourth teaspoon salt and one-eighth teaspoon pepper. This makes slightly more than one-half cup vinaigrette, more than is needed for the remainder of the recipe; the vinaigrette will keep, covered and refrigerated, up to 1 week.
Kale salad
1
Bring a medium saucepan of water to a boil.
2
Meanwhile, place the quinoa in a strainer and rinse under cool running water to remove the outer coating of the quinoa (if not rinsed, the coating can give the quinoa a bitter flavor). Place the rinsed quinoa in a dry saute pan and toast, stirring frequently, until the quinoa is dry, lightly colored, and has a nutty aroma.
3
Place the toasted quinoa in the saucepan with the water, reduce the heat and simmer the quinoa until it is translucent and tender and the germ has spiraled out from the grain, 12 to 15 minutes (be careful not to overcook). Drain the quinoa and spread it out on a baking sheet to cool.
4
In a large bowl, combine the romaine, kale, quinoa, almonds, raisins and parmesan cheese. Add one-fourth cup vinaigrette and toss to lightly coat. Add additional vinaigrette as desired, and season to taste with salt and pepper.
Adapted from Napa Valley Grille in Westwood.
---
Get our new Cooking newsletter.
Your roundup of inspiring recipes and kitchen tricks.
You may occasionally receive promotional content from the Los Angeles Times.