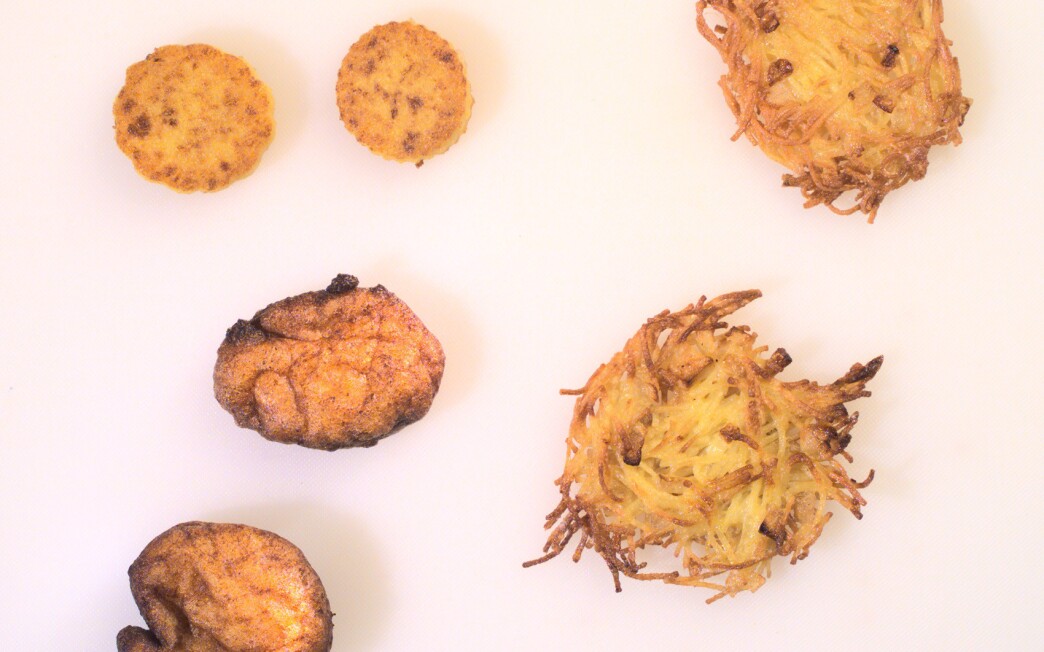 Print Recipe

Print Recipe
Hanukkah is a festival dedicated to olive oil, so where better to go for inspiration than Italy, where it is almost considered a beverage?
This Hanukkah menu gets its inspiration from friends from the Jewish community in Italy who have shared holiday recipes. The fried foods that are served during the holiday commemorate the miracle of the one day's supply of olive oil that burned for eight days after the destruction of the temple. Hanukkah begins at sundown Thursday.
One of my favorite discoveries is fried mozzarella topped with a fresh chopped tomato sauce. The cheese mixture may be prepared in advance, and, when cool, cut into cubes. But, it is important to fry the cheese cubes just moments before serving, so that they have a creamy consistency inside the crisp batter.
Latkes are normally made with potatoes, but in Italy I found polenta latkes, which are delicious by themselves, or they can be served as a side dish with fish or meat. They are also wonderful as an appetizer topped with sauteed mushrooms or sour cream.
Supermarket cornmeal can be used to make polenta--the coarse yellow variety is most traditional. Because nothing goes to waste in our home, the trimmings from the polenta rounds are delicious cooked in the fresh tomato sauce that is served with the fried cheese.
Pasta Latkes, made with fine egg pasta and fried in olive oil, were described by my Italian friends as the most ancient Hanukkah recipe still served today. They're delicious when fried crisp and crunchy and served with apple sauce.
If you have leftover latke batter, you can bake the mixture kugel-style in the oven, adding two additional eggs, a quarter-cup of raisins and a little cinnamon. Spoon this into a greased baking dish or muffin pan and bake at 375 degrees until crusty, 20 to 30 minutes.
For their Hanukkah dessert, Italian Jews serve Sweet Rice Frittelle (fritters), similar to the sufganiyot eaten in Israel during the holiday. Roll them in sugar and serve them with homemade fruit preserves. These delicious confections make a wonderful treat for the whole family. Fill gift baskets with a dozen or so for everyone to take home.
*
Zeidler is author of "The Gourmet Jewish Cook" and "30-Minute Kosher Cook," both published by William Morrow.
1
Cook pasta according to package directions and drain well. Transfer to large bowl, add butter and blend well. Set aside.
2
Heat 2 tablespoons oil over medium heat in small skillet. Saute onion until tender, about 5 minutes. Add onion to noodles. Blend in eggs and salt and pepper to taste.
3
Heat 1/4 inch oil in large heavy skillet over medium heat. Working in batches, drop pasta mixture by tablespoons into oil, flattening each spoonful with the back of a spoon to form a thin latke. Fry on both sides until golden brown and crisp, about 5 minutes per side. (Do not turn the latkes until the first side is golden and the top is firmly set).
---
Get our new Cooking newsletter.
You may occasionally receive promotional content from the Los Angeles Times.