Petrale sole with sage, poblano and tomatoes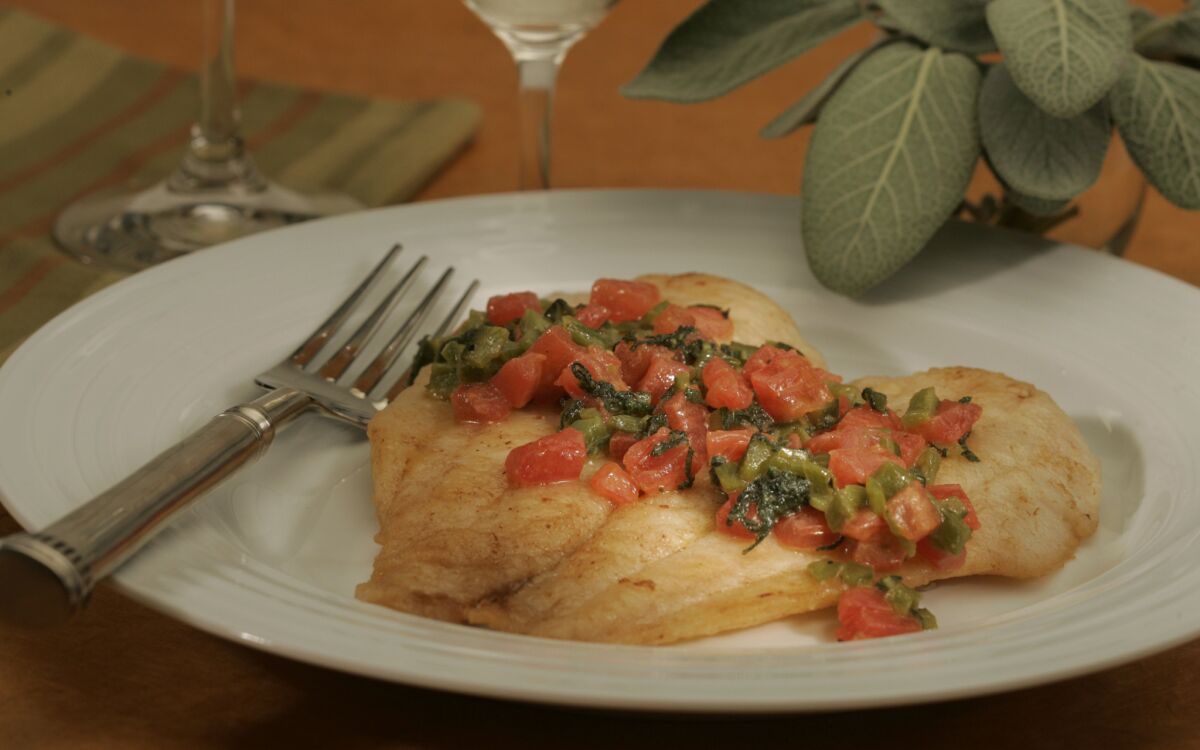 Print Recipe

Print Recipe
NOSTALGIA is not one of my weaknesses, but whenever I pick up a bunch of fresh sage this time of year it takes me back big time. Eons ago I grew up in Arizona, and at least in my mind one scent was always in the air there.
Sage is simply the essence of the West, where it grows wildly wild, perfuming the air in the hot sun the way cultivated lavender does Provence.
The not-quite-smoky flavor -- a little bit camphor, a hint of eucalyptus -- carries an undertone of juniper and even pinon that evokes quail and trout and other good things that ran wild wherever I smelled sage when I was young. Although it is a native of southern Europe, the unique herb with the velvety leaves has made itself so comfortably at home in the American west (the Santa Monica Mountains are perfumed with black sage, purple sage and hummingbird sage) that it has a natural harmony with myriad other ingredients that taste of where they originate.
And that has brought me to a surprisingly happy state. As much as I love sage in the obvious Italian ways -- on gnocchi or pasta or with veal -- I have come to think of it as the missing link in Southwestern cooking. Sage goes with just about everything in the regional cornucopia at this particular time of year: chiles, corn, tomatoes, squash, beans, even petrale sole. It may be the stuffing staple at Thanksgiving, but it talks to many more ingredients than you might imagine.
*
The tie that binds
A vegetarian stew of leeks, beans, winter squash and cremini mushrooms, for instance, tastes as if every element belongs with every other to begin with, but sage is the aromatic tie that binds them with a new intensity. Sage, poblano chiles and tomatoes are another superb combination, especially over a fish such as petrale or rex sole; the mild flesh is elevated, not overwhelmed, by the sauce. The same three ingredients can also enliven something pedestrian as canned hominy, another guilty favorite from long ago.
Sage can make anything taste like the Southwest, though, whether an omelet filled with sharp white cheddar, a quesadilla stuffed with mild green chiles and Monterey Jack, or just flaky biscuits.
I almost always have sage in my refrigerator, probably more steadily than parsley, because it delivers such a surprise punch to everyday food. There is nothing better in a potato or sweet potato gratin, or with baked and pureed buttercup squash or slowly braised onions as a side dish, in grits or on focaccia or flatbread, especially with Taleggio or just mozzarella.
The crucial consideration is the freshness factor. Only recently have the farthest reaches of America even had access to the herb in the produce aisle, not just in those musty (and sometimes buggy) jars and tins in the spice racks at the supermarket. When I first started writing about food in 1983, specifying rubbed sage over merely dried sage was the "gourmet" touch in a recipe (rubbed is fluffier and infinitesimally more sagey). It says everything that the "Silver Palate Cookbook," the 1980s groundbreaker that seems so contemporary a quarter century later, unapologetically called for dried sage in its turkey stuffing. (At least it was a step up from Bell's Poultry Seasoning.)
*
Mint family member
TODAY any supermarket worth its arugula now carries fresh sage year-round. Farmers markets have upped the ante too with different choices beyond the usual common variety, which has slender, delicate leaves. You may come across broad-leaf sage, which is great for frying, for instance, or pineapple sage, with its almost fruity aroma (and borderline-sweet flavor). And gardeners, of course, can go wild cultivating myriad varieties.
The fragrance is the most obvious clue that sage is in the huge mint family. Salvia, its botanical name, is derived from the Latin word for "health," and countless herbal compilations list medicinal uses for it. But its greatest restorative power is in the kitchen.
A few whole leaves added to the butter used for sauteing fish will make the simplest of sauces. Mix the chopped leaves with capers and butter and you get a pungent topping for grilled or sauteed fish, veal, chicken or turkey. Whole leaves tucked into a boned trout before grilling will perfume the flesh from the inside out.
Sage butter is one of those too-easy-to-be true condiments. Just finely chop up a small bunch and blend it into a stick of softened unsalted butter, add a little salt and a hint of cayenne, roll it into a log to slice and melt over grilled tuna, swordfish or steak, or roasted monkfish or broiled mahi-mahi.
*
Irresistible snack
IF you fry them, good and fat sage leaves are also excellent as both a garnish and as a snack with drinks. Dredge them first in a beaten egg, then in panko or chickpea flour and deep-fry them in sizzling peanut oil. Eaten alone, they are as irresistible as movie popcorn. But you can use plain flour instead and make a dramatic garnish for a soup, especially a pureed squash one.
Sage can be assertive, almost bitter, but fat always tames it. Which is interesting because it is usually used with sausage and pork not just for the flavor but for the help in digestion.
Dried sage is always measured out miserly because it can be so overwhelming. But when you use it fresh, you can use it almost with abandon. The usual teaspoon-tablespoon substitution for dried and fresh herbs does not apply here. A quarter-cup in a batch of cornbread is not too much. The flavor is lively without getting too aggressive. And that fragrance can take you anywhere.
1
Roast the chile over a burner flame or under the broiler until it is evenly charred on all sides. Cool, then slip off the skin and remove the stem and seeds. Cut the flesh into a fine dice.
2
Blanch the tomatoes in boiling water for 30 seconds, then peel and seed. Chop the flesh into a medium dice.
3
Stack the sage leaves and slice crosswise into very thin strips.
4
Melt half the butter in a large skillet over medium heat. Season the fillets with 1 teaspoon salt and one-fourth teaspoon pepper, or to taste. Dredge in flour to coat lightly, shaking off the excess. Lay into the pan top side down and saute for 2 minutes, then carefully turn over and saute until done, 1 to 2 minutes longer depending on the thickness; a sharp knife inserted into the thickest part should slide in easily. Transfer to a platter and keep warm.
5
Pour the butter out of the pan and wipe it clean with a paper towel. Raise the heat under the pan, add the remaining butter and, as it starts to melt, add the sage. Saute, stirring constantly for about a minute, until the sage becomes fragrant and almost starts to crisp. Add the tomatoes and poblano and saute until they are warmed through. Season the sauce with one-fourth teaspoon salt and one-eighth teaspoon pepper, or to taste, and spoon over the fish.
---
Get our new Cooking newsletter.
Your roundup of inspiring recipes and kitchen tricks.
You may occasionally receive promotional content from the Los Angeles Times.