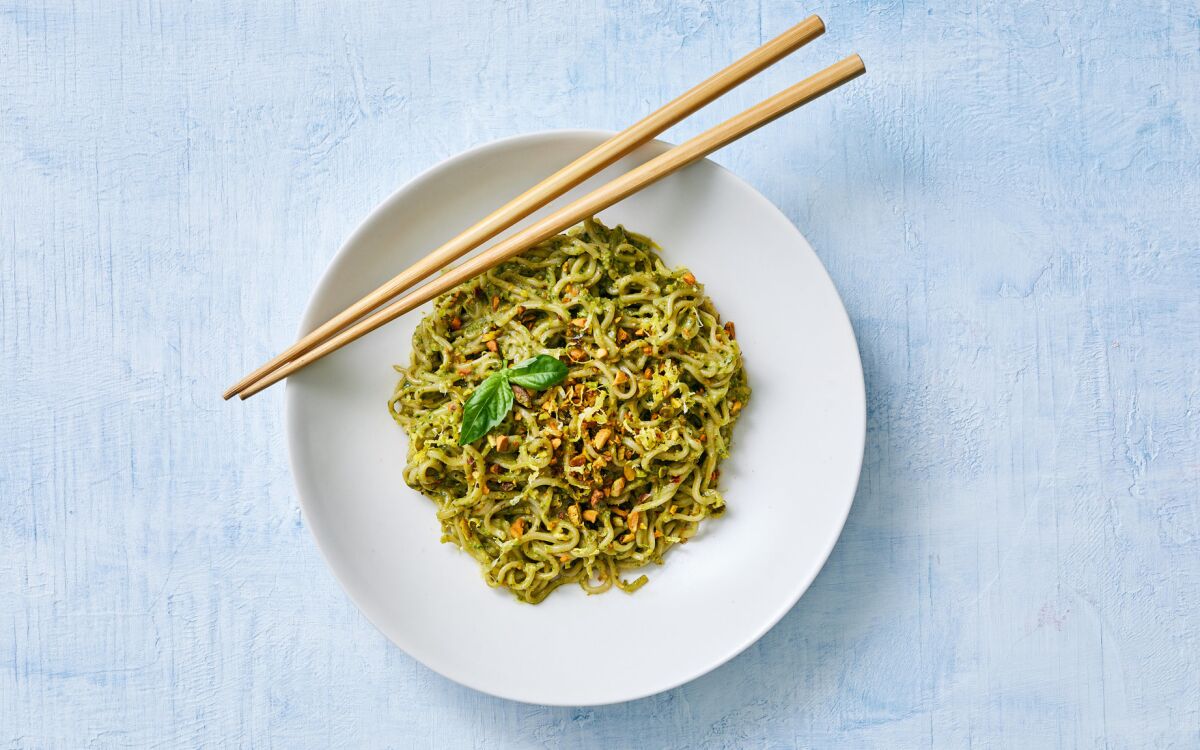 Print Recipe

Print Recipe
This pesto tastes lighter than most because it doesn't include cheese. You can shower on Parmesan at the end if you want, but a generous portion of roasted and salted pistachios gives the pesto big flavors. Ramen may not seem like a natural choice for pesto, but its curls hold the herb sauce perfectly.
1
Bring a large pot of salted water to a boil.
2
While the water boils, make the pesto: Combine the pistachios, garlic and basil in a food processor. Pulse until very finely chopped, scraping the bowl once or twice. Transfer to a large bowl. Stir in the olive oil, then zest half of the lemon directly into the mixture. Halve the lemon and squeeze in the juice of the zested half (about 2 tablespoons). Mix well and season to taste with salt and freshly ground black pepper.
3
Cook the ramen noodles as the package directs (don't add the seasonings). Drain in a colander and rinse under cold water until warm. Shake the colander to remove excess water and dump the noodles into the bowl with the pesto.
4
Toss until the noodles are evenly coated. Taste and add more lemon juice, oil and salt if you want. Divide among serving dishes and zest the other half of the lemon directly on top. Sprinkle with more pistachios if you'd like. Serve immediately.
---
Get our new Cooking newsletter.
Your roundup of inspiring recipes and kitchen tricks.
You may occasionally receive promotional content from the Los Angeles Times.