Pollo a la Brasa
Yields
Serves 2 to 3 as a main course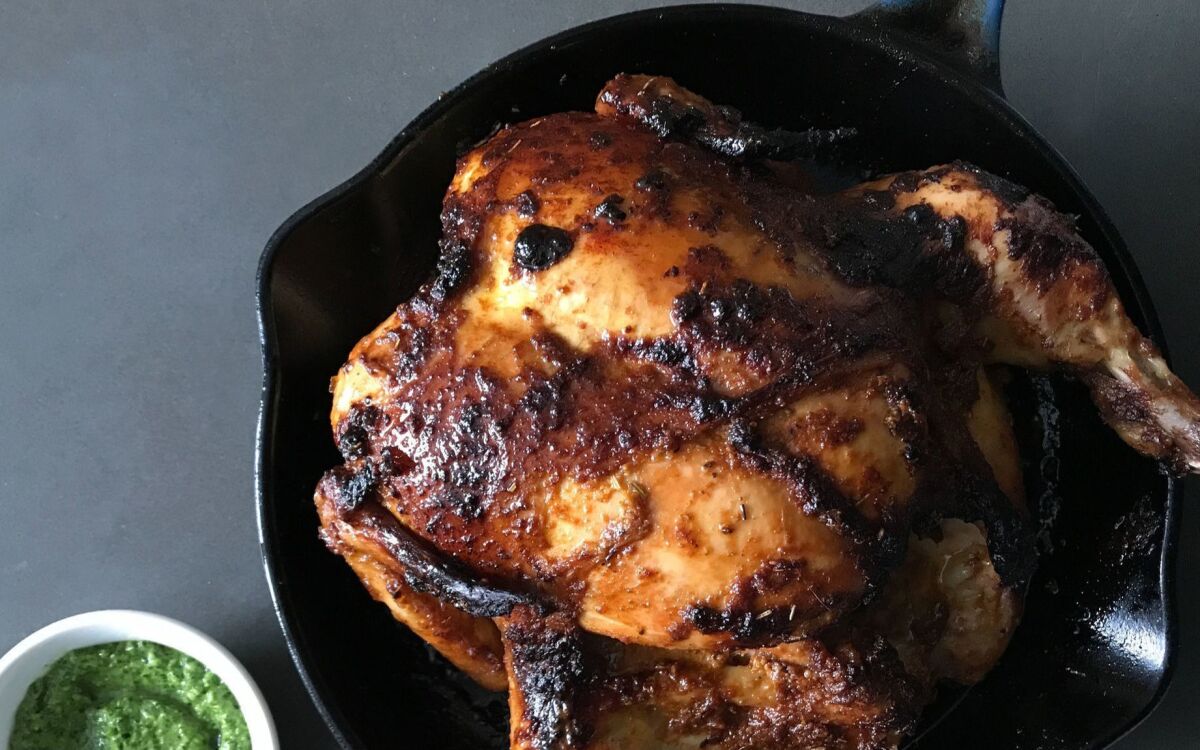 Print Recipe

Print Recipe
1
In a food processor, combine the soy sauce, gochujang, olive oil, ginger, cumin, paprika, oregano, rosemary, salt, pepper, garlic and lime juice, and puree until smooth.
2
Place the chicken in a large casserole dish or ziptop plastic bag. Using your finger, loosen the skin of the chicken over the breasts and thighs. Rub some of the marinade under the skin, then rub the rest all over the whole chicken. Cover and refrigerate the chicken at least 8 hours or overnight.
3
Remove the chicken from the refrigerator 30 minutes before putting it in the oven. Heat the oven to 450 degrees.
4
Transfer the chicken to a roasting pan and roast for 15 minutes. Reduce the oven temperature to 350 degrees and continue cooking the chicken until the skin is dark and caramelized, about 45 minutes. To test for doneness, insert a knife into the chicken where the thigh bone meets the backbone; if the juice runs clear, the chicken is ready. Let the chicken rest for 10 minutes before carving. Serve the chicken with the Green Aji Sauce on the side.
Green Aji Sauce
1
In a blender, combine the olive oil, mayonnaise, salt, jalapeños, garlic and cilantro, and puree until just smooth (be careful not to over-mix, or the sauce may break). Transfer to an airtight container and refrigerate until ready to use or up to 1 week. Makes about 1 cup sauce.
Adapted from a recipe in "Buttermilk Graffiti: A Chef's Journey to Discover America's New Melting-Pot Cuisine" by Edward Lee.
---
Get our new Cooking newsletter.
Your roundup of inspiring recipes and kitchen tricks.
You may occasionally receive promotional content from the Los Angeles Times.