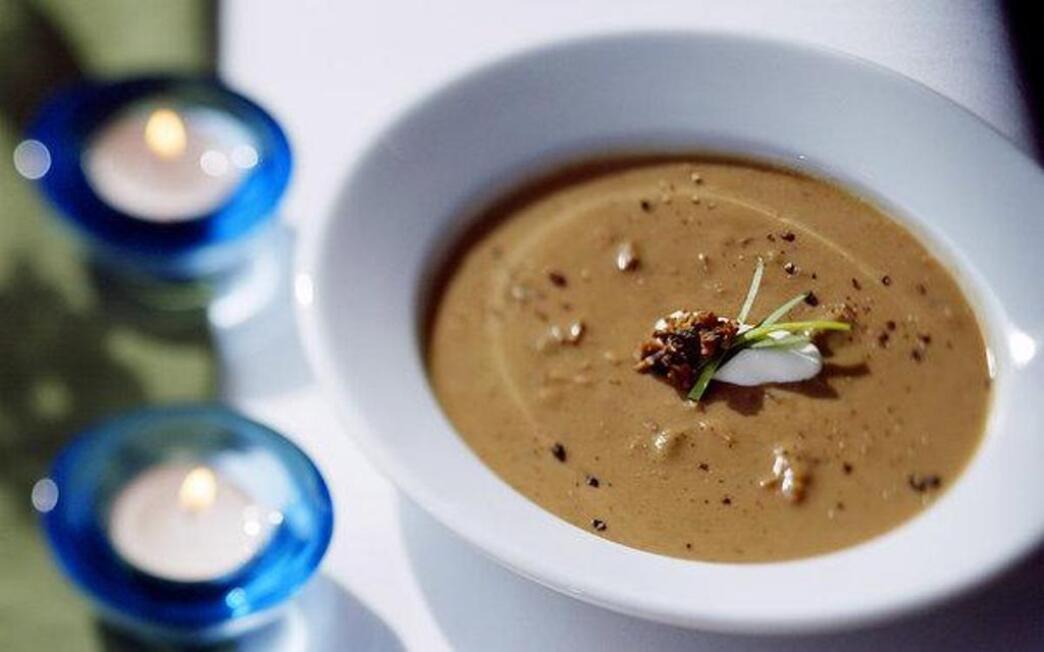 Print Recipe

Print Recipe
This porcini soup looks and tastes richer than it is, due to a few secrets for lightening it up without sacrificing flavor or texture. Rather than smooth puree, leave the texture a bit chunky to make the soup feel more substantial. Skip sautéing the mushrooms in butter or oil. Use dried. All you have to do is rehydrate them. Instead of a butter and flour roux, cook a little rice in the broth to thicken the soup when you puree it. Two tablespoons (not a cup) of whipping cream give the soup a lovely feeling of richness. Finally, serve the soup in a large, shallow bowl to make the portion feel larger than it is.
From the story: Taking guilt off the menu
1
Place the mushrooms in a bowl and pour the water over them. Let rehydrate, 30 minutes. (Put a plate on top to keep them submerged.) Lift the mushrooms from the bowl with a slotted spoon. Pour the liquid into a sieve lined with cheesecloth. Reserve the liquid and set aside. Mince 2 mushrooms and set aside for garnish. Reserve the rest.
2
Heat the butter in a 4-quart saucepan over medium-low heat and add the onion. Cook, stirring occasionally, until softened, about 5 minutes. Add the garlic and cook 1 minute. Stir in the rice. Stir in the reserved mushroom liquid, then the chicken broth. Add the rehydrated mushrooms. Bring to a simmer. Cover and cook 30 minutes.
3
Remove one-half cup of the mushrooms with a slotted spoon. Roughly chop and set aside. Puree the soup in batches, then return to the saucepan and stir in the cream. Add the salt. Stir in the roughly chopped mushrooms. Ladle into bowls. Garnish each bowl with a teaspoon of the sour cream. Sprinkle with cracked pepper, the mushrooms for garnish and the chives.
---
Get our new Cooking newsletter.
You may occasionally receive promotional content from the Los Angeles Times.