Portabello Mushroom and Goat Cheese Omelet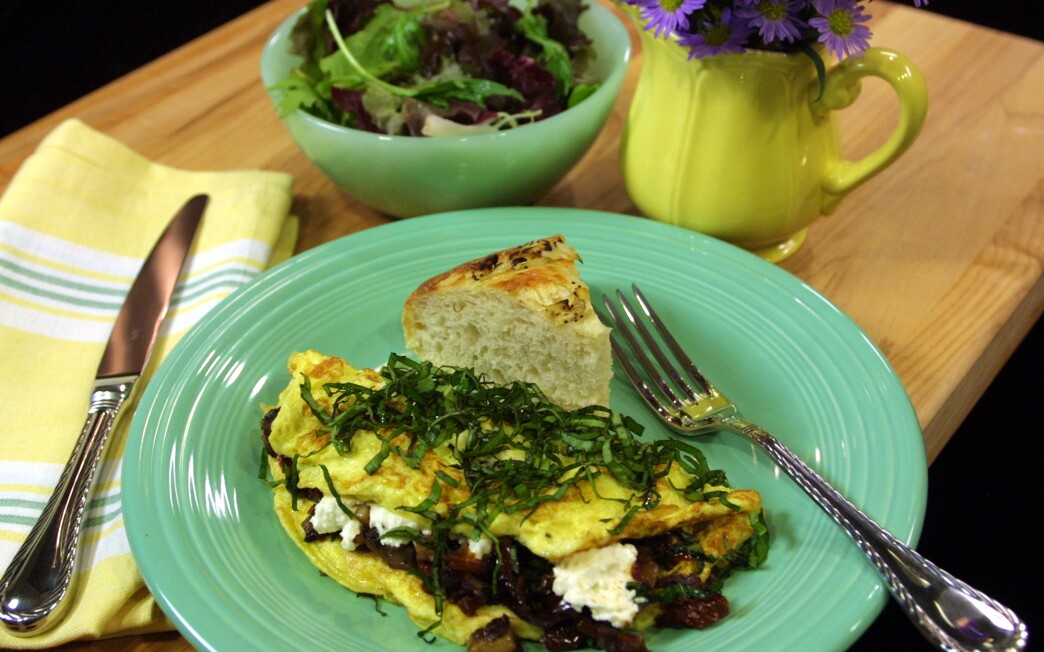 Print Recipe

Print Recipe
Portabello mushroom, goat cheese and sun-dried tomatoes--a pizza topping, right? But this combination works surprisingly well tucked inside an omelet.
The mild tang of the cheese marries nicely with the heartiness of the mushroom and the bite of the tomatoes. You'll also find that this is a colorful filling for the eggs.
Be sure to use a nonstick pan for the omelets, and heat the pan first, then add the oil.
Keep things simple with the omelets by serving mixed greens tossed with your favorite dressing, and sliced focaccia. The bread would be delicious dipped in olive oil seasoned with freshly cracked pepper.
1
Melt the butter in a small skillet over medium heat. Add the shallot and garlic. Cook until translucent, about 1 minute. Add the mushroom and cook until soft, stirring frequently, about 2 minutes. Stir in the sun-dried tomatoes, half the basil and half of the salt and pepper. Transfer to a bowl and set aside.
2
Heat a 10-inch nonstick skillet or an omelet pan over high heat. Meanwhile, whisk the eggs, milk and remaining salt and pepper together in a large bowl.
3
Add 1 teaspoon of the oil to the pan and swirl it around so the pan is evenly coated. Pour half the eggs into the pan. Use a heat-resistant rubber spatula to lift the edges of the cooked egg toward the center of the pan so that the liquid portion will run underneath and set better. When the eggs begin to set and the bottom is lightly browned, about 1 minute, carefully flip the omelet over in the pan. Spread half the mushroom filling onto half of the omelet and sprinkle half the goat cheese on top. (The omelet should take about 2 1/2 minutes to cook.) Fold the omelet and turn it out onto a warm serving plate. Sprinkle the omelet with half of the remaining basil for garnish. Keep warm. Repeat to make one more omelet.