Radicchio slaw with balsamic vinaigrette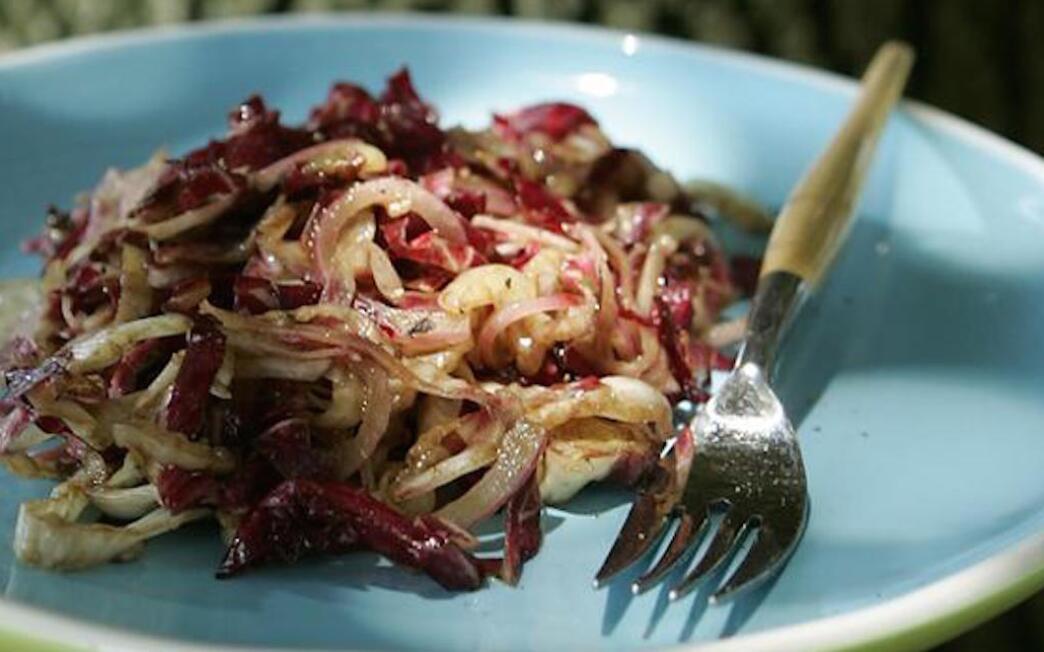 Print Recipe

Print Recipe
Thick slices of dusky-grilled eggplant, crispy-charred green beans and provocatively bitter radicchio barely kissed by flames -- these aren't your usual grilled vegetables. They're side dishes that make the most of the smoky flavors of summer.
When the L.A. sun glints off the Weber and the aroma of hot, juicy, flavorful meat wafts through the air, these sides bring with them a refreshing dash of vinegar or the cool crunch of fresh summer vegetables -- like sweet grilled green beans with their fantastic snap, topped with shallots marinated in red wine vinegar.
When vinegar brings its vibrancy to grilled foods, something fabulous happens. Sprinkle a dash on a tomato that's not quite ripe and it becomes sweeter, livelier, fresher tasting. The acidity adds brightness, giving vegetables a kick to balance the heady smokiness.
Green beans, which are overflowing from farmers market stalls right now, are terrific grilled for just a few minutes, until just softened and a bit charred, then simply dressed with olive oil and plenty of salt. With the zesty tang of the shallots, they complement the bold flavor of grilled meat, and the crisp of the green beans plays off the tenderness of the meat.
A first-rate, classic slaw with just enough tang keeps you wanting more, bite after bite. But it's elevated to a sophisticated salad when grilled radicchio is used instead of raw cabbage.
Quarter or halve the heads of radicchio (depending on their size), and grill them lightly -- just long enough so that the outside is charred but the inside is still crunchy. Cut them into fine strips, punctuate with a bit of sliced red onion, and toss with a mustardy balsamic vinaigrette and sea salt. A hint of honey for an extra shot of sweetness in the dressing balances the flavors. This slaw can stand up to the heartiest grilled meats, but it's also great with milder ones, such as pork tenderloin.
Roasted eggplant and peppers are a classic, but the eggplant takes on a new dimension when done on the grill. Thickly slice a globe eggplant, brush the slices with olive oil and grill until charred and softened. They soak up that delicious smoky flavor.
Add another layer of flavor and texture with red and yellow peppers, slow-roasted until soft and sweet. This dish is substantial enough to serve on its own, or pair it with grilled chicken, lamb or beef.
1
Cut the radicchio into quarters through the root end. Brush the cut side of the radicchio with 1 tablespoon olive oil.
2
Grill over medium heat, cut side down, for 3 to 6 minutes, until lightly charred on the outside but not cooked through. The center of the radicchio should be uncooked. Remove from heat.
3
Slice the radicchio crosswise into thin strips. Toss with the red onion.
4
Whisk the balsamic vinegar, mustard and honey in a small saucepan. Bring the mixture to a boil over medium-high heat, and cook, at a medium boil, for 1 minute. Remove from heat. Whisk in remaining olive oil. Season to taste with salt and pepper.
5
Pour the vinaigrette over the radicchio and onion. Season to taste with salt and pepper. This can be made several hours ahead and refrigerated until ready to serve. Makes 6 cups.
---
Get our new Cooking newsletter.
You may occasionally receive promotional content from the Los Angeles Times.