Raised buckwheat Belgian waffles with honey butter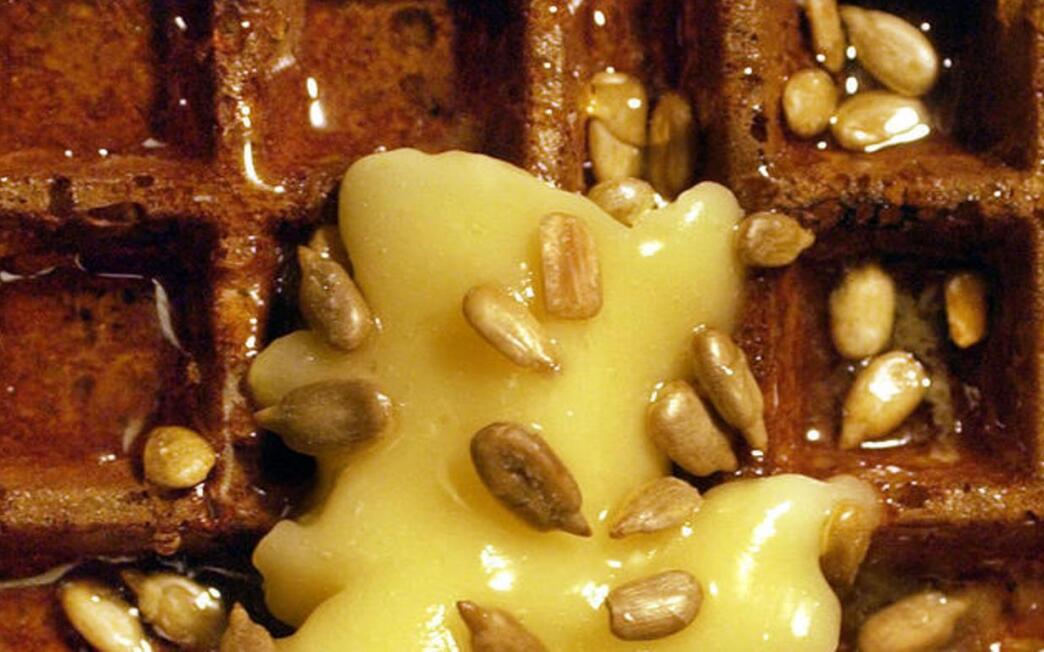 Print Recipe

Print Recipe
The combination of yeast and buckwheat flour emphasizes the height and lightness of Belgian waffles and also allows for a wonderful hint of sourdough flavor.
Be sure your waffle iron is seasoned (brush it with oil and let it heat for 5 minutes or so, the way you would season a skillet). Even "nonstick" waffle irons need to be sprayed with cooking spray or brushed with oil before pouring on the waffle batter. Use a measuring cup to pour the batter onto the center of the waffle grid. Use a heat-proof spatula to spread it evenly over the grid to the edges before closing the lid. Once the lid is closed, do not open it until the ready light comes on.
From the story: A sweet thing grows up
1
Sprinkle the yeast over the water and stir until the yeast is completely dissolved. Let it stand until bubbles begin to form. Stir in 2 tablespoons honey, the buttermilk and oil.
2
Combine the cake flour, buckwheat flour and 1 teaspoon salt. Stir in the yeast mixture just until blended. Cover and refrigerate overnight.
3
For the honey butter, combine the softened butter, one-third cup honey and one-eighth teaspoon salt. Cover and set aside until ready to serve.
4
One-half hour before cooking the waffles, remove the batter from the refrigerator and let it stand at room temperature. Then stir in the beaten eggs and baking soda. Combine thoroughly.
5
Heat a nonstick Belgian waffle iron according to the manufacturer's directions and spray with nonstick cooking spray or brush with oil. Pour the recommended amount of batter onto the waffle iron. Close the lid and cook until the waffles are browned and release easily from the iron. Repeat with the remaining batter.
6
Break or cut the waffles into sections. Spoon the honey butter over hot waffles and sprinkle with sunflower seeds.
Make Ahead:
Waffle batter can be made and kept in the refrigerator for as long as two days. Let refrigerated batter stand at room temperature for 30 minutes before cooking. Stir the batter before baking the waffles. The batter may have thickened; add a little milk or buttermilk to reach the right consistency.
---
Get our new Cooking newsletter.
You may occasionally receive promotional content from the Los Angeles Times.