Roasted brussels sprouts with pears and black forest ham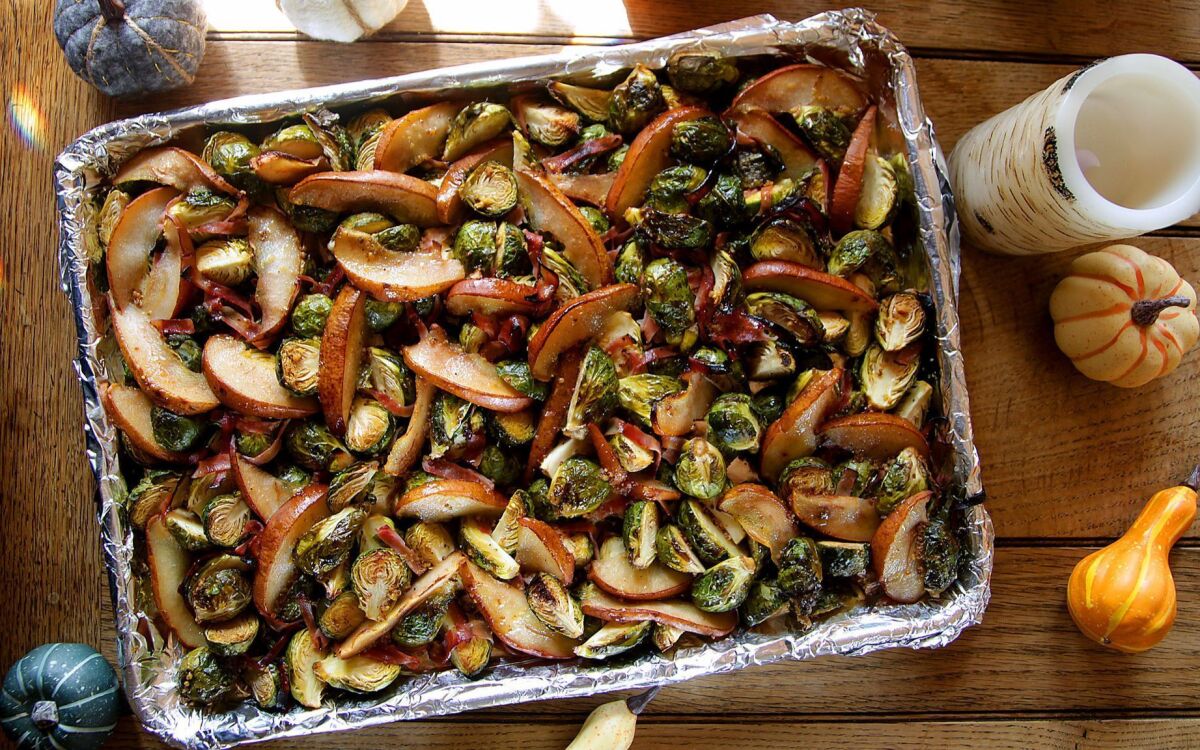 Print Recipe

Print Recipe
I use baking sheets made for commercial kitchens, the rimmed ones measuring 18 by 13 inches, which are technically called half-sheet pans because there is a size twice as large too. Sheet pans are built for charring root vegetables; they are wide enough to give your vegetables a chance to roast and not just steam, and the rimmed edges are great for catching any rolling sprouts.
Cut the pears just before putting the tray in the oven to avoid them browning.
From the story: Thanksgiving just got a lot easier: Roast the meal on sheet pans

1
Heat the oven to 400 degrees.
2
In a large bowl, combine the Brussels sprouts, ham, 6 tablespoons oil, 1 teaspoon salt and several grinds of black pepper, or to taste. Spread the sprouts in a single layer on a foil-lined rimmed baking sheet. Tuck in the sliced pears right before roasting.
3
Roast, uncovered, until the sprouts are caramelized and tender, 30 to 40 minutes, tossing every 15 minutes or so for even coloring.
4
While the sprouts are roasting, in a small bowl, whisk together the remaining 3 tablespoons oil along with the vinegar, syrup and mustard.
5
Remove the sprouts from the oven and drizzle over the sauce, tossing to combine. Spoon the vegetables into a serving dish to serve.
---
Get our new Cooking newsletter.
Your roundup of inspiring recipes and kitchen tricks.
You may occasionally receive promotional content from the Los Angeles Times.