Round challah with seven seeds
Time
Active work time: 35 minutes Total preparation time: 3 hours plus 1 hour cooling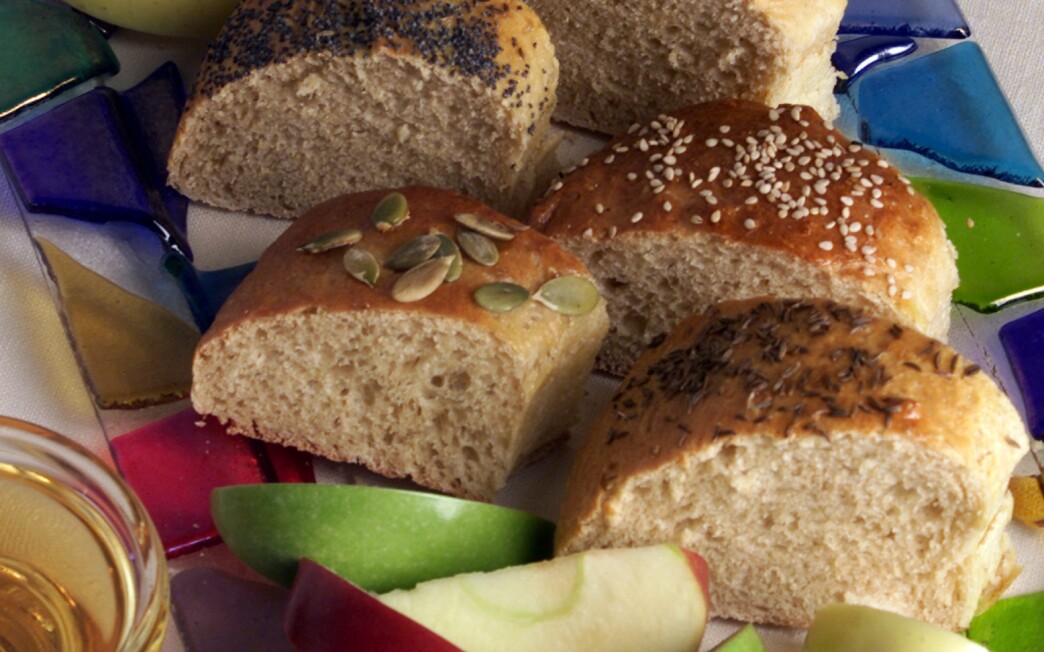 Print Recipe

Print Recipe
Although most Jews think of apple and honey as the ultimate foods for the New Year, Rosh Hashana would be incomplete without challah--the round loaf symbolizing continuity: no beginning and no end.
What is it about this bread that makes it so special, so spiritually chock full of the yearnings and desires of a people, carried throughout the centuries?
The word "challah" is found in the Bible, referring to the portion of the dough consecrated as a gift for God, which was given to the priests before every Sabbath.
According to Jewish belief, when a woman takes a portion of the challah dough, blesses and then burns it, she is acknowledging that the bread--indeed, all physical sustenance--is a gift from God and that she is ready to give up part of it. It is also in memory of the sacrifices at the Temple.
For the most strictly observant, even the way the challah is cut is symbolic: Although the knife is on the table, it is not used, as the Bible recounts that the patriarch Abraham, tested by God, did not use the knife on his son Isaac. Instead the bread is torn after the blessing is said.
In its round form, the challah represents the cycle of life and the wholeness of the universe, and the seeds symbolize fertility and plenty. There are always two loaves, for tradition holds that we are given an extra soul on the Sabbath. Although it is customary to eat round challah on the New Year, there are many other shapes and flavors associated with the same bread.
In some Jewish communities, holiday challah is also shaped like ladders and hands: the ladder to help us reach great heights and the hand as a symbol of the desire to be inscribed in the book of life for the coming year. (Some also believe it is an amulet against the evil eye.)
Among Jews originating from Tripoli, it is customary, particularly on the New Year, to make challah with caraway seeds, a symbol of fertility.
Among Moroccans, challah is made with raisins, nuts and anise in the dough and served with a hard-boiled egg placed on top. These are all symbols of sweetness and fertility. Many Central European Jews also add raisins to their challah dough and serve it with a little bowl of honey in the center.
For beginning cooks, it is probably easiest to start with the coiled shape of round challah. More experienced bakers might like to braid the challah as usual and seal the ends to form a round. One woman I know bakes this kind of challah with an empty can in the middle, to assure there will be room for a little dish of honey.
Yet another favorite shape is the bulkele challah, a round shape made up of a dozen dough balls, in honor of the 12 loaves of bread (one for each tribe) baked by the Kohanim, the priests of the ancient temple in Jerusalem.
Tips for Making Challah
* Even if you use a mixer to mix the dough, it's always best to do some of the final kneading by hand. Otherwise, you might add too much air to the dough. Besides, part of the magic of challah is the love you put into it while you're kneading.
* Although you can make the dough ahead and freeze it, it is best to bake it right after it is made. If you'd like to freeze the dough, do so immediately after mixing, before the dough starts to rise. Defrost it at room temperature and allow it to rise fully again before baking.
* Always grease the pan generously to prevent the dough from sticking. Use margarine, lecithin spread (available at health food stores) or oil spray (which is low in fat but doesn't work as well as margarine). Or line the baking sheet with parchment paper; then you won't need to grease it at all.
*
Glazer is a food columnist for the Jersalem Post.
1
Whisk together oil, honey, salt and 3 eggs, adding water gradually and whisking constantly to avoid curdling eggs. Set aside.
2
Stir together 2 cups pastry flour, 3 cups unbleached flour and yeast in bowl of electric mixer and make a well in the center. Add oil mixture and mix on low to medium speed with dough hook attachment until thick batter is formed, 2 to 3 minutes. Scrape down sides with a spatula. Gradually mix in remaining 1 cup pastry flour and 2 cups unbleached flour, until dough leaves sides of bowl (dough will still be somewhat sticky).
3
Pour out mixture on floured surface and pour a little flour on top. Knead dough in a clockwise direction, incorporating any additional flour gradually, 5 to 10 minutes. Dough is ready when it is no longer sticky, but may still be slightly moist and a little soft--something like an earlobe. Oil a bowl and turn dough over in bowl so surfaces will not dry out. Cover with a kitchen towel and place in a warm spot until dough rises and doubles in size, about 45 to 60 minutes.
4
Punch down dough and let rest 5 minutes. Line 2 baking sheets or 10-inch round pans with parchment paper (if using round pan, cut out a circle of paper to fit pan and affix with a little cooking spray). Cut dough in half. Using your hands, roll out each piece into a small baguette shape and coil it to make a round. Fasten end under circle with a gentle pinch. Transfer to baking sheets. Let rise again until dough doubles in size, about 45 to 60 minutes.
5
Beat remaining egg and brush over each challah. Sprinkle each type of seed separately over tops, starting from outside the coil into center.
6
Bake at 350 degrees until golden brown, about 25 to 30 minutes. Cool on a rack.
Variations:
Form part of dough into 9 balls somewhat larger than pingpong balls and arrange them around inside rim of 10-inch springform pan. Use remaining dough to make 3 larger balls (about size of tennis balls) and place in center of pan. Brush with beaten egg mixed with a little water and then sprinkle a different garnish on each ball (sesame seeds, cumin seeds, caraway seeds, rosemary, oatmeal). Bake at 350 degrees until browned, about 25 minutes.
---
Get our new Cooking newsletter.
You may occasionally receive promotional content from the Los Angeles Times.