Salad of blood orange, white asparagus and bottarga di tonno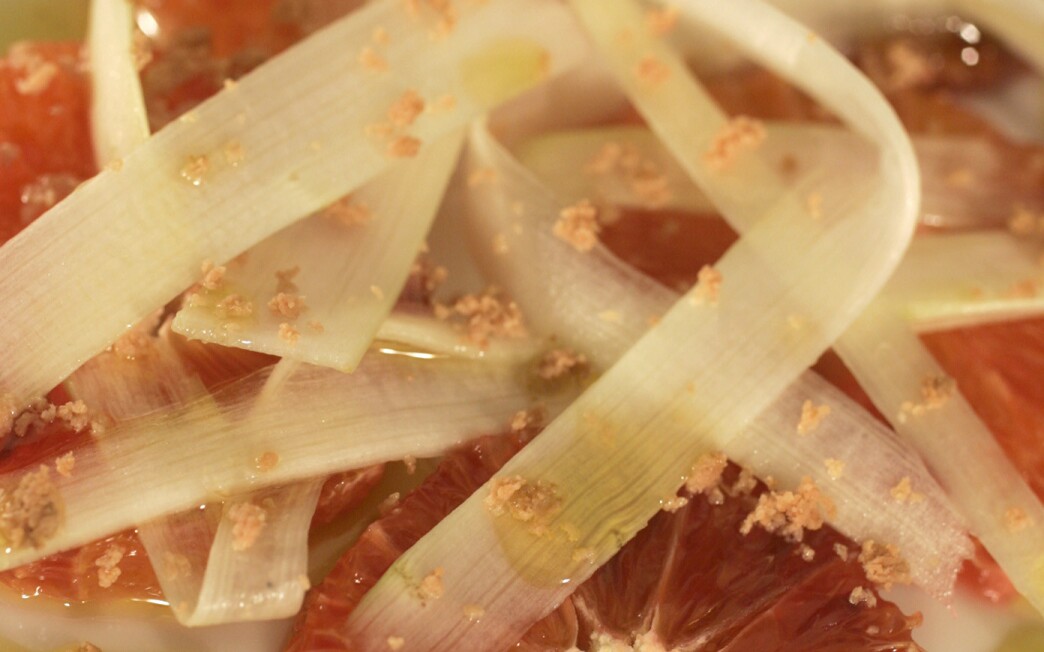 Print Recipe

Print Recipe
Times Food editor Leslie Brenner ordered this salad at Zuni Cafe in San Francisco while on vacation recently and called to ask for the recipe as soon as she was back in the office. "I thought the flavor combination was so striking, yet very simple," she says. The "marvelous and subtle" flavor of raw, shaved, white asparagus is key. Chef Judy Rodgers gets hers from Fairview Gardens, which also sells at the Wednesday Santa Monica farmers market. White asparagus from Chile may be too bitter, but Rodgers says Belgian endive would be a nice substitute.
1
Slice both ends off each orange, cutting just deeply enough to expose the juicy flesh. Setting the fruit on end, use a paring knife to carve away the skin and pith in a series of smooth, arcing strokes from top to bottom, rotating the orange a little with each stroke as you work your way around the sphere; then go back and trim any pith you may have missed. Then cut into half-inch pinwheel slices. Place a layer of slices on each of 4 plates.
2
Trim the bottoms of the asparagus to the point where they aren't bitter. (Start by trimming off a half inch or so, then cut a little slice and taste; trim a little more as needed, until it doesn't taste bitter.) Peel the asparagus spears, all the way to the flower. Place a spear flat on a cutting board, then drag a vegetable peeler back and forth on the surface to shave beautiful ribbons of asparagus. Continue shaving until it's difficult to go on. Drop the ribbons from that spear onto the oranges on one plate; continue with the rest, using one spear per plate.
3
Peel back the roe sac from the compressed bottarga, and use the fine holes of a grater (Microplane works best) to shave 1 teaspoon over the oranges and asparagus on each plate.
4
Drizzle 1 1/2 teaspoons olive oil over each salad.
Tuna bottarga (salted, pressed dried tuna roe) is available at most cooking stores. You can prepare the blood oranges and asparagus in advance, but the bottarga must be grated just before serving. Rodgers does not call for added salt because the bottarga is salty, and, she says, "you could use black pepper, but that would be stupid.".
---
Get our new Cooking newsletter.
You may occasionally receive promotional content from the Los Angeles Times.