Sauteed sticky rice cakes
Yields
Serves 8 as a side dish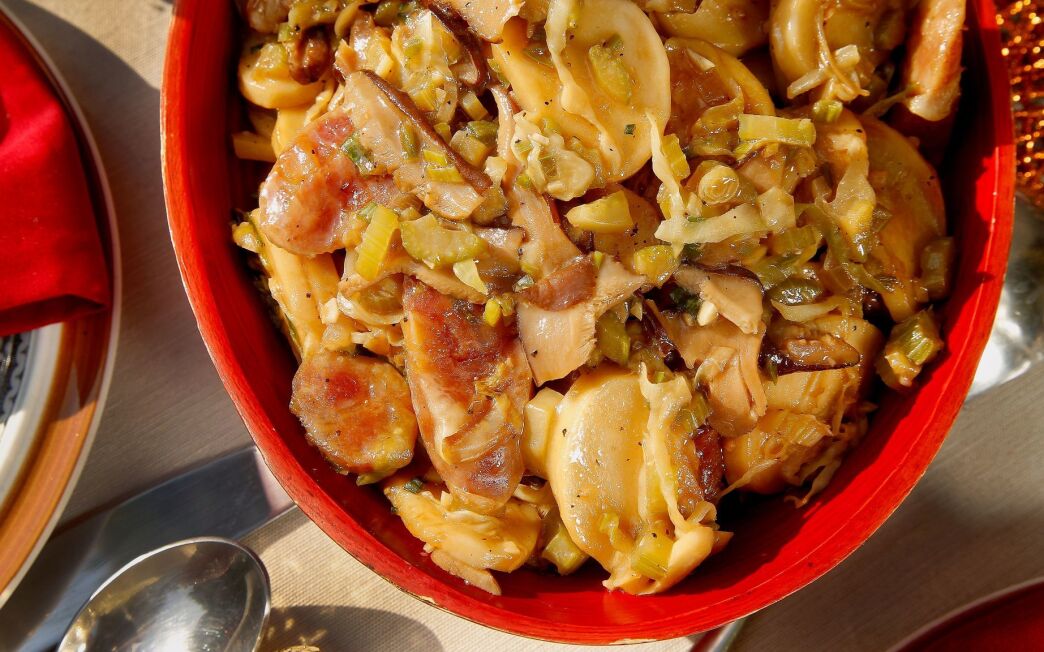 Print Recipe

Print Recipe
The airfares to Europe are really good this November. I thought I'd mention that because I've been spending a certain amount of time thinking about Thanksgiving week in Tuscany, where I could be drinking Brunello and eating wild boar chops instead of stuffing sage leaves under the puckery skin of a bird. In Pienza they've never heard of Thanksgiving, but they can point you to fresh pecorino showered with truffles. The sweet potato casserole with marshmallows can wait.
2017 has been a tough year for everyone in America. It is useless to deny it.
But I won't be going to Italy this week, and neither will you. We will bake our pumpkin pies, and dry bread for our stuffing, and wonder whether to go with something from Sonoma or an Alsatian Pinot Gris. We will resign ourselves to making half the Brussels sprouts vegan because that's how some of the family rolls. We will put buttermilk in the mashed potatoes and caramelized onions in the green beans. We will contemplate making fresh Parker House rolls, but probably end up glazing store-bought ones with extra butter instead.
Because when you are the cook at Thanksgiving, no matter where your sentiments may lie, family and friends are drawn toward the center of your world, a calm, fragrant place where the wine is well-chilled, the Lions game is on in the den, and you the mulling spices in the cranberries are the same from year to year to year. You will make turkey, whether Filipino-style adobo, Cuban-style with garlic and lemon, with tomato gravy and relajo the way Salvadoran friends usually do — or the way your grandmother learned to do it from her grandmother. You will let someone else fuss with the green salad, the flowers and the playlist. You will wish you had three ovens and 12 burners. You will somehow make do.
Is there chaos in the kitchen? There's always chaos in the kitchen! But it all gets resolved somehow, even the year when a three-year-old cranks the oven temperature up to 550 and it is a full half hour before anybody notices. Does your first-grader think mushrooms are the most disgusting things in the world? Chop them a little and she won't notice them in the stuffing. Do two guests snipe like Joan Crawford and Bette Davis when they both bring the same pie? Proclaim both of them delicious. If you're lucky, it will all be forgotten by the second glass of Scotch.
I was making Paula Wolfert's straw potato cakes stuffed with braised leeks for a dinner party one night when the giant pancake, which had always been so reliable, shattered into a dozen pieces when I tried to flip it in the pan. The crisp, brown shards would not go back together. In a panic, I served the stuffing by itself as a side course. And the dish of plain, rich creamed leeks zapped with quite a lot of freshly ground pepper turned out to be more popular with my friends than the more complicated version ever had been. I think the slight sweetness and the autumnal flavor fits perfectly in a Thanksgiving dinner, halfway between a vegetable and a condiment, right in the place where some of my fancy acquaintances like to serve elaborately prepared pearl onions. Some Thanksgivings I like the leeks even more than I do the well-garlicked string beans and the caramelized Brussels sprouts with bacon.
— Jonathan Gold
My Thanksgiving dinner table never looks quite like the Norman Rockwell version. There's always a turkey, some variation of a potato dish, and cranberry sauce. But because my Chinese grandmother is an excellent cook, we usually have a mound of fried rice, char siu spare ribs and a bowl of sticky rice cakes on the table. Those cakes are always the star, the bowl in the center that everyone reaches for, and the one dish you'll decide to have extra of in place of dessert. They look like mini white disks about the size of a quarter, and when they are cooked, they turn into chewy cakes that crisp up on the bottom of the pan. My grandmother tosses them with sliced celery, chile she grows in her garden, re-hydrated shiitake mushrooms and plenty of lap cheong, the Chinese sausage that tastes better than bacon. They are a staple on our Thanksgiving table, and it's simply not a proper holiday without them.
— Jenn Harris
Every year at my house, we host what we call the "Long Table Thanksgiving." It's a simple tradition, and it does a lot to minimize holiday stress. We provide the birds, and everyone else brings a side dish. These Thanksgivings started out small enough, a modest gathering of family and friends. The first year, we had just under 20 guests; every Thanksgiving since, our gathering has grown a little more, and we moved the festivities outdoors. This past year, we had more than 80 guests, and cooked six turkeys. Every year I roast a turducken, which — colossal meat-fest that it is; picture a chicken stuffed inside of a duck stuffed inside of a turkey — takes several hours in our only oven. Eventually, I added deep-fried and barbecued turkeys, all cooked outdoors. The barbecued turkey is simple to prepare — brine in a mixture of cider vinegar, bourbon, maple syrup and herbs, then smoke over apple or hickory chips in the Weber outdoors as volunteers set up tables and chairs. It takes 2 to 3 hours to smoke, gently taking on a rich brown hue as cooks. That aroma — of applewood, maple and bourbon — is the smell of Thanksgiving for me.
— Noelle Carter
I grew up in a Midwestern boarding school next to an apple orchard, so we had what would now be called heirloom apples stowed along the school hallways in crates, like forgotten luggage. As it was a Quaker school, we also had the nostalgia of oatmeal, though that famous guy in the broad-brimmed hat on the oat jar is as much a weird stereotype as the guy on those Washington football jerseys. So when it came time to make dessert for Thanksgiving, my mother — a prairie pragmatist — did what was for her far more logical than baking a pie: She cut up a ton of those apples (unpeeled), topped them with a mixture of oatmeal and flour, butter and cinnamon, and just put the pan in the oven. Years later, my mother is no longer with us, but her crisp is, loaded with more spices, and paired with a bowl of unsweetened whipped cream the size of a soup tureen. My sister and I learned how to make very servicable pie, but when there is so much else to do for the biggest food holiday of the year, we appreciate the simplicity of our mother's crisp. (It is also very good for breakfast.)
— Amy Scattergood
1
Prepare the rice cakes: Place the package of frozen rice cakes in a bowl of water until softened and fully defrosted, 1 to 1 ½ hours at room temperature (the cakes can also be placed in the refrigerator to defrost overnight). Remove the cakes from the package and soak them in a bowl of water until the cakes separate from each other, about 2 minutes. Drain and set aside.
2
Meanwhile, in a small bowl, soak the mushrooms in enough water to cover until softened, about 40 minutes. Drain the water and dice the mushrooms. Set aside.
3
Bring a small pot of water to a boil and add the Chinese sausage. Boil until the sausage is softened, 4 to 5 minutes. Drain the water, slice the sausages on the bias so they are similar in size to the rice cakes. Set aside.
4
In a large nonstick pan with fairly high sides, heat 2 tablespoons of oil over medium-high heat until hot. Add the mushrooms and, stirring frequently, cook until the mushrooms tighten and absorb most of the oil, about 2 minutes.Stir in the celery and onion and cook, stirring, until they begin to soften, about 2 minutes. Add the garlic and the cabbage, along with 2 tablespoons of chicken broth, and cook until the cabbage is softened, about 2 minutes. Remove from the pan and set aside.
5
Add the remaining 2 tablespoons of oil to the pan, along with the rice cakes. Heat the cakes over medium-high heat, gently but constantly stirring so they don't stick to one another. Drizzle 2 tablespoons broth over the cakes as they heat, constantly stirring. Continue adding broth and stirring until the cakes are softened and warm throughout, 8 to 10 minutes. Be careful that the cakes do not stick to each other or the pan; however, a little coloring on the cakes is fine.
6
Stir the sausage in with the cakes and cook for about 1 minute to heat through. Stir in the soy sauce, chile, oyster sauce and sesame oil, along with the cabbage mixture, and cook for 2 to 3 minutes to marry the flavors. Add the pepper and salt if desired, along with the green onion, stirring to combine.
7
Remove from heat and serve immediately.
The rice cakes, lap cheong and dried black mushrooms are available at Chinese markets.
---
Get our new Cooking newsletter.
You may occasionally receive promotional content from the Los Angeles Times.