Savory Cherry Tomato Clafoutis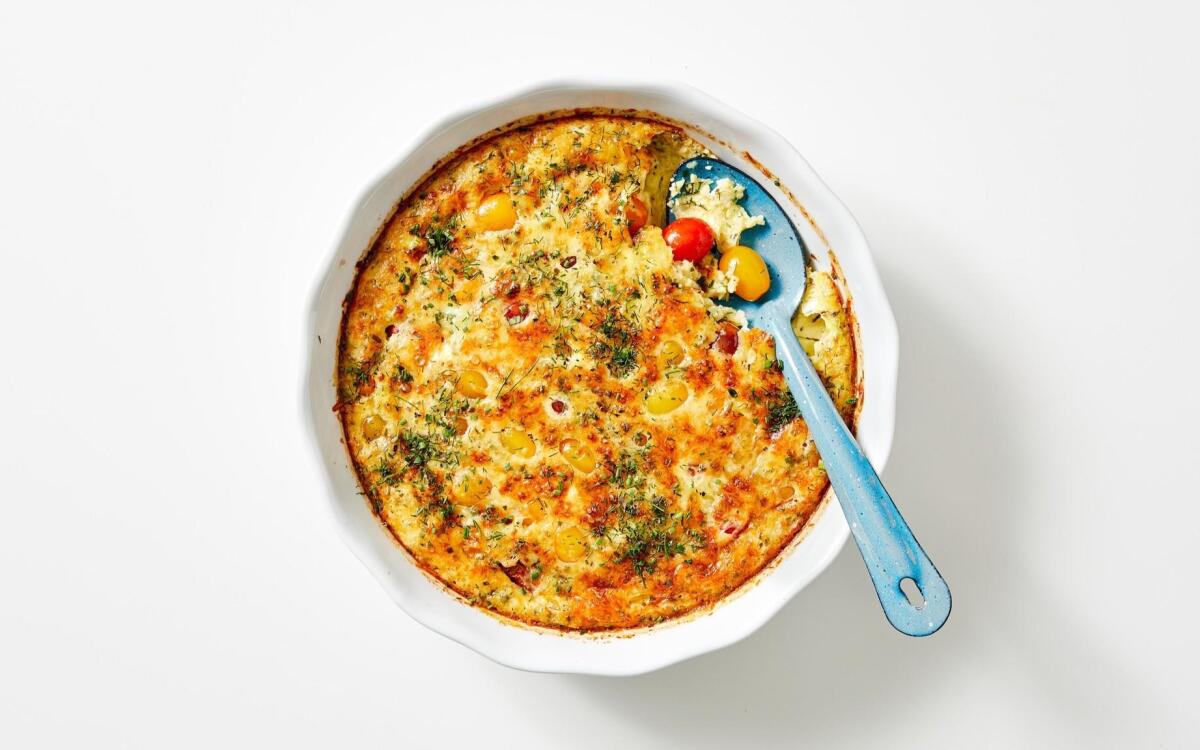 Print Recipe

Print Recipe
Farmers market cherry tomatoes — typically no bigger than marbles — work perfectly here, but so do grocery store grape and cherry varieties; just use the smallest ones you can find. Serve this dish for breakfast or with a salad for lunch. And feel free to switch up the cheeses here too, using pecorino or another hard cheese instead of Parmesan, and cheddar or raclette instead of the Gruyère.
1
Heat oven to 400 degrees. In a large bowl, whisk together the milk, Parmesan, quarter-cup Gruyère, 2 tablespoons of the mixed herbs, the butter, salt and eggs. Add the flour and whisk until just combined (the batter will be lumpy; that's OK).
2
Pour the batter into a 10-inch round baking dish or pie pan. Sprinkle the tomatoes evenly in the batter, then sprinkle the remaining quarter-cup Gruyère over the top.
3
Bake until the clafoutis is just barely set in the center and the edges are golden brown, 15 minutes. Remove the dish from the oven, arrange a rack just below the broiler, and heat the broiler to high. Place the dish under the broiler and cook until the cheese on top is golden in spots, 1 1/2 to 2 minutes.
4
Transfer the skillet or dish to a rack and let cool for 5 minutes. Sprinkle the remaining 1 tablespoon minced herbs and a pinch of flaky sea salt over the clafoutis to serve. Cut it into wedges or scoop it into bowls and serve with more Parmesan.
---
Get our Cooking newsletter.
Your roundup of inspiring recipes and kitchen tricks.
You may occasionally receive promotional content from the Los Angeles Times.