Seared scallops with vanilla risotto
Yields
Serves 4 as an appetizer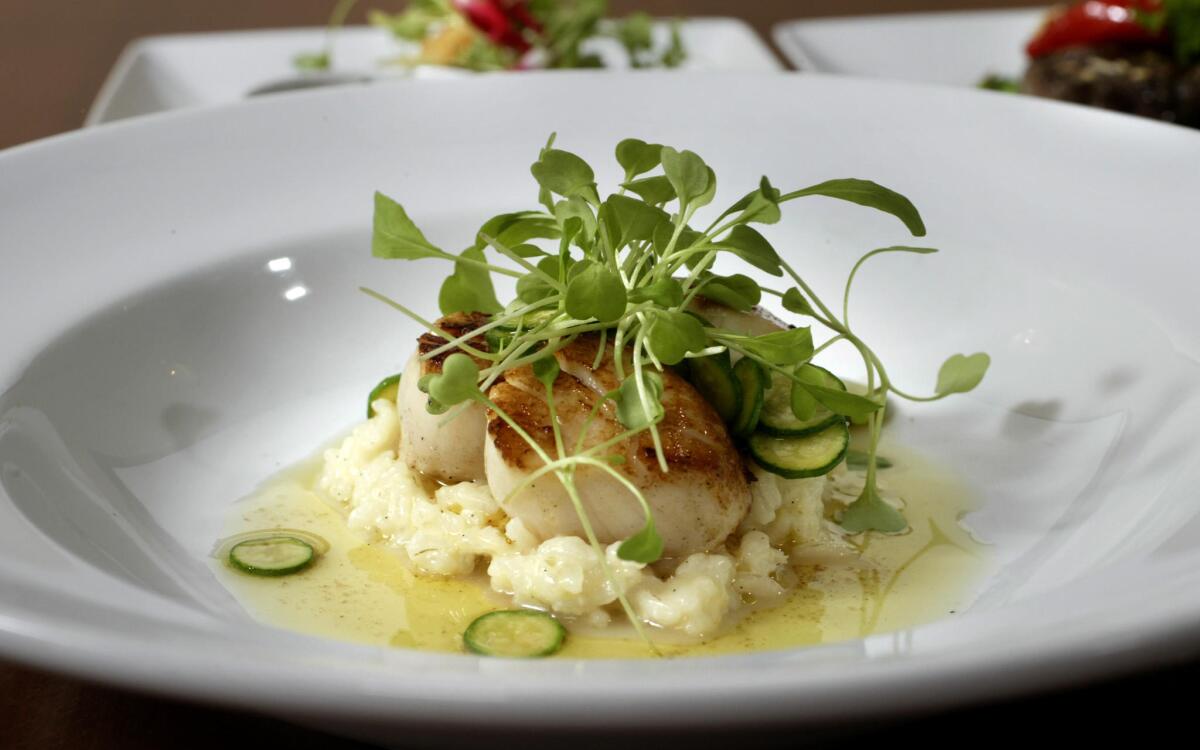 Print Recipe

Print Recipe
Dear SOS: My husband and I recently discovered Violet, a little neighborhood restaurant in Santa Monica that is truly outstanding. The dish that really stood out for us was seared scallops with vanilla risotto and baby artichokes. The flavors and textures were perfection.
Elizabeth Buckley
Santa Monica
Dear Elizabeth: Chef Jared Simons of Violet varies the recipe slightly, according to the season. As we move out of artichoke season, he's been using baby zucchini.
1
Soften 1 tablespoon butter in a small bowl. Cut the vanilla bean in half, scrape out the seeds and combine the seeds with the butter. Set aside.
2
In a large skillet, melt 1 tablespoon butter with 1 tablespoon olive oil. Add the onion and cook until it is translucent, about 2 to 3 minutes. Stir in the rice and cook on low heat for 1 to 2 minutes.
3
Stir in the white wine and half of the chicken stock. Cook, stirring until the stock has been absorbed. Once the stock is absorbed, continue to add the remaining chicken stock, a little at a time. Continue to stir to keep the risotto from sticking to the pan, cooking until the rice is al dente, about 18 minutes.
4
Remove the risotto from the heat and add the vanilla butter and the Parmesan. Stir until the butter and the cheese have melted and the risotto is creamy. Set aside and cover to keep warm.
5
In a separate nonstick saute pan or small skillet, heat 2 tablespoons olive oil and lightly cook the zucchini rounds. Remove and keep warm.
6
Season the scallops with salt and pepper on both sides. To the same pan, add another 2 to 3 teaspoons oil and sear the scallops on high heat, about 2 minutes per side until they're opaque partway through for medium.
7
To serve, divide the risotto among four serving bowls, add the zucchini and top with the scallops.
---
Get our Cooking newsletter.
Your roundup of inspiring recipes and kitchen tricks.
You may occasionally receive promotional content from the Los Angeles Times.